Šipan Island – Places To Visit In Dubrovnik
Published: January 4th, 2015
Šipan is the biggest but least developed of populated island from Elaphiti archipelago 17 km away from Dubrovnik, Croatia.
Šipan island has surface area of 16,5 km2 and it is divided from shoreline by 1.5-3km wide Kolpčepski canal.
Šipan highest peak is Velji vrh on 245 meters above sea level, located on northeast of island and it been made of two limestone cresps.
Island has population around 500 people and bigger part of them lives in two settlements Šipanska Luka (Porto Gippana) on the west part of the island with population of 300 and Suđurađ (San Giorgio) with population of 200 inhabitants located on eastern part of Šipan island.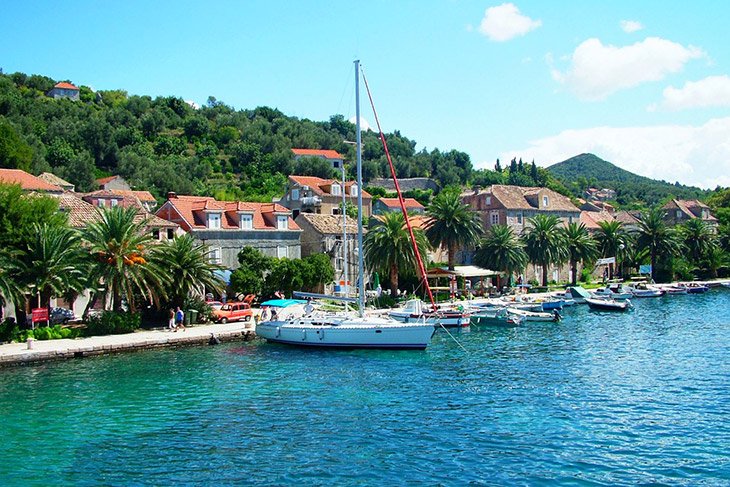 Major ferry port on island is loacted in Šipanska Luka, beautifull village which is located at the end of a deep inlet at the Šipan's northern end.
Šipanska Luka has many relic of former glory days from time of Ragusa (Dubrovnik Republic). One of best preserved is Magistrate's Palace.
Beaches on Šipan island
Main beach on Šipan can be found on just 500m away from the ferry port in Šipanska Luka, a tiny strip of sand pressed against a thread of rock that separates the western side of the bay from the sea.
More isolated beaches can be found by following the path which extends beyond the ferry jetty on the opposite side of the bay.
Getting through this way between rocky promenade and shady olive groves before petering out in thick vegetation just a few kilometers away.
Things to do on and places to visit on Šipan Island
Uppon arrival at the ferry port you will be greeted by locals who will offer you private accommodation, if not just ask around.
As alternative to private accommodation you have two four stars hotel on Šipan, Hotel Božica and Hotel Šipan.
Keep in mind that eating and drinking choices are limited on hotel restaurant and just couple bars on the island.
Departing from Šipanska Luka to the south via 8 km long road to Suđurađ you will witness the beautiful scenery of Šipan coast and picturesque mainland vegetation of the island.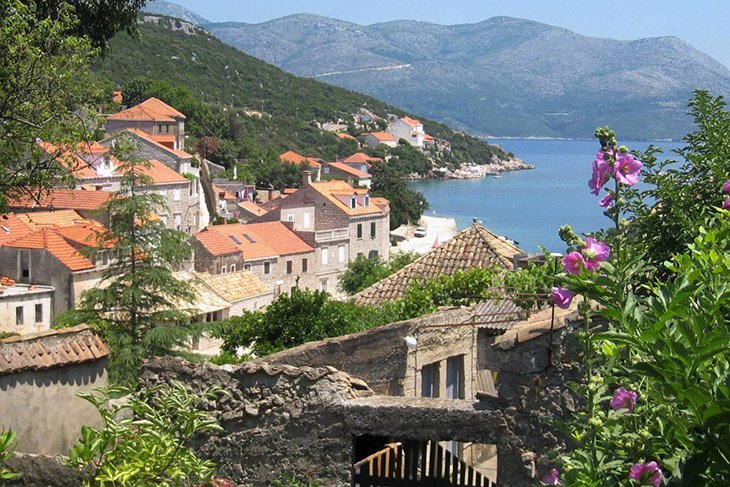 Šipan inland part has been made of olive and fig trees, vineyards, grapes, oranges, tangerines, figs, pomegranates.
But what makes this island famous is their high quality wines and recognizable palm trees which has been scattered all over the island.
Visit summer house of Stjepović – Skočibuha family in Suđurađ
After you came to Suđurađ, you can see remains of the renaissance castle of the family Stjepovic – Skocibuha, whose construction was started in 1529.

Pakljana tower
Also worth visiting are the beautiful Pakljana tower which dates back in 1563.
Pakljana tower is barely ever open – but the panoramic view of its crenellated sixteenth-century tower peeking above the greenery provides a convenient excuse to wander this far.
Then there is the Church of Holy Spirit in Suđurđ with a flat roof, largest of this shape on Adriatic.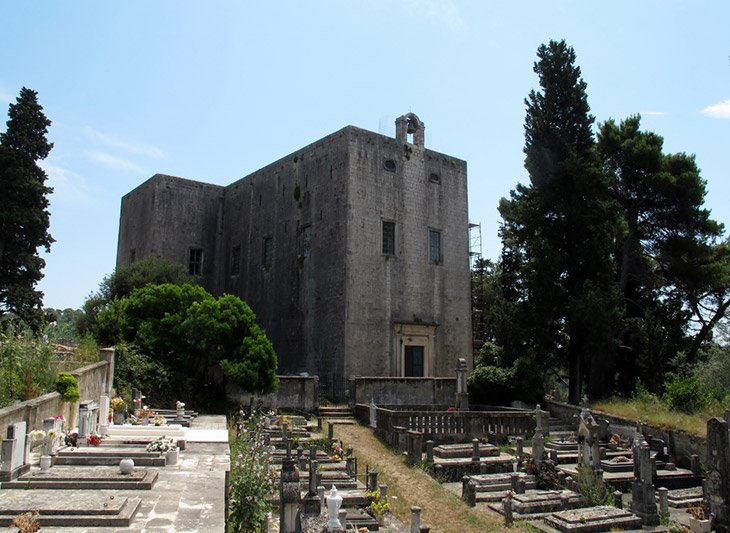 You can also visit St. Mihovil church built in 11th century, there is small church of St. Ivan in Šilovo selo.
On the road between Šipanska luka and Suđurađ there are ruins of summer residence of the Dubrovnik's Archbishops.
Island is surrounded by many small islets, bays, crystal-clear sea and abounds of fish what attracts tourists for daily excursions and fish picnics that are organized by many boat owners from Dubrovnik.
Getting to Šipan Island Croatia
Šipan island is well connected with Dubrovnik (Gruž port) with many ferry and boat lines.
Island is ideal place to go with the boat in the morning and spend whole day on the beach or go to explore the island, or you can do both and go back in Dubrovnik in the late afternoon hours.
Despite the fact that there is a road on island we recommend you that you leave your car in Gruž ferry port in Dubrovnik since cars are not allowed on ferry boat and rent a bike or simply take a hike and explore remarkable surroundings of Šipan island.

Ferry ride from Dubrovnik to Šipanska Luka will take 45 minutes and ticket prices vary from 25 kunas in low season up to 35 kunas in high season.
On Šipan island there is no nightlife, but if you are looking for some peace and quiet this is best vacation spot on the whole Dalmatian coast.