Crikvenica, Croatia – Places to visit & things to do
Published: January 21st, 2020
Crikvenica, Croatia is a modern holiday destination located in Kvarner bay nearby the city of Rijeka.
Crikvenica Riviera is kilometers long sea promenade and one of the most beautiful of coastal Croatia parts.
Riviera consist of towns Crikvenica, Dramalj, Selce and Jadranovo.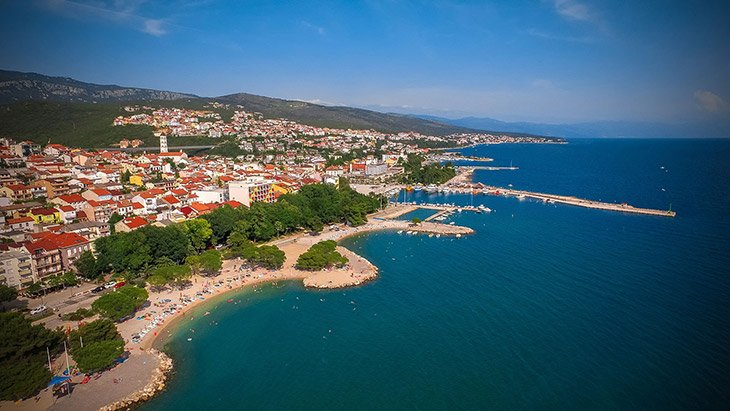 Town surroundings is made of pleasant and abundant flora coast scattered with coves, parks, gardens and tourist attraction and in north-west direction there are many mountain trails and hiking routes.
Crikvenica town is built on a place of the ancient roman travel and military station Ad Turres, and it was also important sea port for the nearby towns of Vinodol region.
Town own its name to a church of the Pauline Fathers monastery, which dates back in 1412 and its built by Nikola Frankopan.
Thanks to urban expansion of Crikvenica itself and expansion town of Selce, had developed into a mini-conglomerate of those two towns.
Crikvenica, Croatia – Things to do
Crikvenica offer is quite interesting to a tourist who enjoy in active holidays and to all visitors who want a relaxed and soothing vacation.
Thanks to its vicinity to Zagreb it is a usual weekend resort for many residents of Croatian capital.
Top beaches in Crikvenica
There are the kilometers of pebbly and sandy beaches that merging together to create natural promenade which is extremely attractive to many international and national tourists.
Crikvenica Town Beach
Town beach of Crikvenica is a Blue Flag Award due to its crystal clear and blue sea. Beach is mix of fine gravel and sand and it is perfect choice for families with small children as well as for people with disabilities.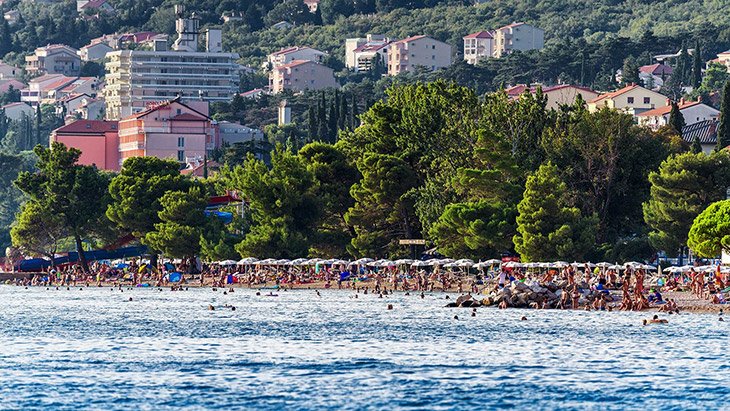 Town Beach Of Crikvenica is just 200 meters away from town center.
Beach is bounded with beautiful pine forest where you can find a pleasant shade during the hot summer days.
Offer on the beach is well complemented with couple beach bars and restaurants where you can find local Kvarner dishes.
Crni Molo beach
Crni Molo (Black Dock) beach most famous gravel beach on whole Crikvenica riviera. On Crni Molo beach you will have the opportunity to play different beach sports such as: volleyball, aerobics, water skiing, mini golf any many others.
Thanks to location in town center you can find there many restaurants, beach bars and hotels. You can rent deck chairs and umbrellas.
Kačjak beach in Dramalj
Kačjak beach is fine gravel beach with concrete terraces located on Dramalj peninsula. Beach is a perfect choice for families with small children because there are lifeguards on this beach and it is many options for beach sports like tennis, badminton, mini-golf and table tennis.

You can find few bars and restaurants on Kačjak beach and also there is opportunity to rent deck chairs and umbrellas.
Dramalj beach
Dramalj beach is a fine gravel and sandy beach located 3 km from Dramalj peninsula. Beach is surrounded by lush Mediterranean forest which will provide you a plenty pleasant shade during hot summer days on Croatian coast.
Beach Dramalj is perfect vacation spot for families with small children and there is a many opportunities for beach sport lovers. In the very nearness you can find a few bays adequate for naturists.
Visit national parks & islands
Surrounded by many attractive locations for tourists near beautiful Kvarner bay islands of Krk and Rab.
Town is also great starting point if you are planning to visit National parks North Velebit and Plitvice Lakes.
Besides the numerous natural attractions, town offering its tourist a wide selection of cultural and historical monuments and the chance to enjoy in a wide range of entertainment programs.
Churches & sacral sites:
Countless sacral sites that worth a visit are:
The Church of the Assumption of the Blessed Virgin Mary
Church of St. Anthony of Padova
Russian Orthodox Church in Crikvenica
Church of St. Helen in Dramalj
Church of St. James the Apostle in Jadranovo
Church of St. Catherine in Selce
You can find many chapels dedicated to various saints.
Visit Town Museum & Town Gallery
If you are visiting Crikvenica Croatia, do not miss the chance to visit Crikvenica Town Museum with its interesting and valuable exhibitions.
They are presenting the town's history and tradition where you can see various collections of archeological objects from rich history, cultural exhibits and old traditional tools used by fishers from the area.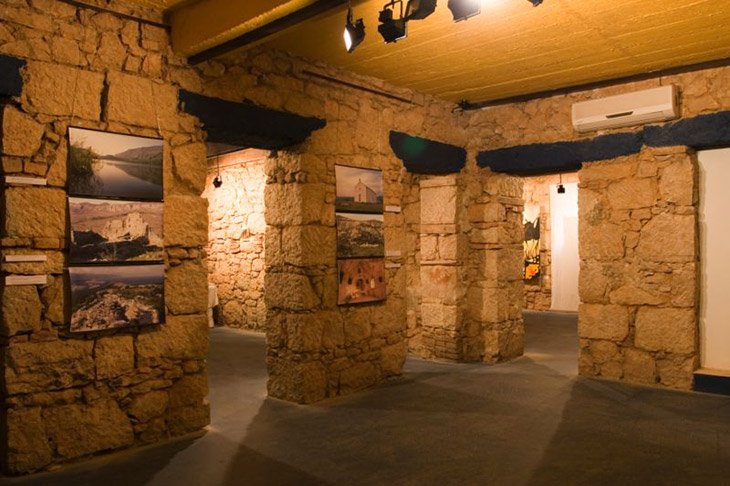 Town Gallery, puts an emphasis on contemporary visual arts by authors from the region.
Visit Archaeological Sites
The "Igralište" archaeological site in Crikvenica, where one of the conserved ceramic workshops in the area was discovered, and the Lokvišće archaeological site in Jadranovo, attest to the rich life at the time of the ancient Romans.
Pit cave Vrtare Male in Dramalj
The Vrtare Male pit cave is located in small seaside village of Dramalj. Vrtare male are one of the richest paleontological sites in Croatia, with a series of fossil remains of long-extinct animals.
Depth of Vrtare Male are around 39 meters with 10 meters submerged.
Activities and nightlife
Crikvenica riviera is a seaside resort with numerous cafes and night bars and definitely do not lack of entertainment and nightlife.
The following are just some of the places where you will find entertainment:
Sabbia Restaurant, lounge bar & night club
Palace Beach Bar
Cocktail Bar & Bistro Balustrada
Neptun Beach Bar
Discotheque Pulse
You can treat yourself in one of the many restaurants with authentic local delicatessen.
For sports activities lovers there are plenty choices such as sailing, surfing, diving or water skiing.
Also, you can bring or rent a bicycle in the area because there are many cycling paths around Crikvenica riviera.
Accommodation in Crikvenica
Place became an well known vacation destination in the late 19-th century.
First "Hotel Therapia" was built in 1895 and it had 120 beds and a hydrotherapy Institute.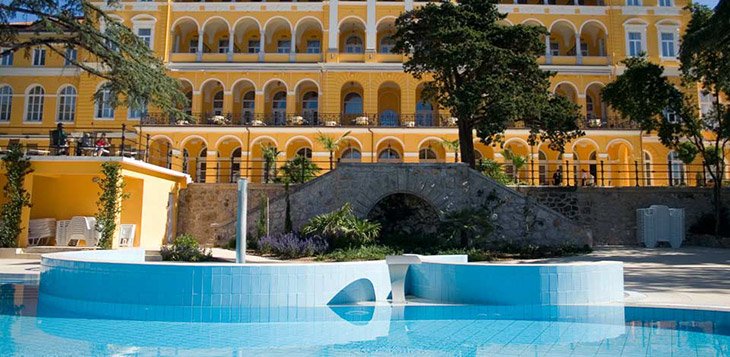 Later in 1902 the Hotel Crikvenica was built, in 1903 the hotel Bellevue and in 1905 the Hotel Miramare.
In the year 1906 Crikvenica officially became respectable health tourism destination and due to its gentle climate with over 2500 sunny hours per year.
Getting to Crikvenica Croatia
By Plane: If you are flying to Crikvenica nearest international airports are: Rijeka Airport in Omišalj on the island of Krk, Pula airport, international airport in Ljubljana (Slovenia) and Venice airport (Italy).
By Bus: From most of the airports there are straight shuttle bus connection to Rijeka city center from where you can change bus line to Crikvenica.
Crikvenica is only 35 km away from Rijeka city center and drive will take only 34 minutes.