Bene beach in Split Croatia
Published: February 11th, 2020
Beach Bene is another excellent vacation spot if you are visiting Split Croatia. Bene beach is located in westernmost part of the Split – Marjan peninsula.
Beach is situated on northern slopes of Park Forest Marjan which is a protected area and great spot for people who are looking for natural stress relief.
Area of Park Forest Marjan is also known as a recreational area of Split Croatia, so it is a great place for long evening walks, biking and jogging.
Beach is facing the north and gives you a fantastic view on Kaštelanski bay and mountain slopes of Kozjak on the north and island of Čiovo and Trogir on the west.
Info about Bene beach
Beach Of Bene in Split Croatia got its name after the church of St. Benedict what once was there.
Located in beautiful Aleppo pine forest plus facing the north you will have no problem finding a pleasant shade on Bene beach in any time of the day.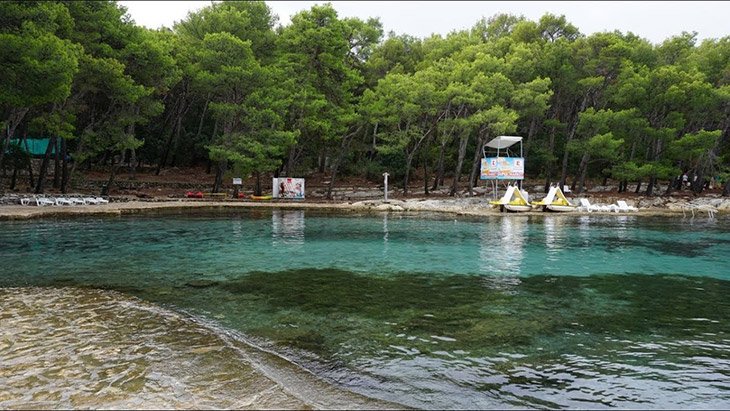 Beach Bene in Split is mainly a rocky beach with a few small sandy patches. Sea is quite shallow and rocky what makes this beach perfect spot for snorkeling.
Bene beach is a part of recreational sport complex of the same name so you can easily find facilities for: volleyball, tennis, indoor football as well as street workout park.
Accompanying facilities
On Bene beach you can find lifeguard towers with lifeguard on duty who care about your safety.
Place is a perfect spot for families with small children since there is a lot of activities for them: slide, children park, trampoline and most important ice cream.
You can rent a deck chairs for 40 kuna also there is a paddle boat for rent for 80 kuna per hour.
The beach is well equipped with outside shower, change rooms and public toilets. Close to the beach you can find everything you need for all day stay: grocery store, souvenir shop, beach bar, restaurant, ice cream, snack bar and caffe bar.
How to reach Bene ?
Since Bene beach is located inside the protected area of Park Forest Marjan you you can forget about coming there with the car. The closest point that you can reach by car are the eastern gates of Marjan where you have a ramp at the entrance from where you can take a 1.6 km walk to Bene.
Second option is to take bus line 12 in front of the Church of St. Francis ( west part of Riva) which will take you Bene, whic drives every 40 – 50 minutes depending on day in week or part of the day. Price is 11 kuna.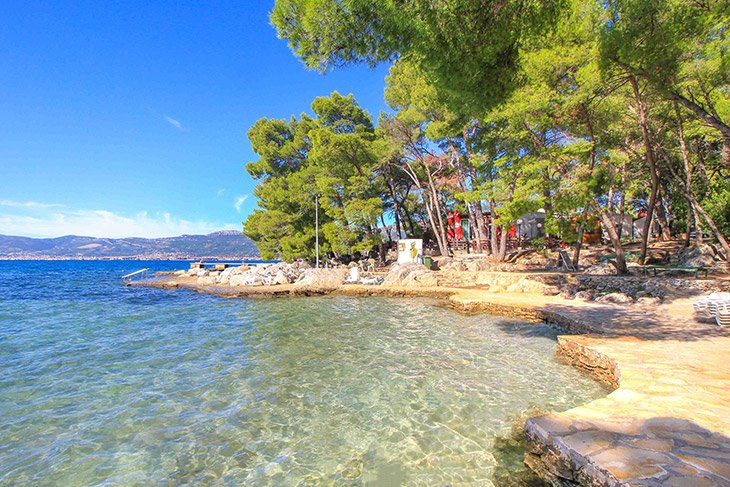 Another option is to take a tourist train which drives from Croatian National Theater to Bene, tickes prices is 10 kuna per person and it goes every two hours.
Best option to reach one of the oldest and most beautiful beach in Split is to go there with the bike.
Related Articles: