Orebić Croatia – Places To Visit On Pelješac Croatia
Published: December 5th, 2019
If you want to go somewhere different, a place that offers you sun, sand, beaches, mountains, trails, history and adventure, then you can try the hidden gem of Croatia – Orebić (it's pronounced or-eh-bits).
This a popular, but not crowded locale that is perfect for a vacation that offers you a variety of things to do.
This beautiful port town is steeped in history. Orebić is a part of the Pelješac Peninsula, and was originally known as Trstenica.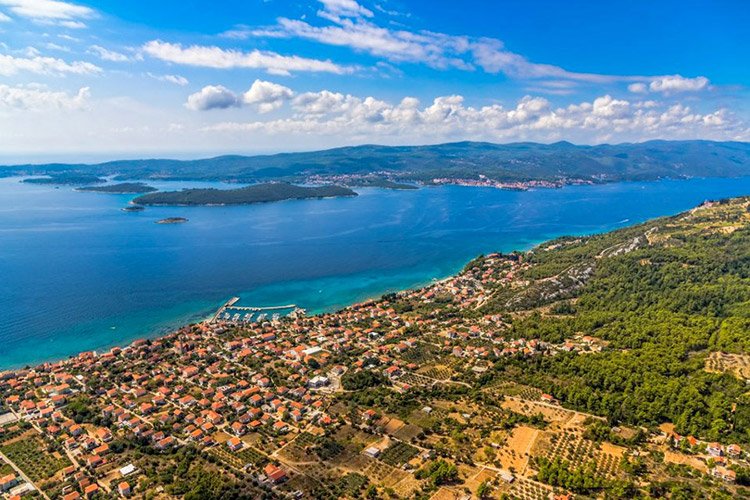 A Short History of Orebić
After the Peninsula was bought by the Republic of Dubrovnik in 1333 from Serbia, the region became an important maritime center for the empire.
It was in 1658 that the name of the town was changed to Orebić, when the powerful seafaring Orebić family built a citadel there as a means of defense against the Turkish Empire.
Orebić was at the height of its glory in the 18th and 19th centuries, when it was the seat of the one of the biggest and most powerful shipping companies of those times – the Associazione Marittima di Sabbioncello.
Then, in 1875, Emperor Franz Joseph I opened a shipyard in Orebić, which was in operation for 13 years. During that time, 3 long-distance sailing ships were built and most ships' repairs took place there.
Sadly, with the decline of the Republic of Dubrovnik, Orebić also lost its maritime importance and the shipyard closed down. The town turned to tourism to sustain itself.
The fact that there were once 250 sea captains in a town of 500 residents is testament to how important seafaring was to Orebić.
However, the town was not solely dependent on the sea for its income.
There are olive groves and vineyards spread out around the town that show how agriculture has also played an important role in Orebić's development.
Today, those lovely captains' houses have been renovated and are used for tourism. However, many have lost their original appearance.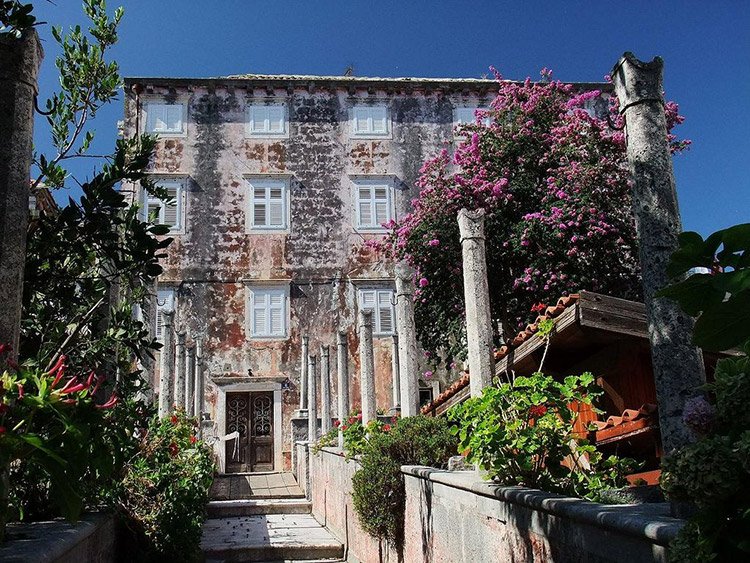 The Culture of Orebić
There are many stories linked to the famous sea captains of Orebić, which have become intertwined with the culture of that little town.
One story, however, is integral to the town – the story of Baldo.
Baldo was the son of the rich sea captain Antun Mimbelli. He fell in love with the daughter of their governess, who was Russian.
However, the union was forbidden because they were from different classes and religions.
Heartbroken, Baldo never married, and dedicated his life to the upliftment of his town. He is considered the greatest benefactor and protector of Orebić ever.
Places of Interest in Orebić
There are many places you can visit if you are going to Orebić.
Best Beaches In Orebić, Croatia
One of the main reasons why Orebić is a popular tourist destination is because of its beaches. Nearly all Airbnb houses, apartments and guesthouses face the sea! You can literally walk out your front door and land at a beach!
Thanks to the number of beaches around Orebić, they aren't too crowded even at peak tourist season.
Most beaches in the Pelješac Peninsula are pebbly, so it is a real feather in Orebić's cap that it has the only semi-sandy beach in the region.
This beach, called Trstenica Beach, is obviously the most popular in the region.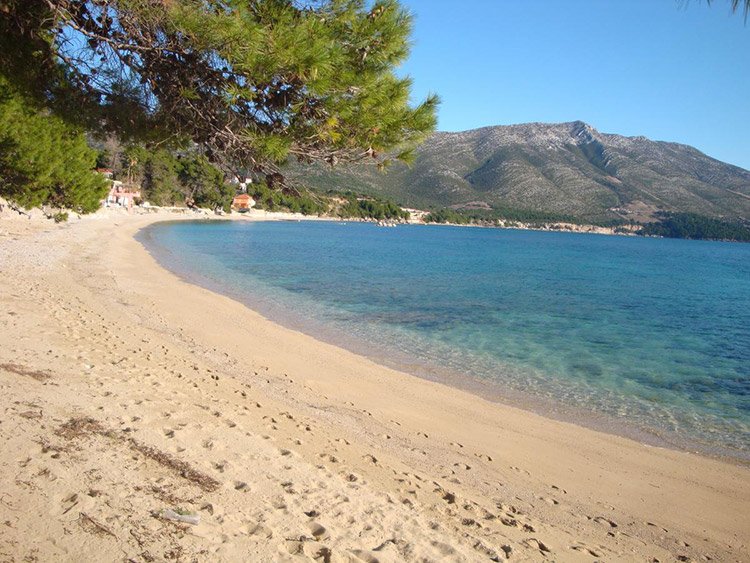 If fact, it has been listed as one of the top 10 best beaches in Croatia for 2019.
However, this doesn't mean that the other beaches are not popular. There are so many beaches around this lovely little town that it caters to almost all kinds of marine sports, from surfing, wind surfing, snorkeling, scuba diving, kayaking and so on.
There are also some nudist beaches, so it would be a good idea to do your homework before you visit a beach!
Wine tasting in Orebić
If you are a wine lover, then this is a place that you must visit. Orebić is in the heart of Croatia's wine country.
Those vineyards we mentioned earlier produce some wonderful wines and the wineries are definitely worth a visit.

Orebić produces some of the best grapes (called Plavac Mali) for wines in Croatia, with two favorites – Dingač and Postup – being grown here.
In fact, it was recently proved that the Plavac Mali grapes are one of the parents of the famous Californian Zinfandel.
The best part is that the wine tasting is fairly inexpensive. Many times, the wineries will enhance the experience by adding local cheeses and olives (remember those wonderful olive groves?) to the wine tasting.
You can choose from light whites all the way up to strong and heavy red wines. You also need to try grka – the local walnut liquor.
The vineyards are located on rocky slopes and overlook the sea. So, you not only get to enjoy those delicious wines, but you also get to do so with a spectacular view.
And the icing on the cake is the warm and friendly hospitality of the staff at the wineries.
They are eager to help, knowledgeable about the wines they have and go out of their way to make your experience a wonderful one.
The Franciscan Monastery of Our Lady of the Angels
Orebić is a strongly Catholic town and home to many churches and cathedrals. But one that is of particular interest is the Franciscan Monastery dedicated to Our Lady of the Angels.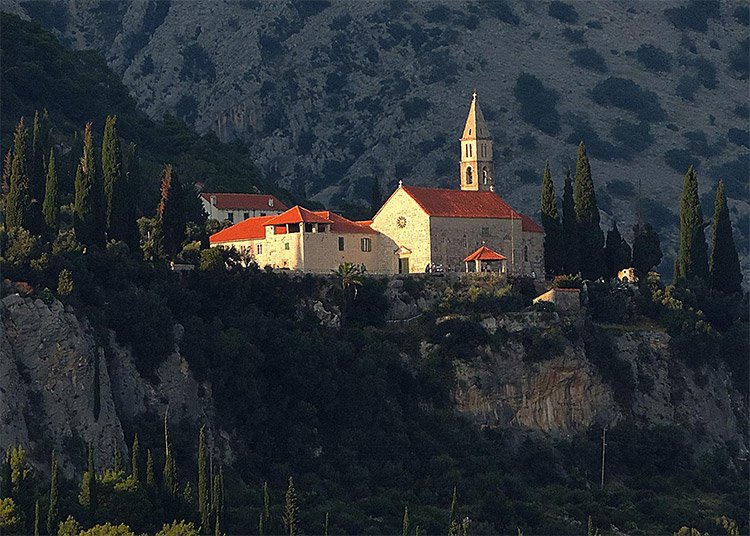 This beautiful monastery, founded in the 15th century, clings to the peak of a rocky tor, and houses a miraculous Virgin and Child. In the old days, homeward-bound ships would blow their horns 3 times to salute Blessed Virgin.
In response, the monks would toll the monastery's bell. This lovely tradition goes on till this day.
Boats passing below the monastery honk their horns 3 times in salute of the Virgin.
This monastery is still the home of widely revered icon, Our Lady of the Angels, who is the protector of all sailors.
It's not easy to get up to the monastery. It's a strenuous 20-minute trek – uphill.
So, make sure you have your sturdy walking shoes with you in case you're planning to visit this monastery. Just so you know, even if you're not the devout kind, the view from the top is so breath-takingly beautiful that the walk up there will be completely worth it.
Hiking Up Hill Of St. Elijah
This little mountain is the backdrop of Orebić's landscape and you can go hiking up to the top.
While not very high – just 961 meters above sea level – the hike is challenging.
There are two major hiking trails to choose from to get to the top of Mt. Ilija. The first trail is really difficult.
To get to it, all you need to do is head straight up the mountain from the Orebić city center. This trail is steep, rocky and at times dangerously frightening. So, do not attempt it unless you are a veteran mountain trekker.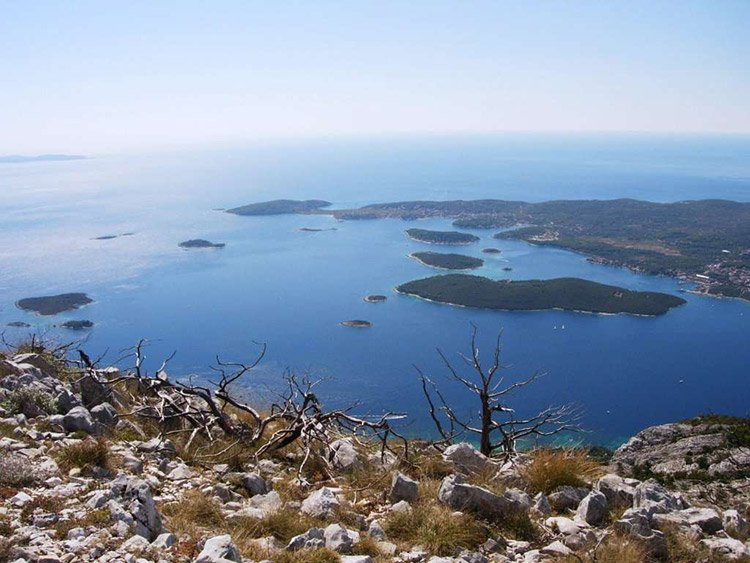 The second one is, well, relatively easier. To get to that trail, you will need to drive 10 minutes outside the town. This route is so scenic that it really eases the difficulty of the trail. You go through forests, some rocky slopes and a few horse pastures.
Whichever trail you take, getting to the top is so worth it. It's a panoramic vista of the entire region, and on particularly clear days, so you can see all the way to Italy!
Gastronomic Delights Of Orebić
Such a beautiful locale should have delicious food, right? Yes. You're absolutely right!
Restaurants in Orebić offer you world class cuisine. Especially the local seafood (after all, it is a seaside town!).
All the seafood is fresh caught and the price is just right.
While you're there, you need to try eating ispod peke – the traditional Croatian way of cooking, where the meats and seafood are grilled inside a metal dome, locking in all those wonderful flavors.
The best part is that that you can't go wrong with almost any of the restaurants in Orebić.
Maritime Museum
A Maritime Museum was founded in Orebić in 1957, and here you get to see artefacts related to the town's as well as the Peninsula's history.
The museum has an archeology section, where you can see displays from ancient Rome, artifacts from pagan as well as Christian eras.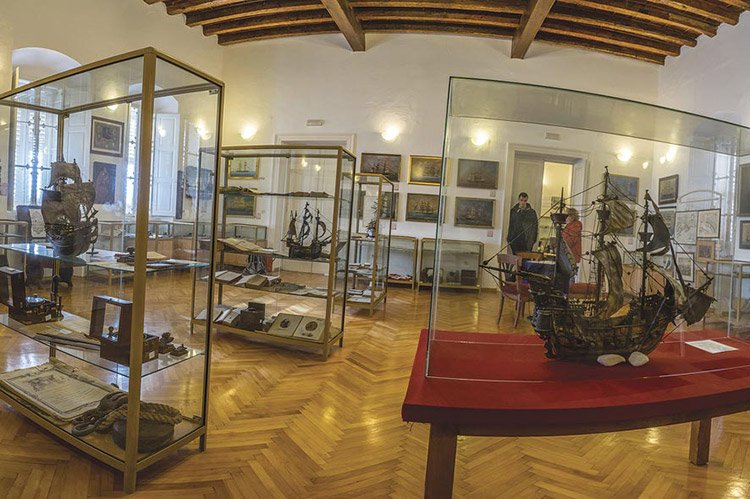 And since it is a maritime museum, you will see a lot of artifacts related to that – centuries-old paintings that belonged to the original Orebić families, tools, weapons, travel documents including nautical diaries and books, atlases, and so on.
This little museum is worth a visit – it will take you back in time!
Boat Excursions to Korčula island
A must do when you are in Orebić is a boat excursion to Korčula Island.
This gorgeous little island is considered one of the most beautiful in the Adriatic.
Korčula has the best-preserved medieval architecture after Dubrovnik. You can even get to see archeological sites from ancient times here.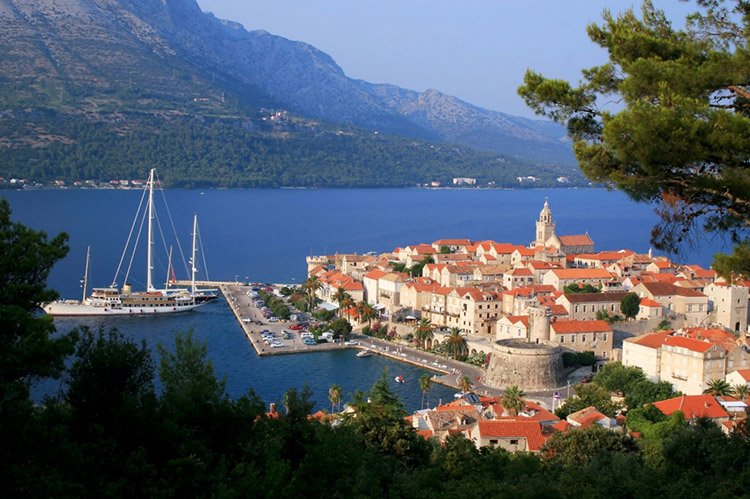 To get to Korčula from Orebić, you can take a ferry from the ferry port. The ferry service is run by Jadrolinija, and there are 15 to 16 ferry trips per day during high season, so you don't need to worry about getting there, and the trip across the bay takes just 15 minutes.
Departures being at 5:20 am and carry on until 7:50 pm.
Festivals in Orebić
If you visit in the summertime, you will be treated to numerous festivals in Orebić.
There are many traditional religious festivals that take place from June through to September.
You will also get to enjoy numerous folk festivals and sample the gastronomic delights that are made specially for these events. There are also party-all-night music festivals, beach parties, boat parties and many more to keep you entertained throughout the summer.
You can also attend classical concerts, theater shows, exhibitions and poets' encounters.
One festival that you must attend is the Night of Peliski Sails. This is one night every year when you are taken back in time. Local residents are dressed as sea captains, sailors, blacksmiths, fishermen and so on from centuries past.
Old traditions, crafts and trades are displayed for all to enjoy. Local, traditional delicacies are on offer, so don't miss this night!
Exploring the Countryside
Many travelers recommend that you hire a car for your trip to Orebić. This is because this region is so beautiful and dotted with so many sights to see that it is best that you drive across the countryside and discover the magic of the place for yourself.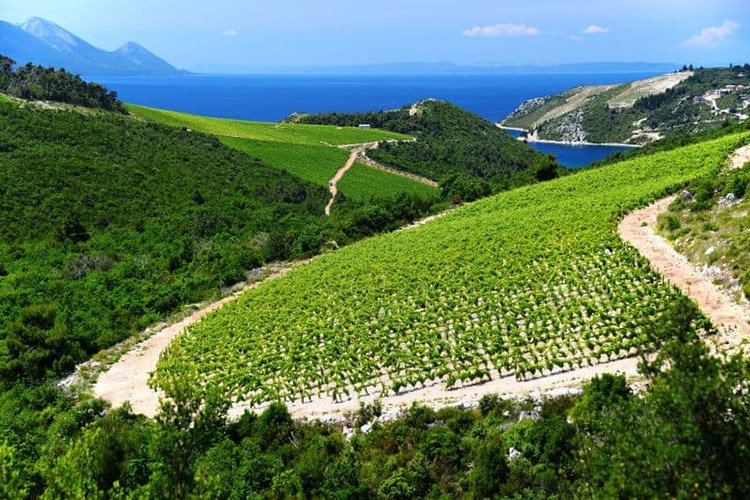 It is best to hire a car from Dubrovnik and drive down to Orebić.
Or, if you're already there, then it is better to book a rent-a-car online rather that taking one from one of the local places. It is cheaper that way.
Besides getting to visit all those awesome wineries in the region, you can also drive down to some of the most remote and stunning places in the peninsula.
You can visit the cairns and the ruins of fortifications from the ancient Roman era. You will see traces of villas, tombs, ceramics and inscriptions at sites just outside Orebić.
How to Get to Orebić
You can get to Orebić using the bus service from Dubrovnik. The journey takes about 2 hours 30 minutes to 2 hours 45 minutes.
The schedules of the bus service are put up at the Dubrovnik Bus Terminal.
You can also check them on the Autotrans website and even buy your bus tickets online.
If you are travelling from the north and using your own vehicle, then you can take the Ploce-Trpanj Jadrolinija ferry to cross the peninsula and then drive on to Orebić.
The Korčula Town-Orebić ferry for cars does the crossing multiple times in a day and it is operational year-round.
The crossing is just 20 minutes, so you can save a lot of time.
Where to Stay in Orebić
Because Orebić is a popular tourist spot, there are several accommodation options available, catering to all budget ranges.
You can get 4-star boutique hotels as well as villas, private rooms, or even camping sites where you can either pitch your tent or park your trailer.