Poreč Croatia – Places to visit & things to do
Published: February 6th, 2020
Poreč Croatia is a city and one of the most popular vacation resort located on west coast of Istria peninsula. Population of Poreč is around 17.000 inhabitants in wider area of the city.
Wider area of Poreč Croatia includes settlements of Materada, Červar Porat, Ulika and Lanterna.
City of Poreč in Croatia is more than 2000 years old. At first town of Poreč was created as a small harbor which was protected from bad weather and the sea by the island of Sveti Nikola (St. Nicholas).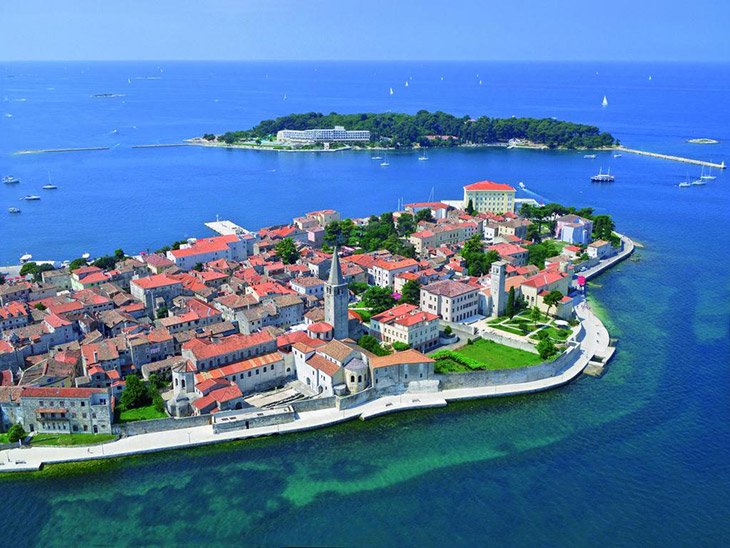 Town street plan and architecture of todays Poreč still reveals ancient Roman structure.
You can see that two main streets Cardo Maximus and Decumanus are still preserved in their original form and on the main Marafor Square you can still see two Roman temples.
One of them dates back in 1-st century AD and it is devoted to Neptune – Roman god of sea and water while other is dedicated to Mars – Roman god of war.
The beginnings of tourism in Poreč Croatia
Stronger development of tourism in the city of Poreč dates back to the 1970-s, when Poreč Croatia was most visited holiday destination in Croatia.
However, tourism in Poreč has a much longer tradition and it dates back in the year 1844, when Austrian steamship company Lloyd opened first tourist line called "Parenzo" which translated from Italian means Poreč.
Oldest hotel in Poreč Croatia is "Hotel Palace" which changed name to "BO Hotel Palazzo" and it dates back in year 1910.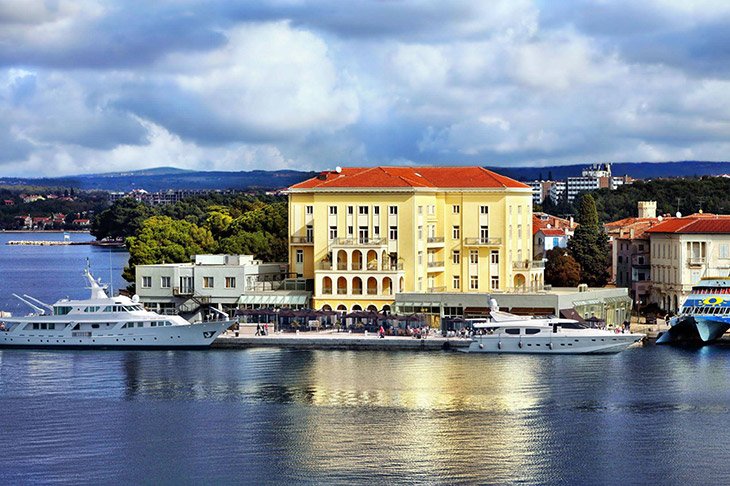 During the early 20-th century many tourist infrastructure has been built and it was intentionally dispersed along the 37 km long coastline of Poreč riviera.
There are 3 major holiday resorts in Poreč Croatia: Plava Laguna (Blue Lagoon), Zelena Laguna (Green Lagoon) and Camping Resort Bijela Uvala ( White Bay).
During the holiday season area of Poreč have temporary population of over 120,000 people which is 6 times more than local population. Even in off-season months you can meet weekend tourists from Croatia, Slovenia, Austria and Italy.
Places you have to visit & things to do in Poreč Croatia
Euphrasian Basilica
Euphrasian Basilica in Poreč Croatia is one of the most valuable cultural landmarks. Complex of Euphrasian Basilica has been built in 4-th century while some parts were added in 6-th century.
Basilica complex is made of memorial chapel, baptistery, atrium, episcopial palace and church.

You will find there most beautiful pieces of Byzantine art. Mosaics which decorate the floor and facade of the Euphrasian Basilica will not leave anyone indifferent. Also you can find there well preserved writings from the periods of renovation and construction.
This is must visit attraction when you are visiting Poreč.
Marafor Square
Marafor Square is located in heart of Poreč Old Town. You can find there a lot of restaurants with local Istrian cuisine, shop, bars which are surrounded by old buildings makes a wonderful place to seat and spend day doing absolutely nothing.
On Marafor Square you can find a lot of important historical monuments and buildings like:
Poreč Town Library
Temple Of Jupiter
Temple Of Mars
Local Istrian Parliament Building (on the place of today museum)
The Church of our Lady of Angles
Local Green Market
Aquacolors Aquapark In Poreč Croatia
If you are traveling with children in Poreč – this is must-visit place. Aquacolors park is the largest aqua park in Croatia which will provide you and your kids unforgettable vacation.
Inside the Aquacolors you will find 13 huge water slider and longest lazy river in southern Europe.
Aquacolor park has it own free parking lot for its visitors and it has capacity of 700 parking places.
Aqua park is opened from 10:00 – 18:00 from Monday to Sunday during the May, June and September and between 10:00 – 19:00 Monday to Sunday in July and September.
Take a day trip to Lim Fjord
Lim bay or fjord is a almost 13 km long channel on west coast of Istria peninsula. Fjord Lim extends deeper into the mainland of Istria and getting more and more narrow and the entrance forming Lim bay.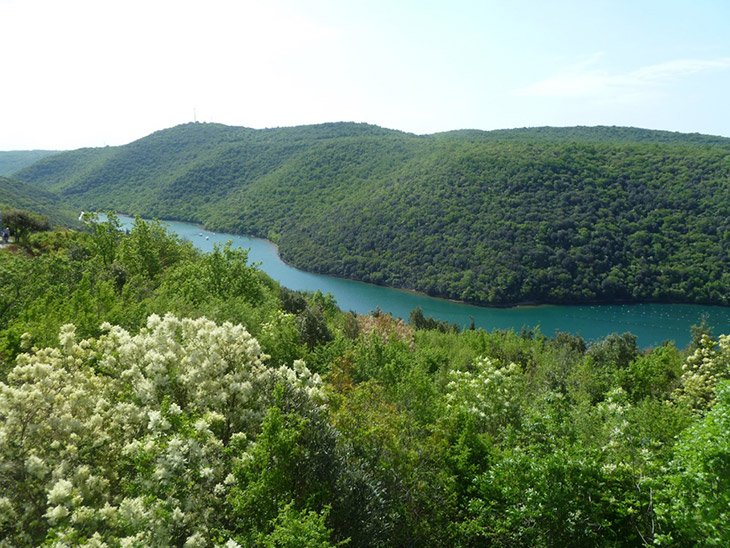 In the year of 1964 this area become protected geomorphological and hydrogeological area as well as important landscape.
Beside its natural beauty area is best known for its high quality oysters along with the town of Ston in South Dalmatia.
Take a walk in Kontija Forest
Kontija forest is one of the most perfect places for picnic. Kontija Forest is located on northern shores in Bay Of Lim between villages Kloštar, Flengi and Gradina. This 150 years old forest spread on over 65 hectares.
There are many well developed hiking and cycling trails, one of the most famous trail in Kontija Forest is trail of St. Romualad.
Swim and sunbathe on the beaches of Poreč
Poreč riviera and with its islands spreads on over 37 km of beautiful coastline where you can find any type of beach you like no matter is it sandy, gravel or rocky beach.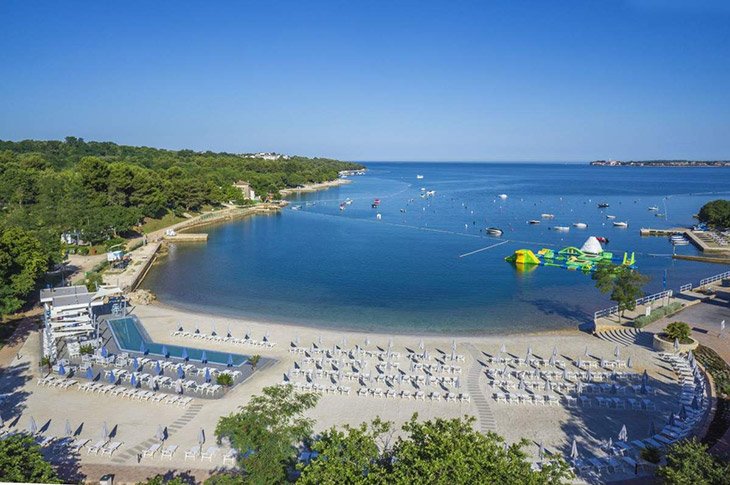 In Poreč Croatia you can find 45 beach and 21 of them are awarded by Blue Flag international symbol of cleanliness of the sea and high quality of beach.
So list for just some best beaches in Poreč Croatia is:
Val Maro Family Beach
Poreč Town beach
Astra Beach
Valeta Beach
Val Marea Sandy beach
Puntica beach
Hotel Laguna Beach
Materada Beach
Barbaran Beach
Galeb Beach
Brulo beach
Accommodation in Poreč
There is large tourist capacity in Poreč Croatia since it is one of the most popular holiday destination in Istria. You can find over 100.000 beds on Poreč riviera mainly in two large holiday resorts in south part of the town.
Plava and Zelena Laguna are largest resort on riviera but since hotels and apartments are widely spread on over 37 km of Adriatic coast you will never feel that Poreč Croatia is overcrowded.
Getting to Poreč Croatia
By Plane: Nearest international airport is located in Pula Croatia.
On Pula Airport you have an option of car rental then you can take a drive via E751 60 km on north you will reach Poreč Croatia in 40- 45 minutes.
Alternately, you can fly into international airports in
Ljubljana (Slovenia) – 188km
Trieste (Italy) – 125 km
Zagreb airport – 258 km
Rijeka Airport – 114 km
By ferry: You can reach Poreč Croatia by ferry from Venice and Trieste (Italy) or from Piran in Slovenia.
Poreč – Venice ferry line is operated by two companies VeneziaLines which goes from Poreč seven times per week and ride takes from 2:45 – 3:00 hours.
Second line is operated by LibertyLines and its a fast ferry line ride will only take 1 hour and 10 minutes to reach Poreč.