Places to visit in Split Croatia
Published: July 27th, 2014
Split is second largest city in Croatia located in area of Central Dalmatia.
Split down town was originally built around the Diocletian palace – mansion house built for the retired Roman emperor Diocletian, where the local population sought refuge centuries ago.
Nevertheless initial appearances, Split is not a small tourist town,  and extends over a large area well beyond the ancient settlement.
What to expect when you visiting Split ?
With population over 300,000 people in the wider bay area, it is the economic hub of the eastern Adriatic shoreline.
If you are strolling throughout historic center of Split you will clearly see the Roman walls, squares, and temples.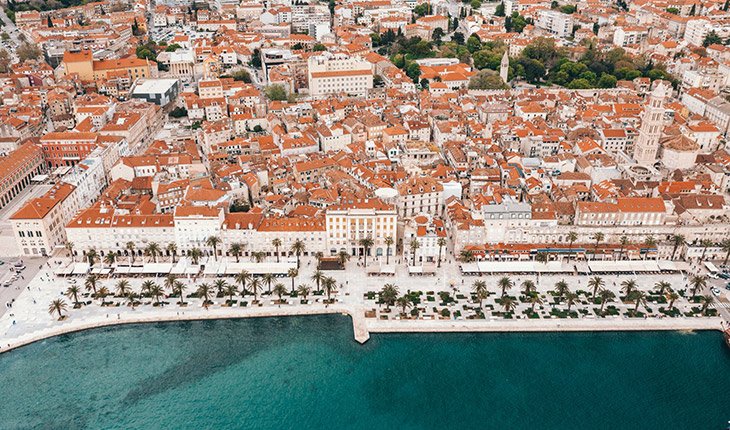 Like many other cities located in the Mediterranean area, Split has an ideal climate with over 2,800 hours of sunlight each year.
Among local people there are few synonyms for Split like: "The most beautiful city in the world" and "Mediterranean flower".
Split gave many famous Croatian sportsmen (Toni Kukoč, Dino Rađa, Goran Ivanišević, Ivano Balić, Blanka Vlašić ….), so locals often nicknamed their city as "The sportiest city in the world".The most popular sport institution is the football club Hajduk.
Hajduk's colors and graffiti are visible in whole city, this is done by Torcida, the oldest supporters group in Europe, established in 1950.
Beside bell tower of St. Duje, other symbols of city are the Dalmatian dog and a donkey.
Locals have a high place for the donkey because of its past irreplaceable animals in field work and transport across Dalmatian mountains, also for their toughness which symbolizes their hard life in the past days.
Weather in Split and best time to visit
Climate during winters in Split are generally mild, with temperatures above 0°C, but despite the popular saying that the city experiences snowfall once every 30 years, there is actually at least one snowy day usually in January or early February.
If you find yourself in Split on a day with significant snowfall, expect serious traffic disruption.
Split Croatia – Things to see
Diocletian's Palace
– The historic center of Split is built around the remains of this Roman palace. You only need to wander around to experience it but you can also pay to visit the excavated remains of the basement of the palace.
The palace has well preserved main streets cardo and decumanus.
Roman palace is enriched with some gothic and renaissance buildings which makes a perfect match.
Palace has 4 monumental gates Porta Aurea (Zlatna vrata, Golden gate), Porta Argenta (Srebrna vrata, Silver gate), Porta Ferrea (Željezna vrata, Iron gate) and Porta Aenea (Mjedena vrata. Bronze gate).
It is probably the best preserved Roman palace in general.
St. Duje's cathedral
– Originally built around 305 AD as a mausoleum for the Roman emperor Diocletian this is the oldest cathedral building in the world. The Cathedral is also a very beautiful mixture of Roman temple and Catholic church.
It also has a beautiful belltower which provides you a great panoramic view of Split, nearby islands and Marjan hill. Admission to the cathedral is 35 kunas (around 4,5 Euro) but it will also gets you free access to the Temple of Jupiter and its crypt.
– Main square in Diocletian's Palace is called Peristil.
It is located at the intersection of the two main streets, cardo and decumanus.
The nucleus of historical sites is found here, with the prothyron, sphinxes, vestibule, various palaces, and the imposing Cathedral of St. Domnius, and Diocletian's mausoleum as surrounding this popular square.
Jupiter's temple
– Ancient Roman temple which became St. John's church.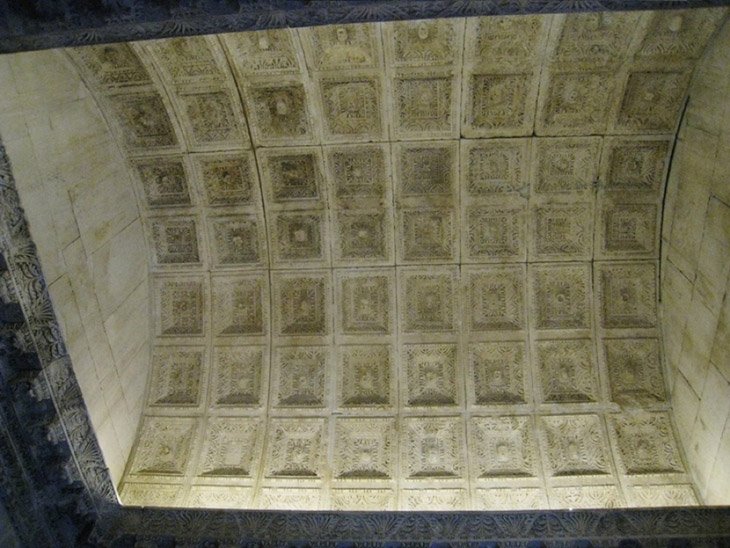 Two original Egyptian sphinxes- One is located on Peristil square, and the other in front of Jupiter's temple or (Sveti Ivan) St. John's church. They were brought from Egypt by Roman emperor Diocletian.
Riva
Riva is the main Split promenade.In the year 2007 Riva get a new, "modern" look, which is not accepted by most of the people. Most of criticisms are directed to looks of lamppost, which looks like the gallows.
Marjan Hill
Marjan hill situated on the west of Split.
Marjan is an oasis for many people who look for a natural stress relief, a great place for long walks, jogging, and bike rides.
Marjan's peak, Telegrin is 174 m high and gives a wonderful panoramic view of Split.
South cliffs are popular within alpine climbers.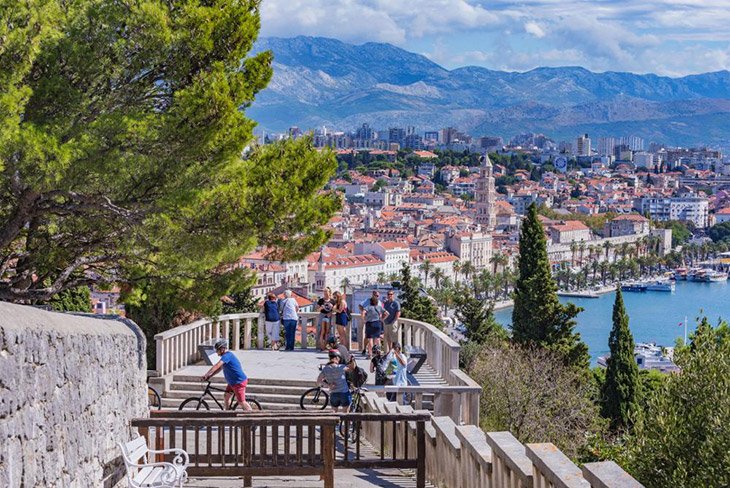 St. Nicholas church is situated on the east of Marjan, on it's south side are beautiful St. Jeronimus church and "Gospe od Betlema" church (Madonna of Betlehem). House building is strictly forbidden in order to save Marjan – the lungs of Split.
Varoš
Varoš – one of the oldest parts of town. A place where lived most of the city peasants and fishermen.
Charming streets and and beautiful small houses.
Galerija Meštrović – gallery contains works of Ivan Meštrović, famous Croatian sculptor.
Archaeological Museum
– the oldest museum in Croatia (1820.), about 20 min walk north of the old town price of entry is 20 kn (2.5-3 euros). Many artefacts and monuments from Roman colonies Salona and Narona which are located right ouside the city.
Poljud stadium home of HNK Hajduk
– known to locals as "Poljudska Ljepotica" (Poljud Beauty")is a second largest stadium in Croatia and has a capacity of 36,000 people.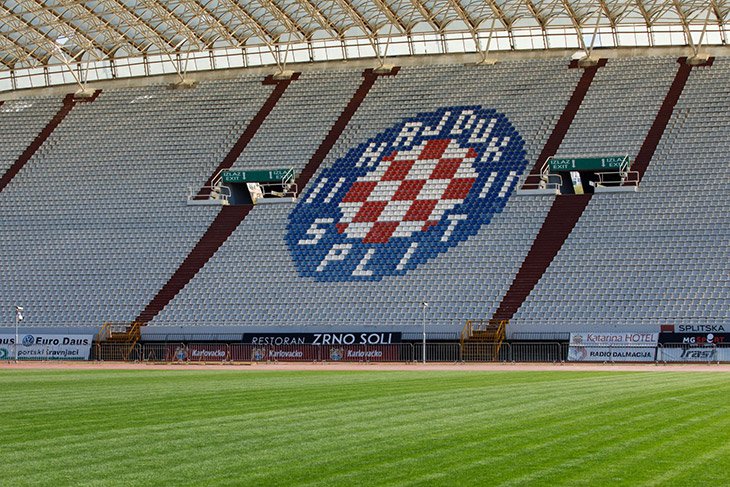 Poljud was originally constructed by the Yugoslavian government as part of the facilities for the 1979 Mediterranean Games and was officially opened by former president Josip Broz Tito, who was avowed fan of the team who play their home games in Poljud HNK Hajduk Split.
By far the most important and revered sports team in Dalmatia, a dedcaded fan base around the world has followed Hajduk throughout the team's history.
There are numerous anecdotes about Hajduk never played without at least some of their loyal fans in the stands, the Torcida.
If you are going to visit some match do not go on north part, which is the cheapest one, that part is reserved for Torcida.
Price for tickets for Hajduk matches vary from 80 – 120 kunas which id around 10.5-15 euros (depending position of your grandstand).
Getski vrtal (Dominisova street)
– the smallest park in Split, situated in the Diocletian's palace (ONLY GREEN AREA INSIDE OF THE CITY WALLS), Dominisova street (Marko Antonio De Dominis street).
In the park there are beautiful traditional Dalmatian tiramolas (that is a way how the locals dry their clothes). During the summer these are full of clothes drying in the sunshine.
In every guidebook about Split you have pictures from the Getski vrtal. It is the location of a 500 year old stone house which was destroyed during World War II.
On the facade facing towards Getski vrtal you can see two heads made of stones.
One of the heads is a sphinx with a Christian cross on the forehead and second one is head of middle age thief.
Getski (from ghetto) vrtal (garden) is made and maintained by the locals who live in houses near by.
Sustipan Park
– Southwestern spot of the Split harbor is called Sustipan named after the old monastery of St. Stjepan under the pines.

St. Stjepan monastery was built in the late Middle Ages, and several Croatian kings occasionally enjoyed in its hospitality.
In the early 20th century a local cemetery was set here. Unfortunately it was destroyed by the Communist government and reconstructed as promenade set in concrete.
Especially appealing is the gloriet – round colonnade of classicist form that remains preserved until present day.
Hidden among the tall pines there is a beautiful panoramic view of the sea and the islands in front of Split.
On the west side of the hill there is a the oldest local swimming club Jadran, and from its eastern side a modern ACI marina.