Places you should visit on Hvar Island Croatia
Published: July 31st, 2014
Hvar island, Croatia is the top spot of the Split area Dalmatian islands.
Hvar island has been well known from ancient times because of its important strategic and nautical position, the rich of the various historical periods, the culture and natural monuments and the literature.
Hvar island is the perfect destination for tourists who are looking for the beauty of Mediterranean beaches without the crowds associated with more well-known destinations.
What can you expect when you visiting Hvar ?
All paths lined with lavender fields and vineyards leading you to secluded coves, small fishing villages and local vineyards, with panoramic views on ferries and catamarans carrying tourists across the calm, blue waters to the surrounding islands.

Due to the mild climate, the warm winters and pleasant summer time Hvar receives many guests, scientists and travelers, who are attracted by the dense Mediterranean nature, rich tradition and architecture, and rich nightlife.
Anything you are looking for your perfect vacation, you may find it on Hvar island.
Whether its a night life or cultural attractions of small but cosmopolitan Hvar town, boat excursions to Pakleni Islands, sandy beaches near Jelsa.
The ancient town Stari Grad in which past centuries mingle with modern tourist facilities, heavenly beaches under pine trees in Zavala, exotic atmosphere of south cliffs in Ivan Dolac, Sveta Nedjelja or Milna, the "little Venice" ambient in Vrboska, drive trough and sense lavender fields near Zastražišće, Gdinj and Bogomolje or peaceful secluded bays near Sućuraj.
This is just small piece of it, rest you need to explore by yourself. Island is a unique blend of luxurious Mediterranean nature, rich cultural and historical heritage, and mundane, tourist present.
In the peak of season from May to September it can be very crowded with tourists, especially during August when there is large number of Italian tourist.
Hvar is relatively expensive holiday destination, with solid and extensive tourist infrastructure, and it attracted a lot of young people.
Hvar Island, Croatia – Things to do and places to visit
Old town of Hvar
Hvar Town: is the largest and the most important centre on the island of Hvar – centre of the island's tourism.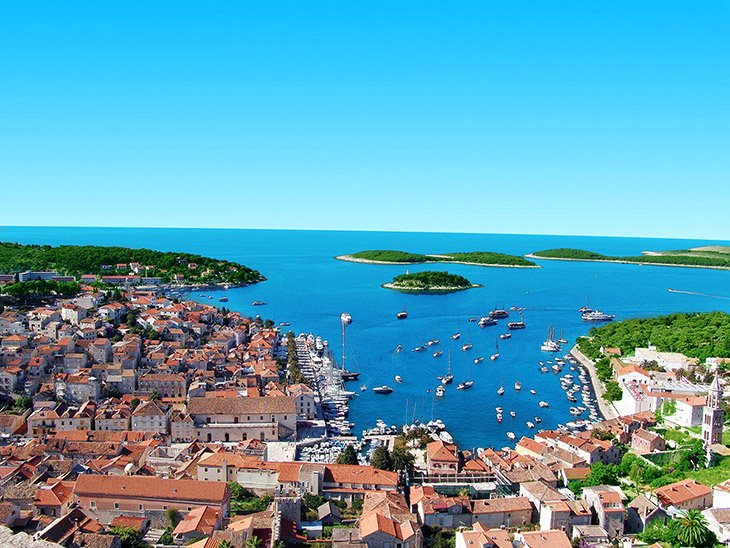 Small city but with big and unique cultural and historical heritage, it is also an important tourist resort with a centuries-old tradition in tourism (the first hotel, Empress Elisabeth, was opened in 1903.).
Main attractions are pleasant climate, a lot of sunshine, natural beauties, various accommodation facilities, gastronomic offer.
Hvar town's harbour provided a suitable location for a port, being geographically ideal and also protected by Pakleni Islands, making it a safe port for yachts hiding them from hazardous winds.
Pakleni Islands
Pakleni Islands: is a small archipelago where, on the biggest island of Sveti Klement, Palmižana Marina is located.
There are also many beautiful beaches on the archipelago.
Stari Grad (Pharos)
Stari Grad (Pharos): is a old town and harbor on the north-western part of the island. It is the oldest human settlement on the island, and one of the first of all on Dalmatian coast.

Main occupations include farming, wine making, olive growing, fruit growing, grapes processing, fishing and tourism.
During summer months Stari Grad will offer you numerous cultural events and attracts many swimmers on the traditional Pharos Marathon.
Stari Grad is a modern tourist center with wide range of accommodation facilities like hotels, apartments, rooms, camps and bungalows.
Dalmatian specialties offered in the restaurants and wine cellars mainly seafood and famous Croatian wines.
There is a lot of place for sports and recreational opportunities like tennis, basketball, football and boccia including water sports surfing and diving it attracts many visitors.
Town Of Jelsa Croatia
Jelsa: is a small township and port situated in the central part and on the northern coast of the Hvar island.
Jelsa is an important tourist center which has a long rich tradition in tourism. Occasional cultural and entertainment programs are organized in the summer months.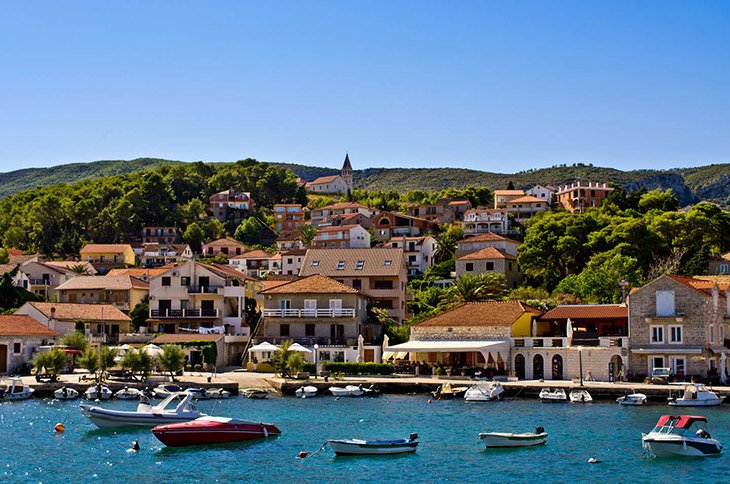 The first habitation grew around the small church of St. John, which was in the 17th century reconstructed and converted into a Baroque-style structure.
Jelsa has a long coast with numerous bays on which guests can find peace and pleasure.
Tourists are attracted to the sandy, gravel and rocky beaches.
Vrboska – Small Venice on Hvar Island
Vrboska: is a small harbour which lies in a narrow and deeply indented bay on the central part of the northern coast of the island of Hvar, Town is surrounded by vineyards, olive groves and a forest of pine.

Main occupation of local people are farming, wine making, olive growing, fishing, fish processing and tourism.
The fortified church, which offers a wonderful view on the surroundings and the open sea, represents a unique monument. Vrboska is famous for its beautiful beaches and virgin nature, due to it is a well-known tourist centre.
Accommodation is available in hotels, apartments, family pensions, rooms and a nudist camp, with a high quality catering services.