Bacvice Sandy Beach In Split
Published: January 22nd, 2015
Bacvice beach is best known sandy beach in Split.
Bacvice beach is situated only 1 kilometer away from heart the old town of Split and Riva in direction of ferry port on east side of town.
Beach is the center of events throughout the year for bathing, swimming and sunbathing during summer months or walking while colder winter days.
Nevertheless, even during colder winter days, braver people can be seen swimming and playing "Picigin" in the shallow waters of the Bacvice.
Picigin is one of the favorite summer sports in Split, rules of Picigin are quite simple – keep small ball in the air as long as possible.
Paved at some parts this sandy beach offering access to physically disabled people.
Despite the fact that it is located in the city, Beach Bacvice is awarded with "Blue Flag" which is guarantee of clear sea and well organized accompanying facilities.
Bacvice beach facilities
This is family type of beach, you can relax and enjoy while your children having fun in slides, trampolines and rubber castle.
In the immediate vicinity of this sandy beach you have a bars, restaurants and patisseries where you can find variety of foods and refreshments during hot summer days.
On the beach there are outside showers, public toiletes, changing rooms and opportunity to rent deckchair and beach umbrellas for a symbolic price of 3-4 euros per day.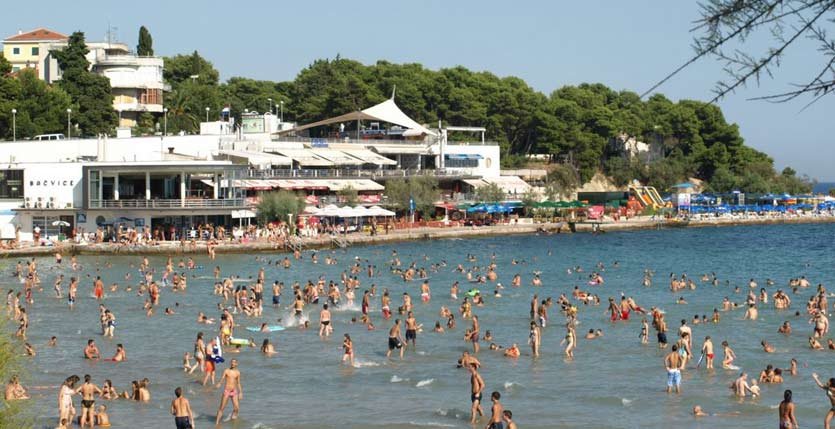 Beach is located in shallow bay, so you will need to walk 50 meters away from shore before you reach sufficient depth for swimming.
Although the sea is shallow, beach is supervised from few watch towers by experienced lifeguards.
Bacvice Beach Events
Place can be very crowded and its not just per daylight, due the warm nights and many nearby nightclubs which working until the early morning hours, this is one of the nightlife centers in Split.
Beach also serves as a venue for many summer concerts and festivals such as: Bacvice beach festival, Festival Of Mediterranean Film Split ….