Šunj Beach – Sandy beach on Lopud island, Croatia
Published: October 8th, 2015
Šunj beach is gorgeous sandy beach situated on southern slopes of Lopud island from Elaphiti archipelago near Dubrovnik.
Šunj is 800 meters long sandy beach located just 1.5 kilometers from Lopud island ferry port in shallow and sandy Šunj bay.
In front of the of the beach sea is so shallow that even 100 meters from coast depth of water will not exceed 2 meter.

Due to shallow waters of this sandy beach, place is ideal vacation spot for families with small children maybe main reason why this lovely beach can be sometimes overcrowded.
We recommend you to visit Lopud sandy beach in early morning hours, before 11:00 am would be ideal.
Holiday activities on Šunj beach
Clearness of sea waters is proven by many small fishes that swimming around you while you are in water, so this sandy Lopud island beach is interesting place for scuba-diving activities too.
Beauty of this sandy beach is well complemented with supporting facilities, on beach there are two restaurants with toilets and changing cabins on the beach.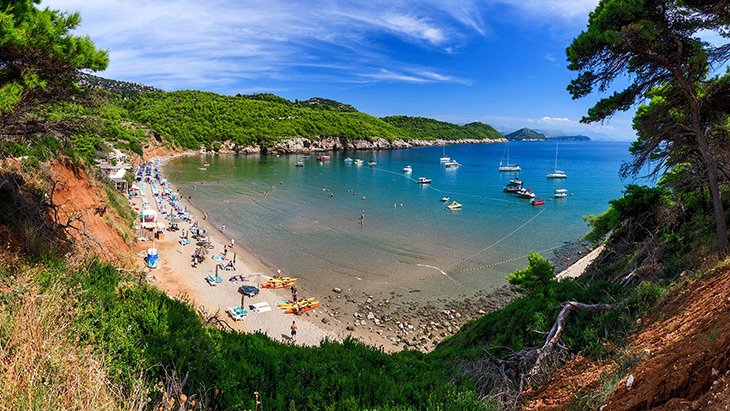 There possibility of renting pedal boats and kayaks for your holiday sport activities.
Šunj beach on Lopud island in Elaphiti archipelago unlike many other beaches on Dalmatian coast doesn't providing you natural shade however there is possibility of renting deck chair for symbolic price of 30 kuna and with umbrellas for additional 30 kunas.
Getting to Šunj beach from Dubrovnik ?
Ideal starting point for this trip would be Dubrovnik ferry port (Gruž) which is well connected with regular ferry lines with all islands from Elaphiti archipelago and therefore with Lopud island also.
There is six regular ferry lines per day for Elaphiti islands and price for ferry line for Lopud is symbolic 17 kuna.
After one hour long ferry ride you will reach Lopud village from where you will have choices of renting a boat and reach gorgeous sandy beach from seaside or take 20 minutes walk across the island to reach sandy cove.
If you are not fan of walking as alternative way to reach this beach you can take golf cart ride from Lopud ferry port to Šunj beach for symbolic price of 10 kunas.
Remember that car traffic on Lopud island is not allowed.
If this way of reaching Sunj beach seems too slow as alternative you can check one of many private boat charter lines which will take you across all islands of Elaphiti archipelago; Lopud , Šipan and Koločep island.