Bibinje Croatia – Best Places To Visit In Zadar Croatia
Published: November 18th, 2018
Bibinje is a small settlement located on the Adriatic shore within a view distance southeast from Zadar.
Bibinje, Croatia has a luxury of being close enough to one of the bigger cities to casually drop by while still keeping the peaceful and casual atmosphere of the smaller town that gives you plenty opportunities to relax.
Bibinje spans about 4 km (3 miles) of shore with a mix of natural rocky and man made pebble beaches, beautiful riviera, marina and other catering facilities like restaurants and cafes.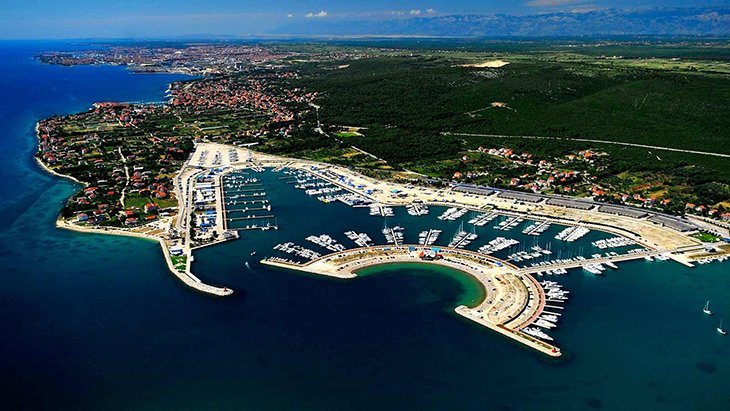 Bibinje was originally a small fishing village founded in the Bibinje field and was named Tochinja.
After some time, Tochinia experienced economic development on a large scale under the protection from Convent of Benedictines and eventually changed the name to Bibinje.
During the recent times, Croatian people started to visit Bibinje as cheaper alternative to Zadar while having most of the benefits remain same.
It was recognized abroad due to great effort from local population to provide enough activities and events for the guests during their vacation in Croatia.
Things to do in Bibinje, Croatia
Since this area was a simple and small fishing village in the past, traditional cultural events were mostly held in churches.
If you combine that with the fact that Benedictines were present for centuries in this area who also owned this place for some time, you will see that most of the cultural events were held in them.
These are the three small, beautiful and old churches dedicated to people of Bibinje:
Church of John the Baptist's Martyrdom in Bibinje
Church of John the Baptist's Martyrdom – this is the oldest and smallest church that was built in 12th century that was recently restored.
Church of St. Mary Assumption
St. Mary Assumption Church – It is the most beautiful and biggest church in Bibinje that was built after several attempts in the past.
Beautiful murals and peaceful atmosphere inside it will leave you with a feeling of tranquility after you visit it.
Church of St Rok
Church of St. Rok – It dates back to 16th century and it is the heart and soul of Bibinje and most used for ceremonial services during the past times.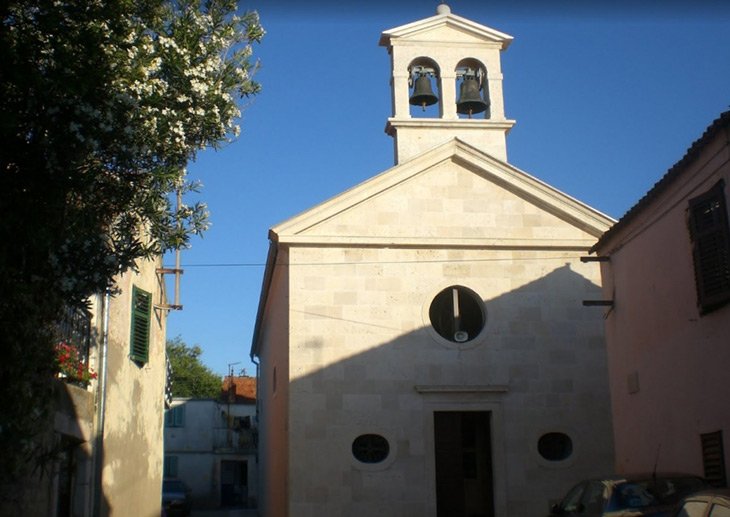 It was built as a sign of gratitude to St. Rok for saving them from the plaque.
Beaches in Bibinje
Beach Punta Rožica
Punta Rozica is most recognizable beach in Bibinje is a natural rocky beach with a crystal clear sea, plenty of shade beneath the Mediterranean pine trees and many nearby catering facilities, changing rooms and showers.
It is the most popular beach with access for disabled people on certain places.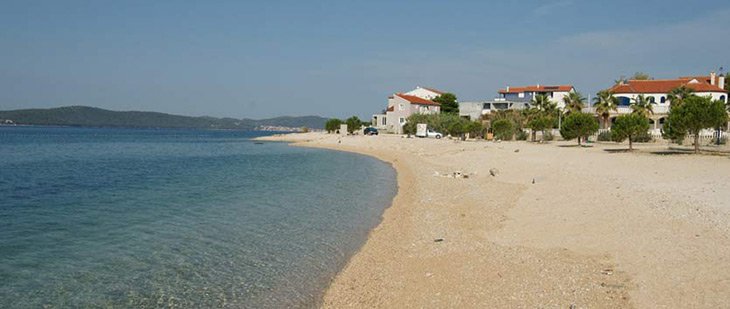 Punta Beach in Bibinje
Beach Punta – is located on the east side of Bibinje near local marina. It has nearby restaurants and cafes as well as volleyball beach courts with a fine sand.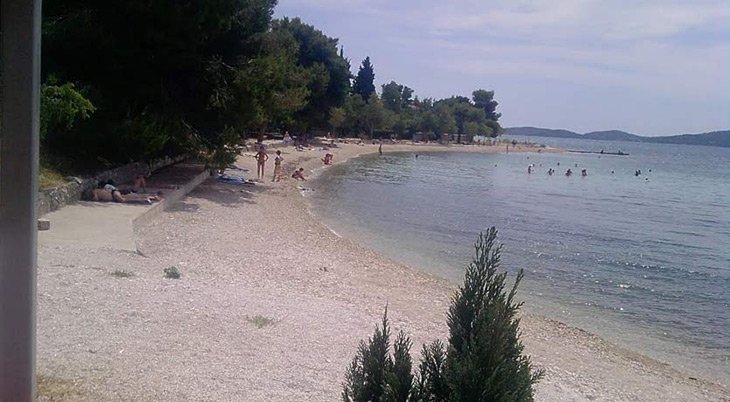 Beach Šulterovo in Šulterov bay
Beach Šulterovo – a small pebble beach located in a Šulterov cove in Bibinje with plenty shade provided from nearby trees.
Lipauska Beach
Beach Lipauska – closest beach to the town center. Lipauska is a pebble beach with a plenty natural shade also there is children playground and a volleyball court.
Activities in Bibinje
Summer beach-ball tournament is held on the beach Punta. Men and women teams gather up each year in growing numbers and increasing quality to compete for the first place. If competition is not your thing, you can play daily on every court if you so please.
Diving
Diving is one of the recreations offered as a service in Bibinje.
With relatively deep parts and open sea, you have the opportunity to explore what is beneath the shining blue sea surface and see different species of local fish and small coral reefs.
Windsurfing
Windsurfing is a popular activity during and off the season if the wind so allows.
With fast winds, people can achieve great speeds if they have enough experience and the right equipment.
The conditions are ideal, especially during most of the late afternoon hours.
D Marine in Bibinje
Nautics – with many great natural shelters along with the closeness to Zadar, town is a great nautical destination from where you can visit nearby region with your own vessel or easily rent one.
The local marina is equipped with many modern tools and provide many professional services.
There are many other activities like excursions to nearby national park Kornati, NP Paklenica or NP Krka with plenty of different experiences wherever you decide to go.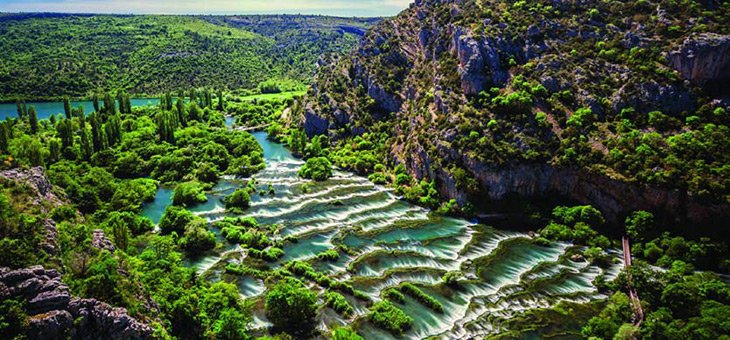 Events in Bibinje
Most of the events take place during the summer in form of concerts, festivities and other celebrations that are adored by the guests.
Here are the top events that are organized with the help of the city:
Singing in Bibinje
Singing in Bibinje – during the beginning of August many Dalmatian acapella bands meet in the town square and sing their hearts out in a non competitive manner and in a traditional way, where all sorts of food and drinks are served during the evening hours.
Celebration of St. Roko
St. Rok celebration – held in the middle of August, this firework event in Jaz bay starts right after the bells ring the midnight hour to celebrate St. Rok accompanied by many musical bands, food and drinks.
Folklore festival
Festival of folklore – held during the month of July, folklore groups from all over the Croatia come to city to meet and renew their friendships.
You will be able to see performances of each group as the dancing groups head from the center of Bibinje towards the old town square on the outskirts of the old village.
The Good Friday Procession
The Good Friday Procession – visually he most stunning event where people light the lye torches along the path of procession from St. Mary's Assumption Church towards the old St. Rok Church.
Once people reach the Jaz bay where the processions ends, you will see beautiful reflection in the sea from the torches that makes it look like the sea is on fire.
Getting there
There are many ways to get here: by boat, plane, car, train or bus. If you decide to get here by plane, you can fly to Zadar airport and then get here with a bus or taxi.
Local marina has enough space for boats with affordable fees while train station is in the center of the town along with the bus station.