Brela, Croatia – Places to visit & Things to do
Published: February 10th, 2015
Brela Croatia is a small town located on Makarska riviera and it is well known as one of pioneers of tourism on Croatian coast.
Brela is a town that offers a lot to its visitors: crystal clear Adriatic in its full glory, 6.5 km long sandy and gravel beaches, long and beautiful promenades with pine alley along the coast.
Pitoresque old Dalmatian houses all the way to the peaks of mountain Biokovo and its wonders of nature.
Due to rich natural and cultural inheritance Brela was always first class vacation destination on Makarska Riviera.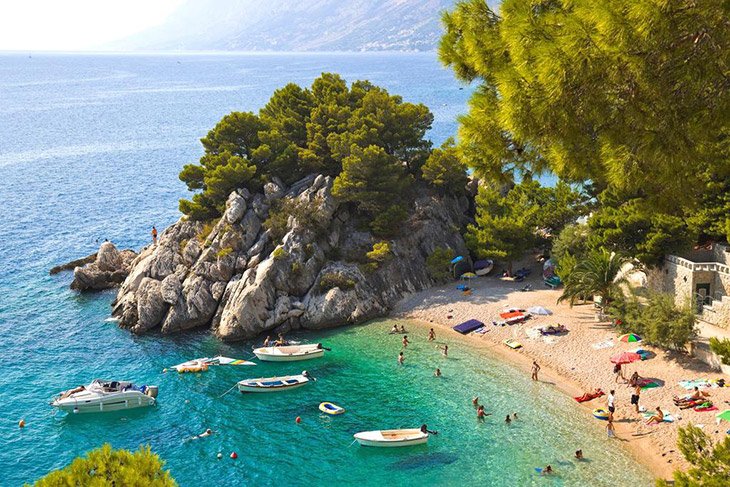 Brela managed to keep that title until today.
High quality accommodation and warm hospitality of hosts combined with traditional Mediterranean cuisine, olive oil and premium croatian wines makes Brela most one of the most desirable vacation spots on Croatian coast.
Town of Brela consist of two bigger settlements Gornja Brela and Brela.
Gornja Brela area is mainly located inside nature park Biokovo while Brela consisting of several smaller hamlets situated on both side of the coastal highway. Largest ones are Donje Selo and Soline.
Brela Croatia – Places to visit
Dugi rat or Punta Rata beach in Brela
Dugi rat beach or Punta Rata – is on 6th out of 10 most beautiful gravel beaches in the world according to Forbes magazine from 2004.

Punta Rata beach equally fighting for this title with beaches from other exotic vacation resorts St.Trosuch as St.Tropez, Costa del Sol, and the sandy beaches in destinations like Belize, Antigua and the Maldives.
Immediately in front of the west side of Punta Rata beach you will notice big rock peaking out from the sea with pine growing at the top.
Brela beach stone is one of the most famous features of Brela town and common motive on postcards and souvenirs from this lovely town.
Medvidina cave
Medvidina cave – area which along with Berulia beach once used to habitat of the most endangered mammal in the world Mediterranean monk seal or as local call them morski medvid (sea bear) or morski čovik (sea man).
This endangered species can be rarely seen and for a long time was considered extincted and today it can be seen on Istrian coast near Opatija and Pula or occasionally around Biševo island.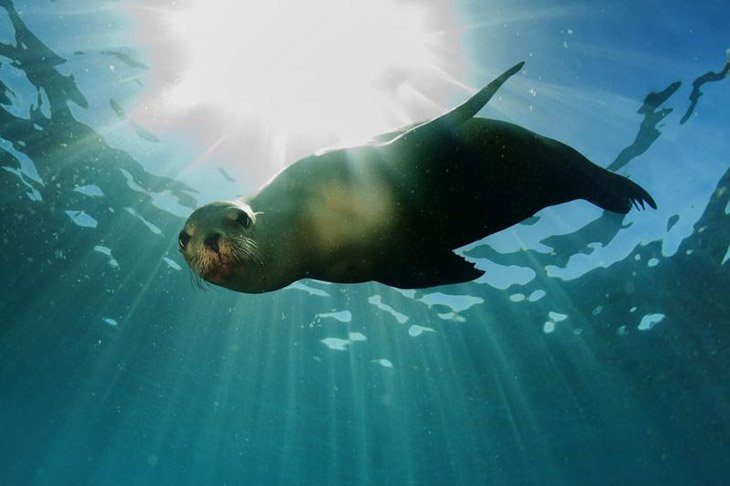 Bay of Vrulja in Brela Croatia
Vrulja Bay – huge hydrological system of underwater springs which flow out through undersea sinkhole with diameter of 60 meters.
Cove is located right below Dupci pass which separates mountain slopes of Dovnja mountain massif from Biokovo mountain on 288m above sea level.
Location of Vrulja bay is well known for strong winter winds which keeping this place and its secrets well preserved for summer season. You can enjoy there in diving, fishing or kayaking.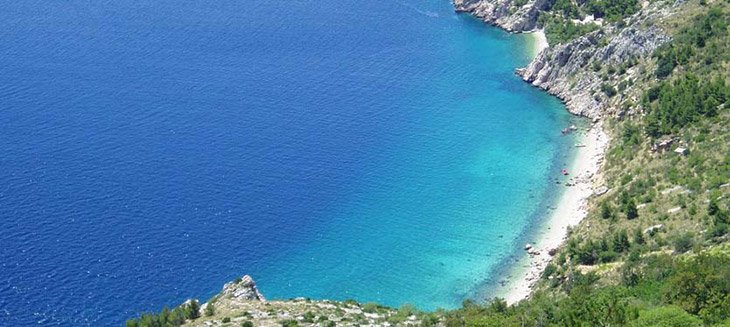 Park of nature & mountain Biokovo
Mountain Biokovo – dividing Dalmatian hinterland from coast.
Highest peak of Biokovo is Sv. Jure (St. George) on 1762m above sea level.
One of the main features of Biokovo mountain is variety of flora and fauna.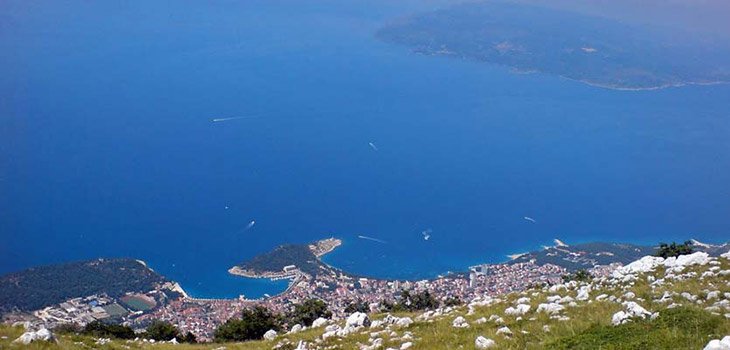 Biokovo is habitat of numerous endemic species such as: Biokovsko zvonce (Biokovo bell), wolves, boars, Golden Eagle, the Short-toed Snake-eagle, partridges, foxes and since 1968 Biokovo is a home of European moufflon.
There is only one poisonous snake that can be found on Biokovo – Horned viper. Another worth seeing attraction of Biokovo is botanical garden Kotisina located at 350-500 meters elevation and occupying area of 16.5 hectares.
In year 1981 this area is proclaimed as nature park. Many people who visited Brela would agree that most beautiful part of Biokovo is part above Brela.
Biokovo eye (Šuplja Stina)
Biokovo eye (Suplja Stina) – another natural phenomena of Brela riviera.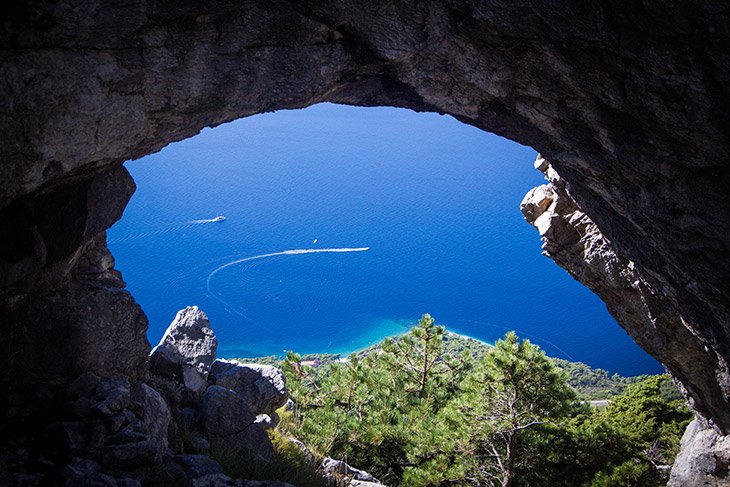 Biokovo eye is actually rock carved by forces of nature located on top of Biokovo, through the rock you can enjoy in panoramic view on entire coast of Brela area. It was named after its shape which look like observes all events and surrounding of Brela town.
Churches of Brela Croatia
Church of our Lady of Carmel – unique and valuable monument of the baroque architecture in harmony with the surroundings located in Soline village. Built in 1715 as a symbol of victory against Otoman Empire.
Church of St. Nicola – dates back in pre-Turkish period. Church is around five centuries old, located on 572 meters elevation under village Bukovac. St. Nicola was a saint patron of Brela for centuries – until recent days.
Acitivities & Things to do in Brela
Walking Brela promenade
Walking Brela Lungo Mare – one of the most beautiful promenades on Croatian coast extends 6.5 kilometers, from Jakiruša to Berulija beach and if you feel capable you can extent your walk to other towns of Makarska Riviera.
Rock climbing on Biokovo
Rock climbing – due to vicinity of Biokovo there is a wide selection of different climbing routes from easier to hard difficulty.
Main features of this climbing routes are precision and endurance.
Real potential of this climbing routes was discovered by Austrian climber Christian Hacker who was together with his friends visited the all important sites.

All people who manage to reach the peaks of climbing routes will be enchanted by spectacular view on surrounding Brac and Hvar island.
Detailed map of all climbing routes can be obtained in Brela Tourist Board.
Bike tour on Makarska riviera
Cycling – with length of 60 kilometers and the perfect weather conditions, Makarska riviera is ideal vacation spot for cycling enthusiasts.
In Brela there are two main cycling routes where one goes along coast while the other goes through Biokovo mountain.
Coastal concrede promenade is suitable for an easy ride but if you are planning to go all way to Berulia Beach.
If you want to cycle to neighboring towns Baška Voda or even Makarska you will have some difficulties on route between Berulia beach and Baška Voda; in a length of about 200m you will have to push your bike or climb up beside Berulia hotel to reach route for Baška Voda.
Main advantage of this track is spectacular view on Adriatic and Biokovo.
Fishing in Adriatic
Fishing – one day licenses for sport fishing and those valid for couple days are intended primarily for foreign citizens.
If a you have a membership card of its grassroots sport fishing association, then you are not obliged to purchase a HSSRM membership card.
From January 2012 licenses might be issued in electronic form and payment is possible via that way if so agreed.
Your license will be submited by mail. Price for one day license is 50kn (6-7 eur) for adults and 20kn (2.5 -3 eur) for younger than 18.
Getting to Brela Croatia ?
Split Airport is 65 km away from Brela while one in Dubrovnik is 186 km and when you reach one of those two airports further is easy because you have frequent bus line Split – Dubrovnik which goes every 30 minutes and it follows flight schedule.
Both airports have rental car options if you are not big fun of buses. Makarska is just 15 kilometers away from Brela where also is car rental opportunity.