Things to do in Kopački Rit Croatia
Published: December 2nd, 2018
Kopački Rit Nature Park in Croatia is a beautiful nature reserve found in Slavonia region. It is composed of diluvial fields, wetlands, and forests.
No wonder it is often referred to as the "European Amazon." It is best described as a fluvial, inundated plain.
Here you can find the most protected forests and waters in the Slavonia region.
Slavonia is a flat and fertile land located in northeastern Croatia.
Interesting facts about Kopački Rit Croatia
Nature Park Kopački Rit was established in 1976 and it is the oldest nature park in the country. It covers a total of 238 hectares, one of the largest fluvial-wetland plains in Europe.

Kopački Rit actually comes from a Hungarian word, "kapocs." This means "clasp." Ret, on the other hand, is a direct translation of the Hungarian word for "meadow."
Nature continuously changes the landscapes and waterscapes of this bio-reserve, depending on the quantity of water from the Danube.
As a result, it is never the same and no new day is like the previous one.
Kopački Rit is actually a floodplain that has a unique appearance, brought about by the activities of both the Danube and the Drava river.
During springtime, high waters from the Danube flow in the marshlands.
This brings in fish that are able to spawn in the shallow waters. This natural occurrence also makes the water deeper in some areas, which creates small ponds mixed in by the sedimentation carried by the river.
This also results in the entire floodplain having an inland delta in its middle stream and occasional soil elevations, a phenomenon which other rivers of the world do not have.
There are two important lakes in the park: Kopačko Lake and Sakadaš.
Kopačko Lake is the largest, and Sakadaš, with a water depth of seven meters, is the deepest lake in the park.
A network of natural and artificial channels interconnects these lakes with both the Drava and the Danube river.
Nature park of Kopački Rit, Croatia
A protected seascape and landscape by international organization IUCN (International Union for Conservation of Nature and Natural Resources), Kopački Rit has stunning wooden trails, backwaters and ponds along the Danube.
The reserve has also been recommended for inclusion in the UNESCO list of Natural Heritage.
In 2012, it was declared by UNESCO as an important component of the Mura-Drava-Danube Biosphere Reserve.
The importance of this area has long been recognized in history.
In fact, as early as 1699, The King of Hungary and Croatia Leopold I founded the Belje farm and presented it as a gift to Prince Eugene of Savoy, who was entrusted with the management of the property.
Over the years, members of the Habsburg-Teschen family took turns managing Kopački rit until 1918.
Due to its great biological diversity and complex ecosystem, the Ramsar Convention on Wetlands of International Importance has included Kopački Rit on its list.
It also received the status of Important Bird Area in Europe in 1989.
Kopački Rit is considered the most important ecological reserve in Croatia.

Flooded area of Kopački Rit is also the biggest spawning region for freshwater fish in the entire Danube area.
Its natural beauty, which has remained intact all these years, has attracted visitors and scientists from all over Europe.
It is considered to be the biggest and most beautifully preserved wetlands on the continent.
Location of Kopački Rit
The exact location of Kopački rit is right between two municipalities: Kneževi Vinogradi and Bilje, which are both in the county of Osijek-Baranja in the region of Slavonia, which is in the northeastern part of Croatia.
Osijek-Baranja County is called the "breadbasket of Croatia" because it is the most fertile part of the country that produces grains, sugar beets, and corn.
The park is strategically located where two major central European rivers meet: the Drava River in the south and the Danube River in the north.
It stretches from the northern part of the Drava and upstream to the Danube towards the former Kazuk port. The park lies on the border between Croatia and Serbia.
The reserve is easily accessible through land, railway, plane, or ship.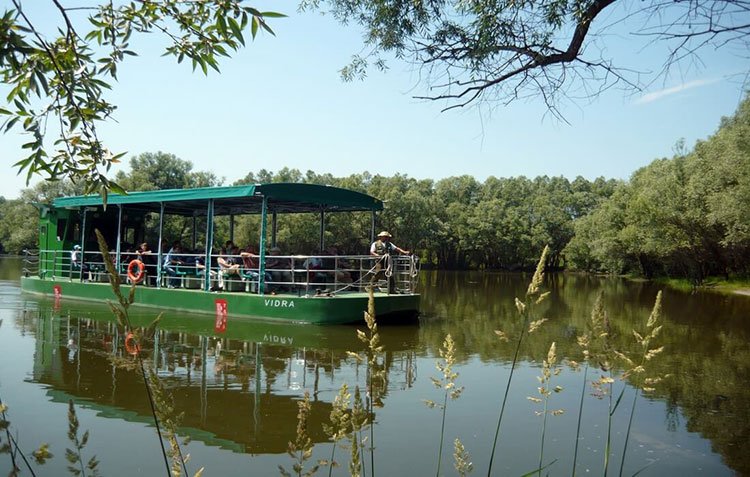 Its gateway is the big town of Osijek, where the nearest airport is located.
There are many organized guided tours around Kopački rit, which can be booked in Osijek Croatia.
Zoological Reserve inside nature park
There is a part of Kopački rit that is reserved solely for animals.
There are about 300 bird species that nest in the zoological reserve.
Some of these bird species include the great white egret, white storks, crows, coots, wild geese, and the European green woodpecker.
Flocks of cranes and cormorants can be seen even from the boardwalk.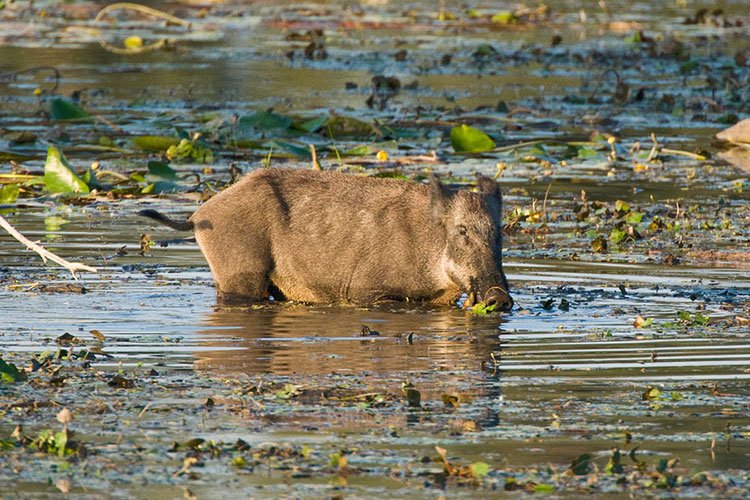 The most notable bird species found in Kopački rit are the white-tailed eagle and the black stork.
White-tailed eagles famously breed in the area, and they are also considered natural "cleaners" since they feed on animal carcasses.
From 2000 to 2015, the population of the white-tailed eagle has doubled in the nature park, which was a result of a total ban on hunting activities.
Killing a white-tailed eagle in Croatia is punishable by law. The eagles can be seen nesting on tall black poplar, oak trees, and white willow.
Black storks can often be seen feeding in shallow ponds that are overgrown with plants.
There is a designated area just for watching and photographing birds. The best time to come is during the autumn migration.
At the beginning of August, visitors often see flocks of white storks preparing for their long journey.
The waters are teeming with about 44 fish species which include bream, carp, catfish, tench, and many more. There are also abundant mammals, particularly in the northern forested areas of the park.

These mammals include red deer, wild boar, weasel, sable, otter, wildcat, and pine marten. The nature reserve is well-known for its large herds of deer. The red deer is the biggest animal found in the nature park.
However, its wild boar population rivals that of the deer population. Scientists have recorded 54 mammals, 10 reptile, and 11 amphibian species in the area.
The European pond turtles are permanent residents of Kopački rit, there is a large number of them here, and this is significant because it is now considered an endangered species in the continent.
The Kopački rit area is teeming with insects. More than 70 species of dragonflies, with different colors, live in the nature reserve.
Scientists have also discovered 85 scarab species, 35 butterfly species, and 11 mosquito species in Kopački rit.
Amazingly, scientists say that there are many other endemic animal species in the area that are yet to be recorded.
Main Plant Species in Kopački Rit
There are about 140 species of plant on record in Kopački rit. Some of the species of plants that are seen there are the following: Siberian cattail, black sedge, white water lilies, irises, and much more.
The predominant vegetations of the park are white willow and black poplar forests.
At a higher terrain; valuable forests of oak can be seen.
The northern part of the park is filled with willow, oak, ash, and poplar forests.
There are also green weeds that extend to the lower grounds, especially during long periods of the flood.
Here are some notable plant species found in the nature reserve:
– Dalmatian Iris
Appearing in late spring, the Dalmatian iris or Iris Pallida is a semi-evergreen that appears in late spring. It is notable for its scented, purple flowers and its sword-shaped leaves with striped creamy yellow features.
– White Water Lily
One of the most beautiful plants in Kopački rit, the white water lily has massive, showy flowers that float in ponds, lakes, and canals all over the nature park. Entire acres of white water lilies cover the park.
– Smooth Black Sedge
This herbaceous perennial plant blossoms in May and June. They grow in large or small groups and have distinctive purple-brown scales.
– Flowering Rush
This perennial plant grows from about 60 cm to 150 cm high. This plant with pink flowers is prevalent all throughout Croatia and is found in marsh habitats and waters with miry surfaces.
– Graceful Cattail
This plant belongs to the list of critically-endangered species included in the Red Book of the Republic of Croatia. There is a small population of this wetland plant in Kopački rit.
– Pale Yellow Iris
There are only a few places in Central Europe where this plant species is found, and Kopački rit is covered one of them.
Things to do in Kopacki Rit – Croatia
Kopački rit attracts thousands of visitors from all across Europe.
There are daily passes available and guided visits can be done by panoramic ships or horse-drawn wagons.
Other visitors prefer to go on foot.
There is a boardwalk that is 2 kilometers long.

This extensive boardwalk meanders through reeds and marshland. It is a suitable place for families to visit. There are many play areas for kids.
Accommodation is available in the form of small village houses.
The best way to tour the park is through excursion boats. These small boats are ideal because they can reach the shallow, swampy backwaters.
All boat tours depart from a designated embarkation point on the lake near the visitor center, located at the end of the boardwalk area.
The entrance ticket for adults, which is valid for one day, is 10 Croatian kuna (cca 1,5 euro). Specialized tours have additional fees per person.
A big boat tour costs 80 KN for adults and a wildlife tour on a small boat costs 100 KN per hour.
Commercial filming and commercial photography are allowed inside the park for a certain fee.
Children up to 4 years of age who are accompanied by a parent are free of charge. 1 teacher gets a free pass for every group of 15 children.
Guests with disabilities do not have to pay an entrance ticket.
Activities at Kopački rit
Fishing
There are certain parts of the nature park where visitors are allowed to hunt or go fishing.
There are three fishing locations where visitors can go fishing with permission.
These fishing locations are the canals near the Podunavlje and Kozjak settlements, the Danube River, Grabovacka jezera, Vemelj and Čarna.

Rent a bike
Three international bike routes go through Kopački rit: Paths of Peace, the Danube Route, and the Baranja Greenways Ecosystem.
These routes are open year-round. Many visitors rent bikes and enjoy the relaxing routes, which is 90% asphalt.
The visitor centre rents out bikes for 20 KN per hour or 100 KN per day.
Visit Castle Tikveš
12 kilometers from the Visitor Centre, located at the northern end of the park, is an Austro-Hungarian castle. This castle complex is called Dvorac Tikveš and it has a rich and interesting history.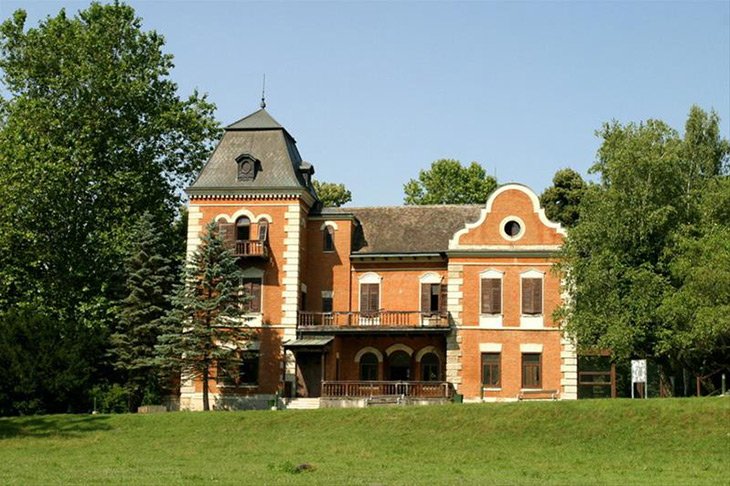 Dating back to the 19th century, this castle which stands on an elevated plateau was built by members of the Habsburg family of Teschens.
From 1941 to 1944, Prince Albrecht Habsburg was in charge of the castle complex.
After World War II, it became part of the national government, serving as a residential hunting center. In fact, it was famously used by former Yugoslav President Josip Broz Tito as a hunting lodge.
The Serbs occupied the castle in the 1990s, and it was plundered. It was restored and preserved as a tourist destination, with a reception center, exhibition hall, souvenir shop, and a restaurant, which serve local delights such as fish stew, grilled carp, or venison.
At the beginning of the 20th century, a bio-ecological research station was built southwest of the main castle, where scientists and explorers do researches on its four laboratories.
Every September, visitors usually experience a very dense morning fog. However, it is an almost mystical experience to see this fog lift to reveal the magnificence of the marsh and its surrounding areas.
Since the area lies on the border of Serbia and Croatia, it was heavily mined during the 1990s. In 2018, the park announced that there is an important project to remove landmines in an area that covers about 200 hectares of the park.
The completion of this project will significantly improve park safety both for visitors and employees.
Guided tours are recommended.
Visitors also have to be aware that the park is under strict protection and any kind of disturbance is a big no-no.