Korcula Island, Croatia – Mediterranean as it used to be
Korcula island with its luxuriant vegetation and it is one of the greenest islands in the Adriatic Sea, with numerous vineyards and olive groves.
Southern side of island is abundant in small beaches and quiet coves.
Ancient Greeks used to call the island Korkyra, Melaina or "black Corfu, all names describing the rich vegetation of the Korcula.
Island of Korcula is situated about 20km from the mainland between Makarska and Ston on Peljesac peninsula.
South coastline of island is very rich in beaches and over 200 caves.
Currently Korcula island is home to some 16000 people. Your coming to the island is easy if you departure from Split or Dubrovnik by ferry boat, but there is also a ferry connection from nearby Orebic on Peljesac peninsula.
Biggest town on Korcula island have same name as the island. By Visiting Korcula town you will be able to see remains the essence of market town, with its mix of culture and its thick walls reminiscent of Dubrovnik.
The town of Korcula appears as a typical medieval Dalmatian town, with towers and defense red-roofed houses.
Korčula town is also known as a birthplace of Marco Polo (1254 – 1324), the wayward traveler to China, and Mongolia. And in fact the museum of Marco Polo which is one of the many cultural centers that Korcula offers to its tourist.
Korcula town was bounded to medieval battles and due to that fact they preserved the tradition of chivalry dances held throughout the island.
If you visit Korcula you will find here villages isolated of the time, places where you can breathe peace, green fields and small houses surrounded by nature, most certainly a relaxing place to plan your short trip or holiday for the whole family.
On Korcula island, Croatia there are several hotels, and many rooms and apartments in private arrangement. So you should not be concerned to find accommodation even in peak of summer season.
Korcula Island, Croatia – Things to do and places to visit
Prigradica
Small fishing village Prigradica is surrounded by old vineyards and olive groves. it is located on the northwest coast of the island of Korcula. Prigradica is 4 km away from Blato, 12 km from Vela Luka, and 45 km from the Korcula town.
It is one of the earliest poplulated bays on the island. Village was built as a port for the esteemed wine and olive oil from Blato.
Prigradica village is ornamented with many ancient stone houses, so that Prigradica preserve authentic rustic atmosphere of past times.
In modern days Prigradica is a tourist oriented village and ideal place for a pleasant and peaceful holiday. The bay of Prigradica is dominated by a large waterfront with a breakwater built during the rule of the Austro-Hungarian monarchy.
You can easily find rocky and pebbly beaches, restaurants, bars, playgrounds for football, basketball and beach volleyball.
Due the fact that Korcula island is so wooded and mountainous, Prigradica is a great starting spot for trekking and cycling. Nearby villages are untouched for centuries. Prigradice offers you a unique opportunity to plan short one or two day trips and experience the return to the past times.
Račišće
Village was built at the end of the 17th century by the refugees from Turk army, provenient from Makarska and Herzegovina areas.
North coast village and harbor, located 12km from Korcula town.
Siutated on the southern slopes of the cove Racisce which is oriented to the inland of the island. On wast side of Račišće you can find sea coves Vaja and Samograd that are good for swimming and diving activites.
Cove of Vaja, which is famous for a white stone prepared in the stone quarries is nearby Racisce. Cove of Samograd is also near Racisce and its entrance is covered by bush. Racisce is a perfect place for your vacation because of crystaly clear sea, quite and peace.
Racisce is well known in Croatia for it's capable sailors and fishermen. Sailing and fishing was for long centuries the main profession of Korcula inhabitants.
In late 19th century and beginning of 20th century, Račišće used to have about 40 wooden schooners with huge and gorgeous masts and sails, locally called "trabakul".
Lumbarda
Lumbarda is a tourist place on Korcula famous for its sandy beaches. Only 7 km from Korcula town, Lumbarda and its surroundings have a lot to offer to its visitors.
In Lumbarda you can find sandy beaches, archaeological findings of Greek and Roman civilization, at southern slopes vineyards of famous wines Grk, Posip, Plavac and Marastina, olive groves, more than fifteen small islands and islets.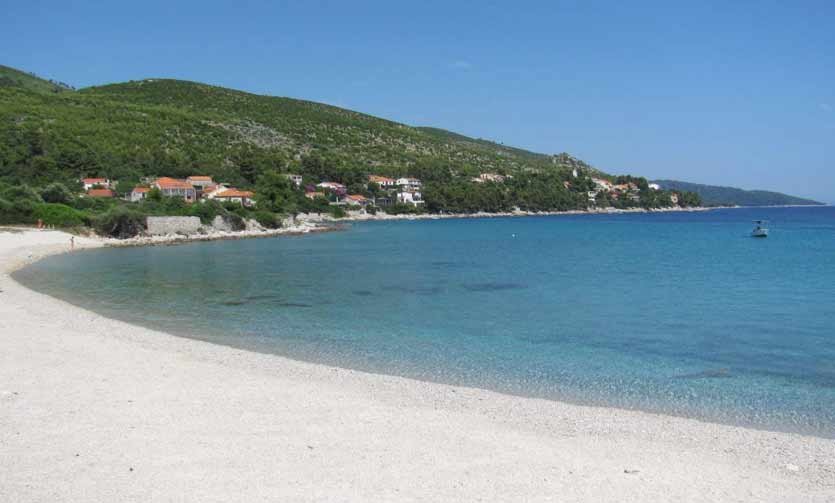 To reach Lumbarda one can drive along a nice asphalt road passing through a picturesque area of pine woods and olive groves. In the 3rd century BC a Greek settlement was founded here from which originated the Psephism and the gnathia vases found in graves which can be seen in the Korcula Town Museum.
There was a Roman villa rustic in the field north-east of the village near Bilin zal beach. Since the 16st century prosperous Korcula Town landowners built summer houses called "Kaštel" (pronounced 'kashtel') on the best sites around Lumbarda, some of them still well preserved and inhabited by local families.
Sveti Rok parish church with a nave and two aisles stands on Vela Glavica hill in the middle of old Lumbarda, and there are several small old chapels in the village itself: St Bartul, St Peter, The Nativity of the Virgin (Mala Gospa).
You can also visit church of the Holy Cross (Sv. Kriz) from 1774, in front of which is a characteristic porch, is surrounded by vineyards.
There are several hotels in Lumbarda as well as several camps, private apartments, restaurants, shops, and a small yacht marina.Numerous taverns and inns in Lumbarda offering traditional dishes, especially fresh grilled fish seasoned with olive oil and accompanied by the local white wines.
Zavalatica
Zavalatica on island Korcula will offer you peaceful holidays in a tranquil unspoiled natural enviroment.
Zavalatica is located in the bay of Zavalatica on the southern slopes of island of Korcula it is easy to reach from the mainland by daily ferry lines.
Southern parts of Korcula, near Zavalatica, are famous for producing fine vine "Posip", winner of many awards for its quality in Croatia and Europe. The most famous place on Korcula related to that vine is place called Čara (read Chara), just 3 kilometers from Zavalatica bay, situated on the road to Zavalatica bay.
Zavalatica is ideal starting point for excursions to island of Lastovo and the nearby islets. Very near to the bay of Zavalatica are many bays where the sea is crystally clean and wich offer the perfect relaxation, bath and drive on sport boats. Zitna, the neighbouring tourist bay gives a special mood with its clear blue sea, clean beach and Dalmatian wine and fish restaurant.
Accommodation is easy to find in one local private accommodation services, attended by local house owners, very friendly and cheerful giving to Zavalatica visitors many reasons to feel comfortable and relaxed. Near to Zavalatica there are two grocery stores, modern restaurant right by the sea and a night bar.
Vela Luka
Vela Luka is located on the island's western coast. Surrounded by numerous islets, inlets, lush vegetation with wide areas of olives and vineyards, Vela Luka is a promise of an authentic Mediterranean vacation.
If you visiting Vela Luka in the summer do not plan to spend every day on the beach since in Vela lika you can see and feel charming Dalmatian folklor festivals.
During the summer months there are many performances, concerts and events that take place. Most interesting festival is Vela Luka festival – small boat race of Sveti Ivan.
This tradition dates back in 1933 when a Britain warship commander, delighted with the island and its inhabitants, proposed to perform a rowing race between the warship crew and the locals.
The locals won this race and since then, every June 24th in Vela Luka bay a rowing race takes place. Another major events held in Vela Luka is the "Kumpanija" tournament, a medieval role play surrounded by all necessary artifacts to make it appear that we are in the Middle Ages.
This event takes place on the day of Sveti Josip (St. Jozeph), recently recovered after 75 years and have been some of the locals who have recovered this beautiful folkloric event.
During nights the summer atmosphere and juvenile invades the place and invite us to enjoy with friends at any terrace or pub in the town.
Tourists in Vela Luka can easily reach the island with frequent ferry lines. Vela Luka has one of the largest ports in the area with connections from and to Split, Orebic (Peljesac) and Lastovo island.
Korcula Town
Korcula is town and port on the north-east coast of Korcula, situated on a small peninsula which is connected with the island by a narrow isthmus, it has population about 3000 inhabitants.
Korcula town is a walled town with it's numerous stone buildings and monuments, cafes, restaurants , hotels, galleries, cinema etc, Korcula is very popular for visitors as central location from which they explore the rest of the island and its surroundings. Korcula Town is also an administrative center of the island.
Kolcula Town surrounding area is covered with pine forests. On east from the port is a small group of islets. Korcula town economy is mainly based on agriculture, growing of grapes, olives and fruit, fishing, shipbuilding, stone masonry, touirsm and nautic services.
The county road connects the Korcula town with all major places on the island. The port consists of the western and the eastern part. Korcula Marina is located in a bay on the eastern side of the town.
Korcula town is well connected with with the mainland with regular ferry lines Korcula – Orebic.
Korcula town is medieval walled city positioned on a oval-shaped swelling of land pointing deep into Peljesac Channel.
The Old Town Korcula is grooved with a succession of narrow streets that branch off the spine of the main street like the fish bone. Fish bone shape design reducing effects of wind and sun and provide citizens with sheltered and comfortable accommodation.
Architecture in the Old Town Korcula is mainly influenced by Venetian Renaissance. Center is dominated by the splendid St Mark's Cathedral built in the Gothic-Renaissance style, completed in 15th century at the place of other church from 13th century.
Marco Polo was born in Korcula Town and Marko Polo's alleged house of birth is something valuable to see. Despite its rather featureless interior, the houses' tower (loggia) allows you a panoramic vista of Korcula, stretching from east to west. The house is under the protection of the Korcula Town Hall and it turned into a Museum of Marco Polo in 2012.
Korcula Town Museum is also interesting to visit since it will give you better insights to Korcula's and island history. Museum exhibit Korculan stonecarvings, Lumbarda Psephism and Ancient Greece artefacts , shipbuilding historical items, Renaissance Architectural Carvings and Coats of Arms Exhibits etc.
At night well known Moreska Sword Dance, a colorful, choreographed sword dance is also worth seeing.
Blato
Little picturesque town on Korcula island with something over 4000 inhabitantsis, located in the middle of the western part of the island like an amphitheatre on valley surrounded by seven hills.
Throughout whole village stretches a long alley of lime-trees called "Zlinje", and along it are public buildings built in the last few decades: the school, a hotel, banks, shops, the borough hall, the clinic and others.
In the old town centre, southern of "Zlinje", on a big patterned place, there is the parish church of "All Saints" that was originally built in the 13th century, the bell-tower and the lodge. Place is at the same time an open stage where numerous religious and secular celebrations are held, and the greatest is certainly the celebration of the Saint Vincenca patron-saint of Blato.
Relics of this saint were brought to Blato with the allowance of the Pope Pio VI 200 years ago in the year 1795, and the feast is on the 28th of April, which is the day of the municipality of Blato as well. The church "All Saints" was built in 1350 and it was reconstructed in 1672 when the bell-tower was built.
At that time, in 1700, the lodge in front of the church was built, instead of the old one from 1496 that was pulled down then. In the church is the main marble altar built by the baroque builder Peter Paul Bertapelli and on it is the significant picture "All Saints" by the Venetian painter Girolamo da Santacroce from 1540.
In the nearby building right next to the church you can check the collection of art pieces, valuables, documents and archeologic funds connected with the history of Blato and the church itself. In Blato and its surroundings are many smaller churches and chapels. The oldest is the church of "St. Kausus and Demian" from the 6th century, the "St. Mary in the Field", "St. Martin" and others. Many old houses with patterned courtyards and farm buildings in Blato.
Numerous "Kastels" (castles with tower) of the aristocracy from Korcula, and the most significant is the baroque summerhouse "Castle Arneri" in the centre of the village. It is foreseen as the location for the homeland museum with archeologic, historic and ethnologic collections what makes Blato place worth visiting.
Zrnovo
Zrnovo is located about 4 kilometres from center of Korcula Old Town. Zrnovo is a small village with population just over thousand inhabitants. Village is spreaded on the large area and it consist of 4 separate villages hamlets which are Zrnovo-Prvo Selo, Zrnovo- Brdo, Zrnovo-Kampus and Zrnovo- Podstrana.
Zrnovo is one of the oldest settlements on the island. The prehistoric life that existed in the area was found in Jakasove Spila (cave).
Zrnovo has numerous small churches one can see walking along the road from East to West. On the very entrance to Zrnovo from direction of Korcula, there is a crossroad to the right which leads to the area "Brdo" (croatian word for 'hill'). This area is located on the hilly position so there is a nice view over the reset of the village.
If one continues to walk called "Kocje". Kocje is an interesting area, and good place to walk as it is located among high rocks with unusual dolomite rocks of chalk formation.
Down in the village of Zrnovo – Prvo selo, at the left hand side is the church of MALA GOSPA and on the very right hand side, coming from the East, there is an area called "Barina". Barina is attractive little maze of old houses, paths, roads and tiny streets that constitute romantic place to have afternoon walk as it is a place where some of the oldest houses in Zrnovo are located.
Some of these houses are at the moment vacated and empty, due to the trend in last 30 years of Zrnovo inhabitants to move down to the coast, mostly in Medvinjak bay as well as Zrnovska Banja and Vrbovica bays, as at that was a time of tourist development in the area.
Islets Of Korcula
Vrnik
Vrnik is a small inhabited islet in the Korcula archipelago, accessible by taxi-boats from Korcula town main harbor. It is famous for it's deep stone quarries which dates back in Roman times.
Vrnik is worth to go and visit during the day as it has a lot of secluded small swimming spots where water is so blue and clear as well as a lot of pine trees on the eastern side of the island, where one can enjoy the shade on the hot summer days.

Vrnik is one of the favorite Sunday excursion spot for local people. Only inhabited island in Korcula Archipelago, and is the second largest island, with the village of the same name, is the site of the oldest and most famous Korcula quarry.
There are only a few families left in this picturesque village. One can visit the 29 local quarries. Only private boats and taxi boats sail to the island. The nearest parking place for cars is just 100 meters away on the island of Korcula at the crossroads Krmaca.
Next to the local school on the coast there is the new church of Our Lady of Succors from 1856. In front of one of the quarries on the northern coast, there is the old church of Our Lady of Succors from 1674.