Lopar Beaches – Island Rab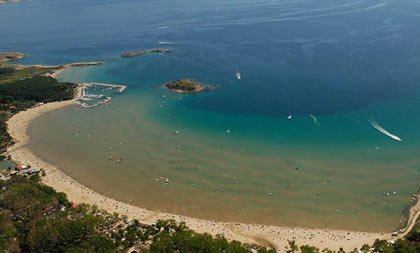 Lopar is a little town located on the north side of Rab island which is part of the Kvarner riviera islands. It can be visited by ferry Jablanac –Misnjak where the ride lasts 10-minutes or by ferry from Valbiska (located on the island of Krk) with an very attractive ride that takes around 30 minutes which is very interesting to visitors because of the closeness of Rijeka city and airport. On your tour from Rab town to Lopar you can see the featured St. Marina, the sculptor and founder of republic San Marino, who is born in Lopar in the 4 th century. When you came in Lopar you can visit the church of St. John the Baptist (patron of the Lopar parish), the votive church of the Blessed Virgin Mary from the 14 century.
Lopar town can be proud to have 22 beautiful sandy beaches from which 3 are nudist beaches (Ciganka, Sahara, Stolac). The largest and most famous beach in Lopar is the "Eden Beach" or "Rajska Plaza" (1.5 km long), which boasts the "Blue Flag" as international symbol of quality and preservation of environment and safety of bathers.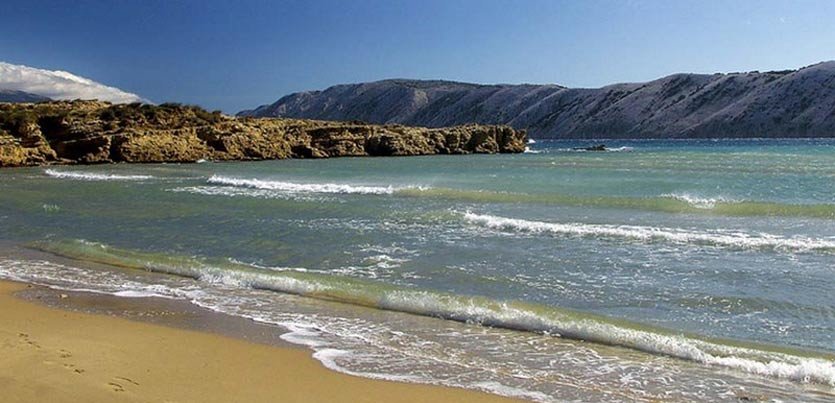 Eden Beach on the south side has a WATER SLIDE, a monumental structure that offers tourists, especially those young ones endless enjoyment in sliding down the water paths. The beach is ideal for beach volleyball so for years now there have been organized tournaments for the Croatian Championship in beach volleyball.
For one of those who are looking for adventure and sports Lopar beaches offers you JET SKI rides, an aqua park, parasailing, windsurfing, boat rental, paddle boats, kayaks and other interesting sports that often turn swimming into a real experience. Lopar town also has a fun and recreational center where you can play table tennis, mini-golf, soccer, basketball, billiards and the kids can jump on the trampoline, play video games etc.