Things To Do On Lopud Island Croatia
Published: August 5th, 2015
Lopud island or Lafota island is one of the four inhabited islands from Elphiti archipelago near Dubrovnik.
Lopud island is located only five kilometers away from main Dubrovnik ferry port Gruž in north-west direction.
Lopud is situated between other two islands of the Dubrovnik archipelago Koločep island on east and Šipan island on the west.
Surface of island is only 4.63 square kilometers but Lopud total length of the one of the most picturesque coastline is something over 13 km what makes Lopud island perfect vacation spot for all guests who are tired from fast and modern way of living.
Highest point of island is Polačica hill which offering its visitors spectacular view on entire Lopud bay and surrounding islands.
Island have only 220 premanent residents.
Lopud according to many people who visited it is perhaps the most beautiful island from from all islands in Elaphiti archipelago.
Beautiful countryside of Lopud island is prevailed with Mediterranean and subtropical vegetation.
Aleppo pine forest mixed together with palms, citrus, olive and laurel trees decorate Lopud landscape offering its visitors true spirit of Mediterranean life as it once was on coast of Adriatic.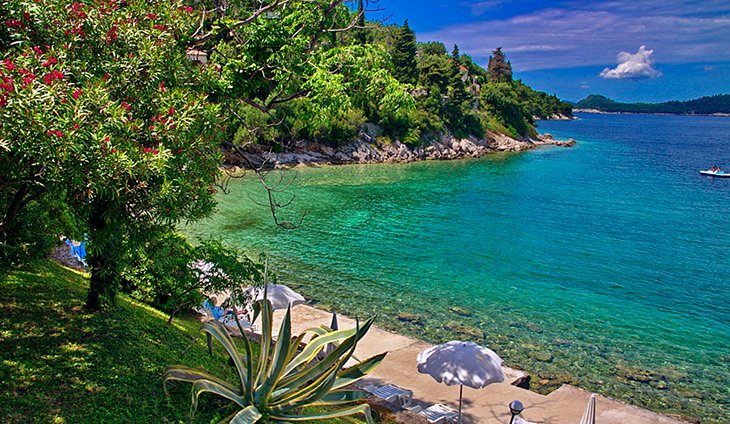 Central park on the island was part of 19-th century villa garden is home to many exotic species of plants which was brought from whole world during glory days of Dubrovnik Republic.
You can find there many subtropical species like: bamboo, different types of cactus and citrus.
Interesting facts about Lopud island Croatia
By some archaeological finds from this area was inhabited for a thousand years.
On the island there are remains of building from time of ancient Greeks, Romans and Slavs.
Since 1457 this small island became one of the main regional centers of Dubrovnik Republic (Ragusa).
Lopud in that time had over 1000 residents, own fleet of 80 ships and even their own shipyard.
Economic growth and wealth of Dubrovnik Republic also reflected on life of Lopud island.
In that time island was one of the most desired place to live for patrician families from Dubrovnik where they were built they summer residences and villas.
How strong it was development of the island in that time can be proved by 24 churches built by Franciscans and Dominicans.
Nowadays, every day life activities are based on tourism, catering, fishing, agriculture and wine growing.
On the island is Lafodia 4 star luxury hotel with beautiful view on surrounding area and beach and numerous accommodation options in private apartments and villas.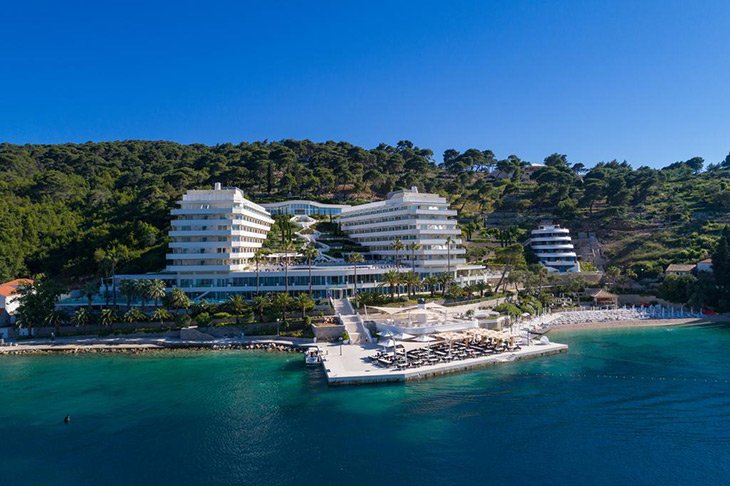 One of the main attractions on the island is Šunj beach, one of the most beautiful sandy beaches on Croatian coast which spreading across whole Lopud bay with half meter deep sea reaching far as about 100 meters from shoreline what makes Šunj beach ideal place for beach vacation with children.

Sea on Šunj beach is crystal clear like on all beaches on Lopud but water is little bit more warmer due shallow sandy bay.
One more interesting fact about this island is that from whole coastline which is about 13km long, 1.2 km are sandy beaches what puts this island in advantage comparing to other islands of Elaphiti archipelago.
How to get to island from Dubrovnik?
On the island cars are not allowed, so only way to reach this Dubrovniks gold valuable vacation destination is by boat or ferry which luckily have densed schedule from Dubrovnik ferry port Gruž on ferry line 807 run by Jadrolinija for Šipan island.
Alternative way are via private boat excursions which are very common in Elaphiti archipelago or via organized kayaking tours.