Places To Visit & Things To Do In Makarska Croatia
Published: July 4th, 2014
Makarska town was built around a natural harbor sheltered by a vivid peninsula of Sveti Petar (St. Peter) and the foreland Osejava.
Makarska is the only harbor of this type between river mouth of the Cetina on the north and Neretva river on the south.
In the in earlier times city provided protection and safe harbor during bad weather to sailors, pirates and merchants, and today it held the same purpose for yachts, sailing boats and tourist ships.
All this has contributed to city development into a trading port, especially during the rule of Ottoman and Venetian empire.
The best way to learn more about the history of this city is by visiting the Franciscan monastery which recently celebrated its 500th anniversary.

The monastery boasts a picture gallery, library, one-of-a-kind Malaco-logical museum (dedicated to the study and preservation of mollusks) and the Institute of Mountains and Sea.
Things to do in Makarska
The church of St. Marko is located on the Kačić square.
On its north side are: the Gojak gallery, located in the old school building, public library, the school of music, and the headquarters of the Makarska Riviera radio.
Makarska city museum can be found on the waterfront, as well as the church of St. Filip.
The renovated church of St. Peter is located in the St. Peter park, a spot with a beautiful view of the city, magnificent mountain Biokovo and the open sea.
Makarska has always been the hot spot of the surrounding region which is also known as Makarska Riviera, both in an administrative, political and economic sense, as well as a center of culture, education, and from the middle twentieth century, tourism.
Makarska is a city of more than 15 thousand inhabitants that encompasses picturesque villages in the bottom of the Biokovo Mountain, including Veliko Brdo, Puharići, Kotišina and Makar (which is where the name of Makarska comes from).
Makarska is one of the most famous tourist destinations on the Croatian coast, attractive for its nature and good climate, rich in tourist attractions and full of hospitable people.
Makarska riviera is also well known for its fine gravel beaches, which is almost 2 kilometers long.

The promenades on that beaches are lined with pine trees and surrounded by luxury hotels, tourist facilities, and gastronomical havens, and there is plenty of fun for both adults and children.
Visit park of nature Biokovo
To a bit less than 3 kilometers you can also visit Nature Park Biokovo. Natural and cultural heritage of Biokovo has long been recognized as a value in which should be protected and preserved.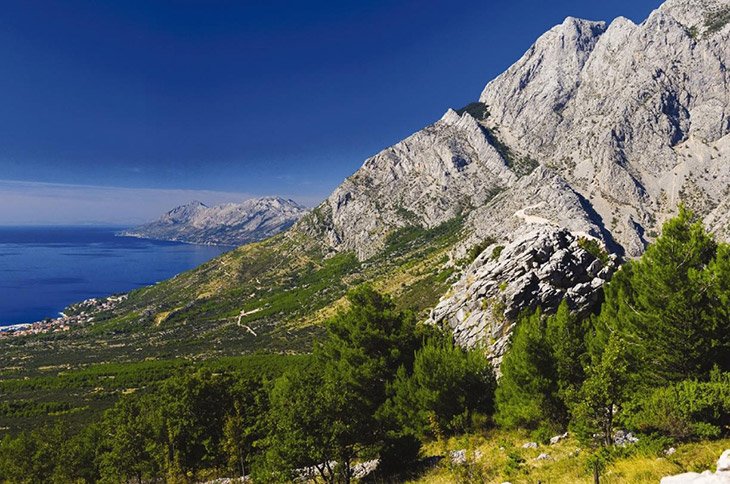 In the area of the Nature Park Biokovo there area many signs presents that indicate the past existence of people from the mountain.
They still talk about the life of past times, the customs and ways the population adapted to the conditions of life on on this beautiful and in same time rough mountain, and the first notes on cultural property and natural resources of this region were made by Alberto Fortis in the late 18th century.
Climb on St. George peak
One of the places in the natural park Biokovo that is worth mentioning is the mountain peak Sveti Jure (St.George) which is located on 1762m above the sea level.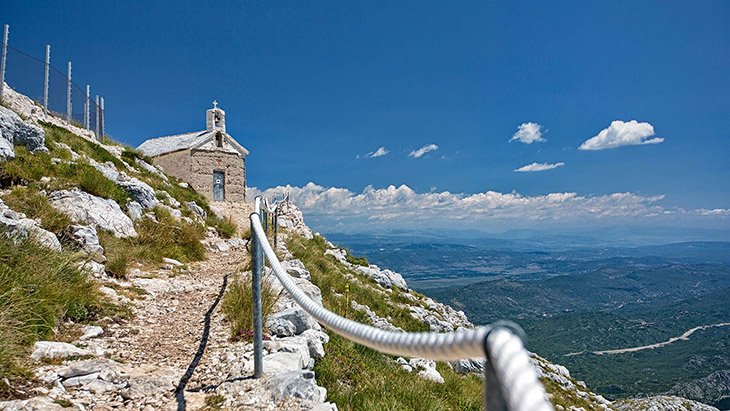 From the top of St. George is a panoramic view of the islands and the hinterland and in extremely good weather it is possible to see the Bosnian-Herzegovinian mountains and neighboring Italy (Monte Gargano).
Beside all mentioned above on Biokovo you have plenty hiking trails, and well organized other sport activities like rock climbing, cycling and paragliding. All that is enriched with well known gastronomic offer.
Take a day trip to nearby islands
In the present, there is a ferry line which runs a few times a day from Makarska to Sumartin on the island Brac and Drvenik – Sućuraj ferry line to island of Hvar.
Weather in Makarska
Town is located below the mountain of Biokovo (1762 m), which protects it from the harsh continental climate and is responsible for its rich Mediterranean vegetation, mild winters, long, warm summers cooled by a refreshing breeze called maestral ( North-West wind ).
Makarska riviera has more than 2750 sunny hours each year and the average air temperature above 20°C from July to September and the crystal-clear sea also averages a temperature of above 20°C.
How to reach Makarska ?
By Plane:
Nearest international airports to Makarska are located in Split (Airport Resnik) and Dubrovnik (Ćilipi Airport).
From Airport in Split you can take a drive via E65 route and you will reach Makarska in 90 minutes of drive. This route have a tolls.
Alternately you can drive from Split to Makarska with D8 route on Omiš which is a shorter but it will take you a less time if you use E65 route.
From Airport in Dubrovnik you can drive on route D8 and you will be there in less than 4 hours. * You will have to drive through Neum area which is in Bosnia and Herzegovina so be ready for passing through customs.
By Ferry:
There are regular ferry lines which connects Sumartin on island of Brač and Sućuraj on Hvar island. Be aware that main ferry port for Makarska is in village of Drvenik which is 18 km on north from Makarska.