Marina Croatia – Things To See In Marina Near Trogir
Published: December 17th, 2014
Marina near Trogir is a little town situated in the bay with the same name.
Marina is the administrative center of the municipality, which consists of 15 more smaller villages.
Town by itself has population about 1000 residents, while the whole municipality has about 5000 inhabitants.
Panoramic view of Marina town is dominated by the splendent tower fortification, the former summer mansion of the bishop of Trogir which dates back in 15th century.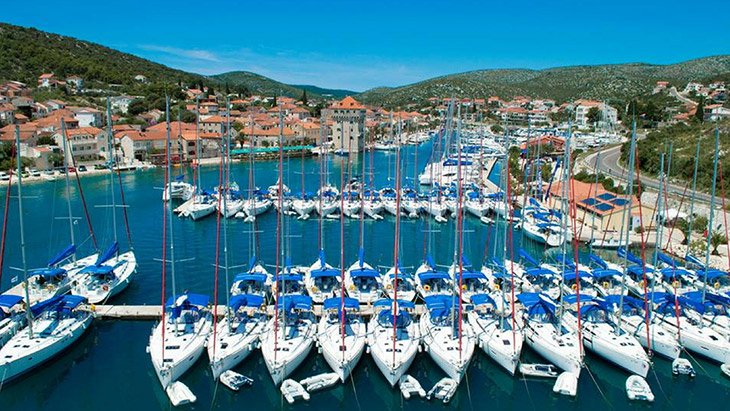 Local population are mainly engaged in agriculture and fishing. On hills that surround Marina you can find centuries old olive trees what makes Marina well known town for its high quality olive oil.
Places to visit in Marina
St. Philip and Jacob's Cave
St. Philip and Jacob's Cave is situated near old highway close to Marina. It is located on 140 meters above sea level, and is is 6,5 m wide and 4 m high cave center.
You can see small chapel in the cave, 4 m long, 3 m wide and also 3 m high together with the roof and on chapel altar an oil painting by an unknown artist was found, depicting St. Roch, protector against plague.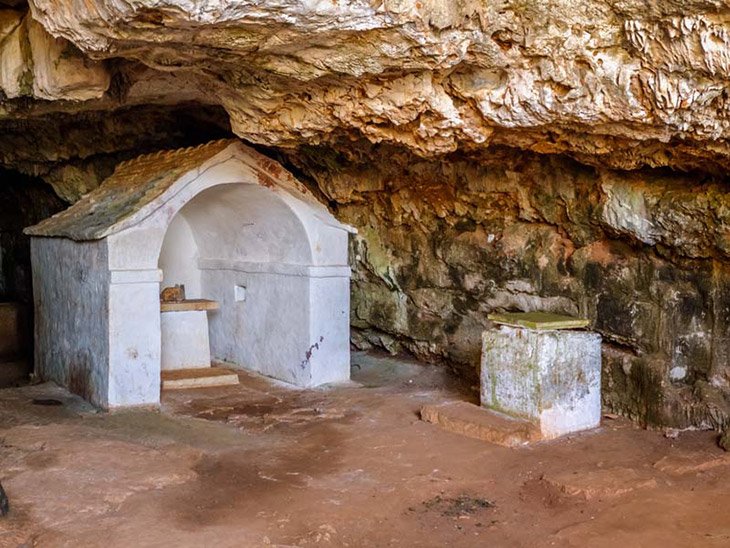 There are legend from 17-th century that says that locals were hiding their cattle inside cave during bad weather or war.
So in order to express their gratitude they built chapel at the cave entrance but whenever they started with construction next morning chapel was completely demolished so they started to watch cave entrance and caught a little dark man who asked them to not shelter the cattle inside cave anymore but to built a church instead after they did so.
St. Philip and Jacob's Cave was visited by the Emperor Franz Joseph I in 1891.
Visit Drid Hill
Drid Hill – hill that carries many memories of one of the oldest Croatian counties by its very name, but also by the material remains of archaeological value.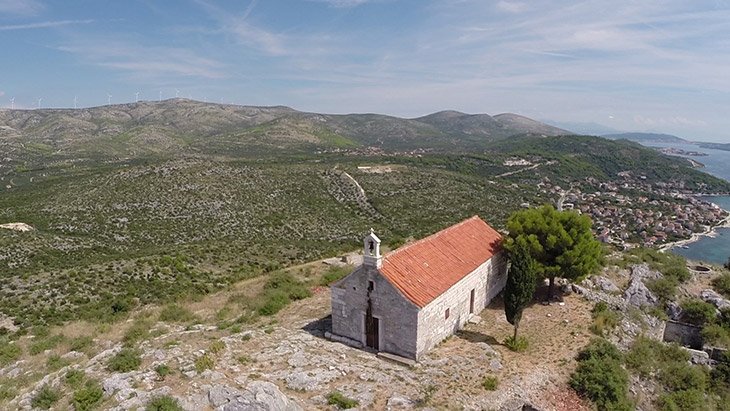 Drid hides ruins of fortifictions, and it was inhabited even in prehistory, probably due to its strategic significance.
In modern days it is the home of St. Mary of Drid Church (Our Lady of the Snow), which is situated on the top of the hill.
Church was built during last century, although there are some traces suggesting that there was an early Christian church on the same location.
Location used to be center of Drid County, but it was probably abandoned before the Ottoman invasion from north and east.
You can still see the ruins of defensive walls around the church.
Visit church of St. Luke in Poljica
St. Luke Church – built in Poljica, a village that previously was called Rastinić.
Rastinić was first mentioned in the first half of the 13th century, in a charter by which the heirs of a man named Vitaca were donating St. Dominius and St. Nicholas monastery.
The exact year of built is unknown. The stone above the door is adorned with the coat of arms of the Sobota family from Trogir. The interior has been altered considerably.
There is a stone altar in the apse.
Although the church was renovated in 1996, Gothic features from the 13th or 14th century when the church was built are still visible.
Sevid Village
Sevid – as one of 15 villages which makes Marina Riviera this one is most appropriate if you are lover of peaceful and calming holiday.
Sevid is far away from noise of nerby tourist centers like Trogir, Split and Šibenik.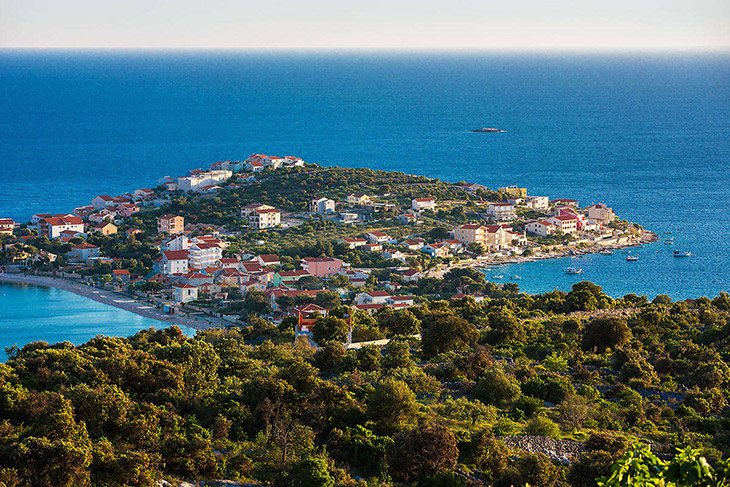 In the village you can find archaeological remains of the Church. Beside there is one of the most popular sandy cove, a protected archaeological site Old Trogir cove.
St. Vitus Church in Sevid
Southern slopes of Sevid is a home of St. Vitus church.
Church is named after St. Vitus (Croatian – Sv. Vid), and the village itself was named after him . The earliest records of Sevid date back to the 18th century, but the church is hardly mentioned directly.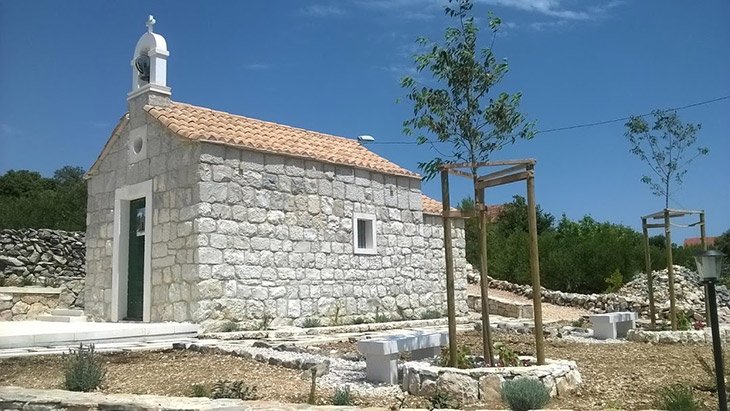 There are very few remains of the church at the site, but it is assumed that the neighbouring fences were built using the church stones. St. Vitus Church is currently being renovated.
St. John the Baptist Church
St. John the Baptist Church – built in close vicinity to the castle, at the Stjepan Radić Square in Marina. Church was probably built in the same time as the castle and the ""citadel" – or defense wall – in 1495 or a bit later.
Built in the Gothic-Renaissance style, a clock was later added to the church's facade, blending in well with the architecture of the surrounding buildings.
A large stone baptistery is located inside the church within a concave niche and a stone arch, on the right hand side of the entrance. Holy mass is held each year on July 26, the celebratory feast day of St. John the Baptist.
Fortification Tower In Marina Croatia
Tower of Marina (on first picture) – one of the Marinas's most distinctive attractions.
Made by the Venetians as a defensive tower in case of land or sea invasion during the 15th century.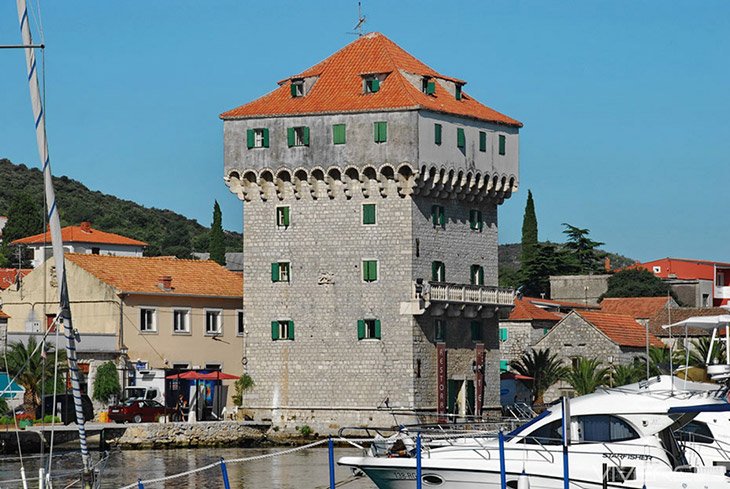 It was later upgraded with a castle and city walls surrounding the entire settlement to protect its inhabitants from the encroaching Turkish army.
For a period of time, the Tower of Marina was used by Bishop Franjo Marcello as a summer villa.
Today Tower of Marina is a four-star hotel.
How to reach Marina Croatia ?
Excellent transport connections and proximity of the ancient cities of Trogir (12 km) Split (36 km) and Šibenik (36 km) gives you the ability to reach any of them in very short time and to enjoy the ambience of UNESCO's Cities.
You can reach Marina Riviera by road, air or sea. Marina is situated next to the Adriatic coastal highway (D8) which connects the southern section of Croatia to its hinterland.
If you're traveling from the north, take the D1 highway from Zagreb via Karlovac, Gracac, Knin and Drnis – this will lead you directly to Marina.
And if you're arriving from Italy, you should take the Adriatic coastal highway via Rijeka, Senj, Zadar and Sibenik.
If you prefer air travel, "Resnik" airport is just 15 km away from Marina.
If you are arriving to Croatia by ferry or any other vessel, the nearest ferry port is located in Split.
Split is well connected with many overseas countries, particularly Italy with at least four different liners running several times a day.