Primosten, Croatia – prominent tourist destination on Adriatic
Published: March 16th, 2015
Primosten town center is located on small island after whom this lovely town on Dalmatian coast was named.
At first Primosten island was connected with wooden drawbridge and after with the causeway.
In the present, Primosten, Croatia is one of the best known vacation destionations on Croatian coast with long tradition in tourism, well preserved old Mediterranean architecture, crystal clear sea, attractive gravel beaches, picturesque hinterland, excellent traditional cuisine and warm hospitality of the local people.
Primosten certainly won't leave indifferent even the most demanding travelers.
Primosten, Croatia Things to do
Coast is adorned by a long gravel beaches bounded by beautiful promenades surrounded by old defensive town walls. One of the most beautiful and popular trademarks of Primosten is the Raduca beach.
Primosten events and nightlife
During summer time Primosten is host of many events like: Fishing Nights, Festival of Folklore and nights of Dalmatian folk music.
For those who are looking for all night long fun we recommend you to visit nearby disco club "Aurora" – one of the largest and most popular night clubs on Croatian coast.
Club is situated on south entrance of Primosten. Many famous DJs performed there and place attracts many young people from Sibenik, Zadar, Trogir and Split.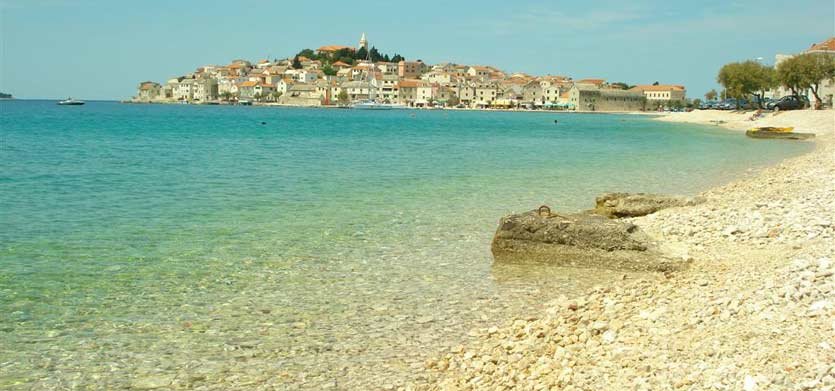 For fans of active holidays town is ideal place you can enjoy in tennis, table tennis beach volleyball, mini golf, jet-ski and many other water sports.
After exhausting day activities you can taste famous local gastronomy with a wide range of specialties from Dalmatian cuisine in one of many local restaurants and taverns.
Although tourism is main occupation of locals since the mid 50s, Primosten mainland due its well preserved nature is still the center for production of healthy food including the distinguished high quality olive oil.
Local vineyards planted in bare karst landscape will not leave anyone indifferent.
Well known and reputed and indigenous sort of red wine "Babic" is produced from these vineyards.
In the year 1947 surroundings of Bucavac vineyard is proclaimed as protected area of monument to human efforts and their representation and picture of this breathtaking area decorates lobby of United Nations building in New York.
Cultural and natural monuments
Parish Church of St George
Parish Church of St George dates back in 1485 built on the highest point of the former island. Original church is upgraded in 1760 and in May of same year was dedicted, later high altar was added so parish was using old altar until 1814.
The Church Of St. Roko
First mentioned of this church was in 1553 and first name of this church, at first it was dedicated to Our Lady of Grace and Holy until 1680 when it was expanded, enhanced and re-dedicated to St. Roko church as a honor to this saint who allegedly saved town from plague.
Numerous votive chapels
– they used to be a great part in life of locals and testify to a faith and devotion in life of locals and active presence of God in nature and everyday life.
The Church Of St. George (Prhovo)
Parish center which encompasses two village Siroke and Rogoznica. Parish existed in same time when Sibenik was founded – late 13-th century.
Hinterland vineyards – protected area with its stunning landscape. Excursions to this gem villages of Primosten Burnji are regularly organized there are even arranged wine trals where you can taste premium and native sort of wine Babic and delicious local specialties.
Households in hinterland
You can enjoy in nature and harmony of past times with rich gastronomy of 30 villages and hamlet of hinterland.
Attractive underwater world
Primosten, Croatia perfect destination for scuba diving where you can explore rich natural life, underwater caves, reefs and ship wreckages.
How to get there ?
This lovely town is located on M2, E65 main road which connects town with other Dalmatian cities Zadar, Sibenik, Trogir and Split.
Quickest way to get to the Primosten is through airports in Split from south or Zadar from the north.
And from there with regular bus lines which goes every hour from Zadar (cost is 6-7 euros) and every half hour from Split (cost is aroud 6 euros).
You can visit and enjoy in Primosten riviera in any time of year.
With its mild Mediterranean climate and over 2600 hours of sun per year it is suitable for vacation in Croatia throughout the whole year.