Rabac Croatia – Things To Do In Rabac Istria
Published: July 17th, 2018
Rabac is a small tourist resort located in beautiful bay on eastern coast of Istria peninsula with stunning views on whole Kvarner bay.
Rabac is a part of Labin municipality and according to the census from 2011 Rabac only have 1400 premanent residents.
Although Rabac is very small place it has great tourist potential and certainly has a lot to offer its visitors.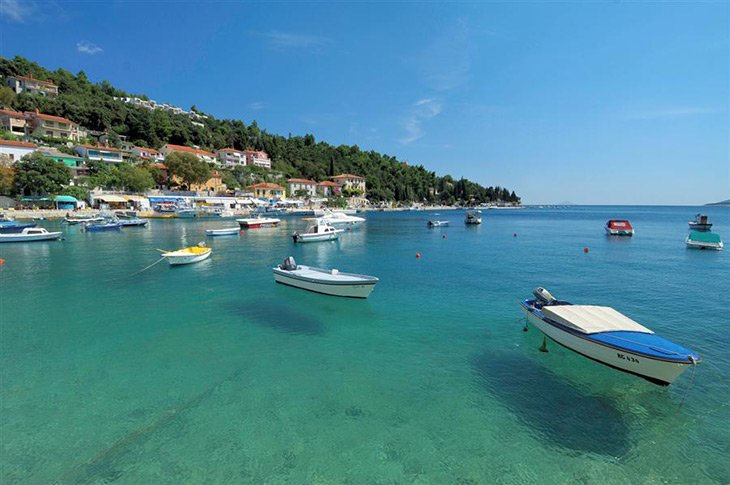 As most of the small towns in Istria and on Croatian coast as well, Rabac began its development from quiet and idyllic fisherman village with barely any inhabitants.
Exploring the Rabac Croatia
More intensive development of Rabac started in late nineteenth century when Richard Francis Burton who was English writer and avid traveler described Rabac and its natural beauties and surroundings as well as many other towns on Istrian peninsula in his book "The Istrian Coast".
Not much time thereafter Rabac becomes becomes home to many luxury villas built by a prominent family from surrounding area and whole Europe.
One of best known villas from that time was property of Prohaska family, who were successful traders from Rijeka.
Prohaska villa was was completely demolished during Second World War, but even today the most attractive location in Rabac bears the name of Prohaska family.
However, intensive development of tourism in Rabac begins during sixties when this small pearl of Kvarner bay obtained all major tourist facilities: hotels, apartments, camping sites and most of the private houses dates from that time.
Today village can accept up to 11.000 visitors and several thousand bathers from Labin and surrounding area.
Thanks to the perfect location in picturesque bay and well preserved nature Rabac Croatia has been transformed into one of the most popular tourist destination in Istria.
Town managed to preserve spirit of Mediterranean fisherman village from 17th century and due to vicinity of medieval town of Labin list of attractions of this small Istrian town significantly expands.
Places to visit in Rabac
Visit Teatrino
Teatrino – is small theatre located in Labin.
Teatrino was built in 1839 and it was originally used as grain storage or "fontik".
Today Teatrino has been used for art exhibitions or as a theatre.
Sanfior gate
Sanfior Gate – has been built in 1589. If you are traveling in group to explore ancient parts of Labin you will have to pass through this gate, you can check for a carved Labin crest and Venetian lion who are witnessing the turbulent history of Istria.
Visit La Loggia in Labin Croatia
La Loggia in Labin – built in 1550, in past loggia was meeting place for locals to watch artistic performances and heard public announcements.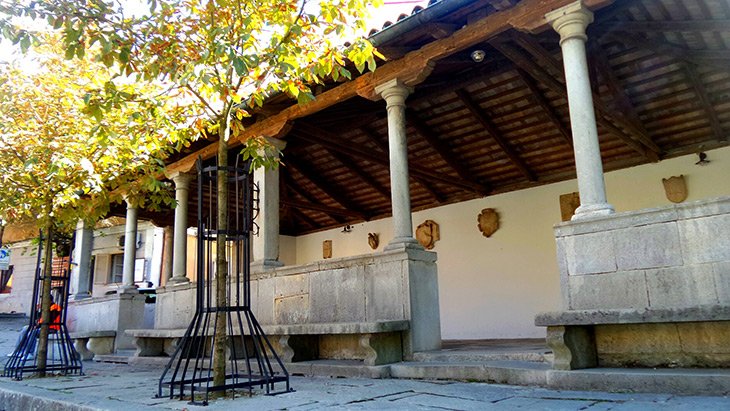 Labin Loggia is architecturally formed like arched corridor located in Crć square even today it is used as a resting place by locals.
Church of Blessed Virgin Mary's Birth
Church of Blessed Virgin Mary's Birth – has been built in 1336 and foundations of eleventh century church.
With its impressive exterior which is mixture of Venetian gothic and renaissance style proves to be one of the biggest attractions in Labin.
Kunci village
Remains of Kunci village – dates back to the Bronze Age, Kunci village are certainly oldest attractions in Rabac.
Kunci village is considered to be founded by the Celts in the 4th century.
Remains of village can be found on hilltop town of Labin and is one of the most important relics of the town's historical heritage.
Cultural activities of Rabac
Along with Labin and its numerous medieval festivals this village will offer you many other events throughout the whole year.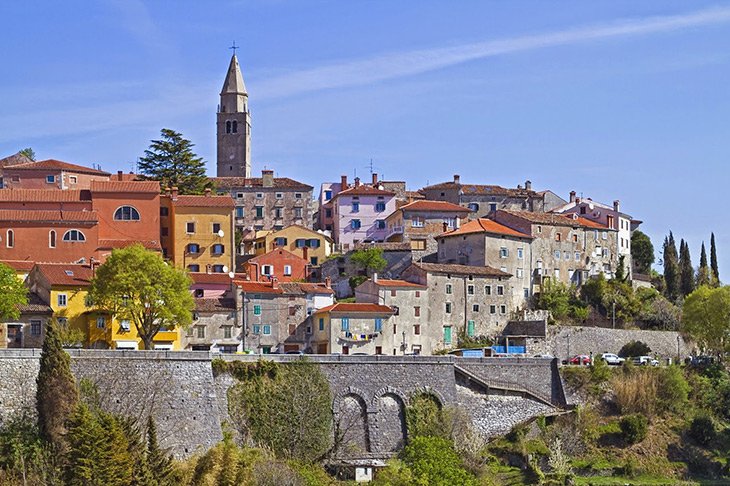 Electronic music parties at Girandella beach during summer season already have their own regular visitors and for those who preferring more quiet ways of fun can enjoy in local wine and food presentations on city streets during summer carnival.
Rabac beaches and sport activities
Lanterna Beach
Lanterna beach is located in heart of Rabac on just 50 meters away from Casa Valamar Sanfior Lanterna beach is ideal place for all of those who are looking for water sports or simple beach relaxation.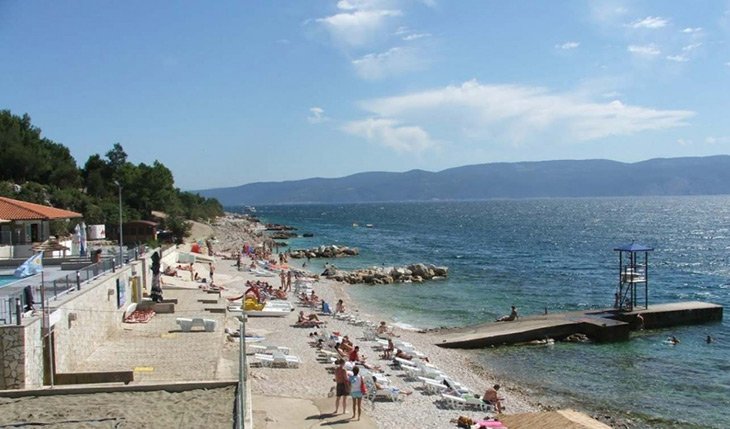 You can find many activities like jet-ski and banana boat rides.
Lanterna beach is a "Blue Flag" carrier which is guarantee of the cleanliness of the sea and high quality beach offer.
Girandella Beach in Rabac Croatia
Right next to Valamar's Tourist Village, Girandella beach is regarded as the one of the Rabac most beautiful beach.
Girandella Beach is also Blue Flag carrier and it is suitable for anyone.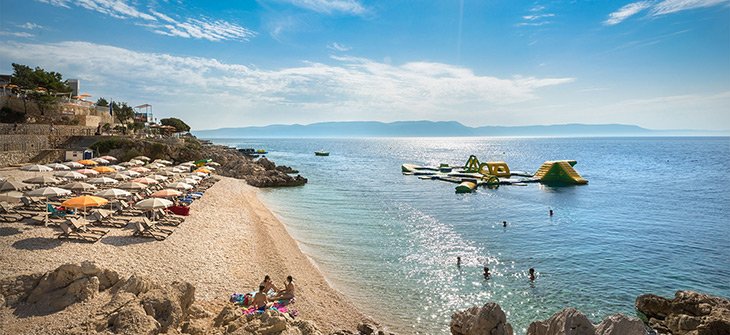 For those who are looking for active vacation this beach will offer windsurfing or pedal boat rides and for those who are seeking peace and quiet can enjoy in the shade of pine trees that surrounding Girandella beach.
St Andrea Beach
Located on perfect spot in a heart of Rabac town center St Andrea beach combines its natural beauites with all privileges due proximity of town center.

St Andrea beach is also awarded with Blue Flag and it is very popular among the local population and the visitors.
Getting there
By plane
Closest airport to Labin-Rabac is located in Pula city. From there you can take a bus to Labin-Rabac or rent a car and take 47 km long ride via D66 highway.
Second option is to use airports on island of Krk in Omišalj or international airport in Ljubljana in Slovenia
By car or bus
From West Europe – if you are driving from direction of Italy take a drive trough Slovenia to border crossing Pozane – Buzet.
From Zagreb you will drive to highway Zagreb – Rijeka then you will go trough tunnel Učka to Vozilici – Labin – Rabac.
Driving from the south from direction of Dalmatia – take a drive to Split – Rijeka Adriatic highway – tunnel Učka to Vozilici – Labin – Rabac direction.