Saharun Beach, Croatia – best sandy beach in Croatia
Published: December 15th, 2014
Saharun Croatia or Sakarun beach what is second name for this divine beauty beach which is located in central Dalmatia on on the northwest coast of the Dugi Otok island.
Saharun nearby villages are Veruni, Veli Rat, Soline and Božava.
Beach became well known for its vivid color surroundings.
Most beautiful sandy beach in Croatia
Sakarun beach 850 meters long mixture of beautiful white sand and pebble beach surrounded by pine forest from the mainland side that provide a more than a welcome shade during hot summer months.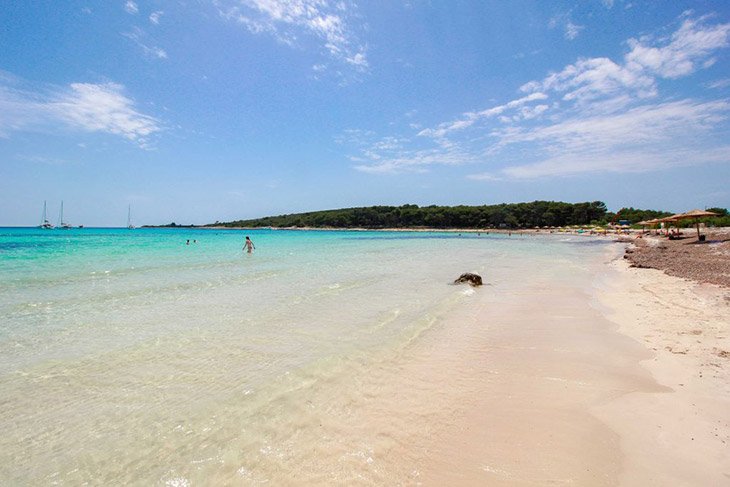 Coastline of Saharun beach is made by shallow and crystal clear bay water which at some 250 meters from the beach it is just 3,5 meters deep, what makes Sakarun beach bathing area is extremely large and shallow and ideal even for younger members of family.
If you observing Sakarun beach from hillside above bay, sea is intense turquoise-blue color looking more like Caribbean than the Adriatic sea.
Beach facing south, onto open sea bounded by 850 meter arch of smooth white sand and stone, which in turn is backed by pinewoods.
Location of Saharun beach
Due to Sakarun location and beautiful surroundings and the fact that it never gets overcrowded this is perfect place to spend a calming holiday with your family.
Beach is one of Croatia's most beautiful but less known places.
Thanks to intensity of the colours the dark green from pine forest, the shimmering white pebbles, and the sea color that changes hue during the day, depending on the angle of the sun Saharun is the Croatia's famous and most-photographed beach.

Beach offering two catering facilities where you can buy refreshment from the summer heat and light snacks also moorings are arranged for the reception of ships.
Getting to Saharun beach ?
Ryanair flies to Zadar from London Stansted and Manchester. Or as a second choice, easyJet flies to Zagreb from London Gatwick, and Croatia Airlines to Zagreb from London Heathrow.
Coming on the Dugi Otok is a great experience and pleasure in itself.
Jadrolinija's ferry departs from the mainland ferry port of Zadar, with its car-free old town of melancholy Roman ruins, magnificent Romanesque churches and Venetian fortifications.
From a seat up on the top deck, all traces of urban life dissolve into the hazy blue Adriatic seascape, as the ferry zigzags its way between the scattered pine-scented islets of the Zadar archipelago, of which Dugi Otok is the most distant spot.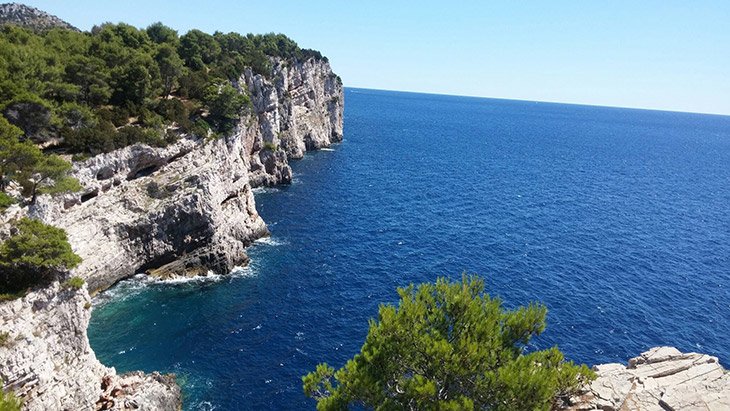 If you arriving by a car, or planning to rent one, the best idea is to drive around the villages that dot the three peninsulas making up the northern end of the island: Soline is the closest village to Sakarun.
If you don't have private transport, you can take the local bus, or hire a mountain bike in Božava – cycling is made easier by trails sign-posted in red.
Local bus line is scheduled to correspond to ferry arrivals and departures, but not to the catamaran lines.