Šibenik Croatia – Places to visit in Šibenik
Published: July 8th, 2015
Šibenik Croatia is located in the middle of Croatian coast and is gaining popularity as a base for exploring nearby natural beauties.
Šibenik, Croatia is a relatively small town of about 50.000 people that was settled by Croats in 11th century and is one of the few cities on the Adriatic coast that do not have Greco-Roman heritage.
It served briefly as the seat of king Petar Krešimir IV, making it known as Krešimir's city.
Strategic location of Šibenik also greatly helped Venetians hold the territory against Ottoman invasions during the 16th century.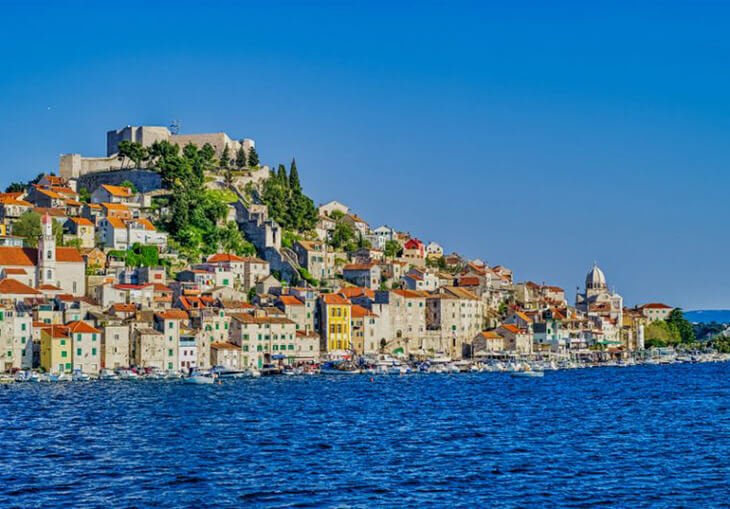 Nowadays, Šibenik is an excellent base for your trips and excursions thanks to close distance to National Park Krka and good sea transport connection with most Croatian islands.
Why you should visit Šibenik Croatia
Šibenik is buzzing with new energy and as all destinations that maintain heavy focus on tourism but haven't quite reached the mainstream popularity, you could experience a pleasant surprise.
New hotels, restaurants and other tourist complexes are dotting the city as time passes but leaving the charming old city core intact with its remarkable cathedrals.
The city spreads from the harbor like many other Croatian coastal cities and hugs the hills with new structures in spreading arcs except the center of city, which is built in a maze-like fashion, suitable for idly wandering.
On every higher elevation you can find a fort, there are 4 of them: Fort of St. Mihovil, fort of St. Ivan, fort of St. Nicholas and Šubicevac Fortress.
Šibenik is a real treasure trove of historical sites.
Two national parks are in proximity of Šibenik: NP Krka nad NP Velebit, with each less than 20 minute drive. Daily trips are regularly organised to each one along with ferry trips to nearby islands.
Šibenik, Croatia is halfway between the Split and Zadar with each being 70km away.
Primošten Croatia and Vodice Croatia are also close popular tourist resorts reachable by a 10 minute car drive.
Sightseeing and things to do in Šibenik Croatia
Cathedral of St. James
Cathedral has been built by famous sculptor and architect Juraj Dalmatinac, remains his most eautiful achievement. Construction of the cathedral began in 1431, but Juraj was appointed to work on it roughly 10 years later, after city stopped toying with various other builders from Venetia.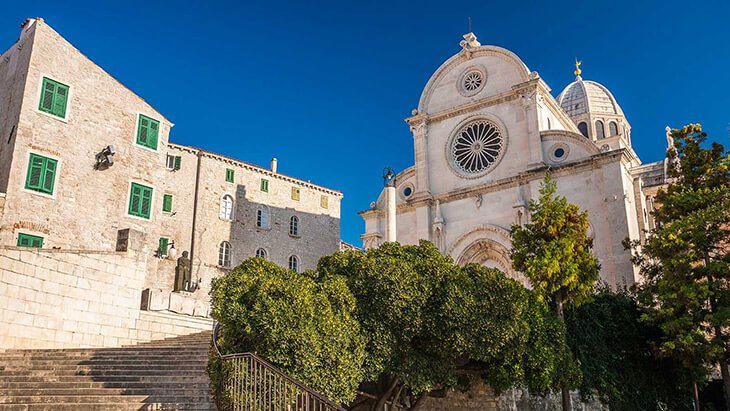 The most noticeable detail on cathedral are heads mounted on exterior walls of the apses. Each head portrays specific emotion like fear, annoyance or contempt.
Gothic-Renaissance style transformed Jurajs conception of the church, who increased the original size and added two aisle staircases which are descending on baptistery on one side and sacristy on the other.
St. James cathedral remains one of the most beautiful stone cathedrals on dalmatian coast.
St. Nicholas Fortress (tvrđava Svetog Nikole)
St. Nicholas fortress unlike 3 others is located on island Ljuljevac, at the entrance of Šibenik's port.
The fortress got its name from the monastery which was residing previously on the island but was demolished when fortress construction started.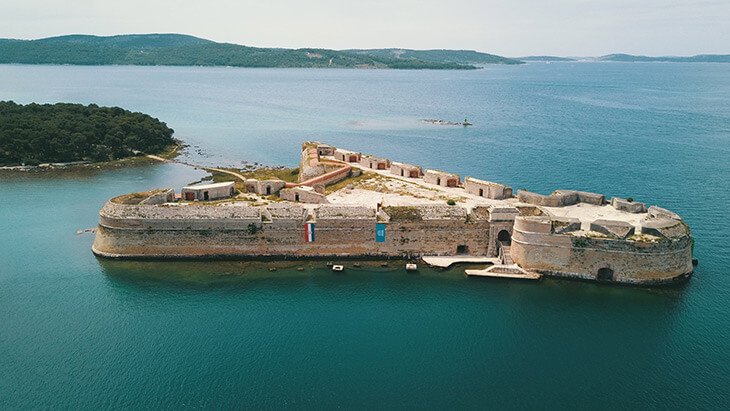 St. Michael Fortress
Has been used as main defense structure of the city against the Ottoman navy.
It is located on the top of the hill with a great view over the sea, channel entrance and surrounding islands Zlarin, Prvić, Tijat and Zmajan.
Šibenik Town Hall
Transparent reneissance building built in 1546 is used to hold city council meetings. It was since completely rebuilt after it got heavily damaged in air bombing attack during the second world war.
Medieval Mediterranean Garden of the St.Lawrence Monastery
Medieval Mediterranean Garden of the St.Lawrence Monastery is designed and completed by landscape artists after almost hundred years of being fogotten.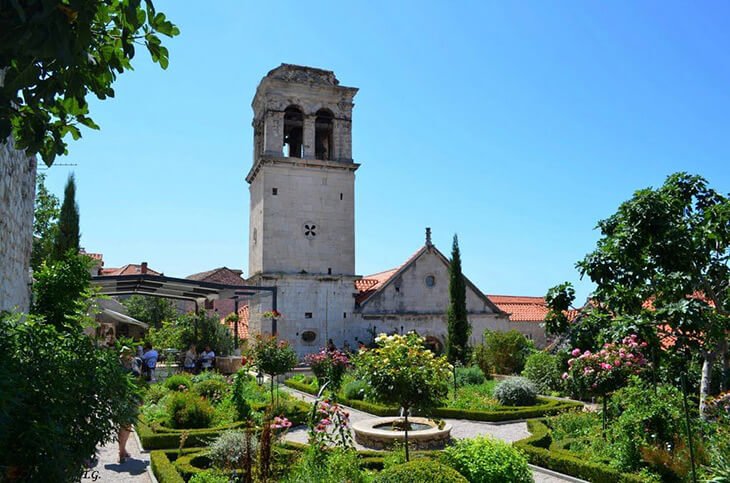 It's the only monastery garden in europe that follows medieval scheme, where a small fountain is placed in the middle with simple ground floor planning encompassing it with beautiful red roses.
Town Museum
Šibenik town museum is divided in three departments: cultural, archaelogical and recent history.
It shows most significant discoveries and results from different fields of science.
As time passed, numerous archaelogical sites on land and underwater in the Šibenik region have been carefully studied so they could uncover many secrets about our former ways of living.
Duke's Palace
After the adaptation and restoration of 2 wings were finished, this old fortress that is located on the waterfront in the old city core watches over the sea with 2 big cannons.
Some of the highest respresentatives of authority from Venetia were seated in the Duke's Palace.
Events and Festivals in Sibenik
Musical evenings
Musical evenings – throughout the month of July, Sibenik hosts musicians from all over the world. Music genres vary from rock, hip hop, pop, classical and others.
You can also experience the sound of traditional Croatian choirs called Klapa, which often feature 3-12 people and soft instruments like mandolin. It's safe to say, there is a little bit of everything for everyone.
Medieval Fair
Medieval Fair – in honor of St. Michael, protector of Šibenik, for three days during September the old spirits of the past take form and manifest themselves throughout the people who are visiting the fair.
You can see the jugglers, archers, knights, peasants and common soldiers recreate the atmosphere of the old times.
Cannons near Duke's Palace will start blazing again, but this time not at enemy attacking Sibenik from sea but as a sign of celebration.
International Children's Festival
International Children's Festival – is a time when Šibenik becomes childrens domain.
It turns into a gathering place of musicians, theatre groups, scientists and all other fun loving people with one goal – to have a good time, relax and try to learn something from each other.
During the festival, usually around the last week of June and beginning of July, all participants will enjoy concerts, performances, exibitions from all those who wish to contribute by joining their favorite groups.
Supertoon Festival
Supertoon Festival – international animation festival usually held in the last week of July.
Short animated domestic and international movies (up to 30 minutes) will be displayed in a form of series of competition and accompanying program.
There are multiple categories to compete in, such as commercials, films for children, music videos, animated films and title sequences.
You will get the chance to hang out with the authors and participate in educational events such as interviews, lectures and exibitions related to visual process of thinking and filmmaking.
Sibenik Climate
Šibenik climate is characterized by warm to hot, dry summers and very mild winters with rain.
The coldest months are January and February which are often accompanied by strong winds (Bura).
Hottest months are June and July with average maximum temparature of 30C (around 86F).
Although some people have different perspectives on when they should visit Šibenik, it mostly comes down to specific tastes, whether they want to bathe, visit Šibenik by sea with a yacht or find out more about the culture in Croatia, in which case, every month is fine.
Getting to Šibenik
Southeast of the city centre, there is a bus station with a left luggage office in the ticket hall. Train station is connected to the city of Knin, where you can depart to either towards Split or Zagreb.
First major airport is located 56km towards southeast to Split, another one is near Zadar, which is 84km from Šibenik.
Ferries make runs from Šibenik to nearby islands or city of Vodice.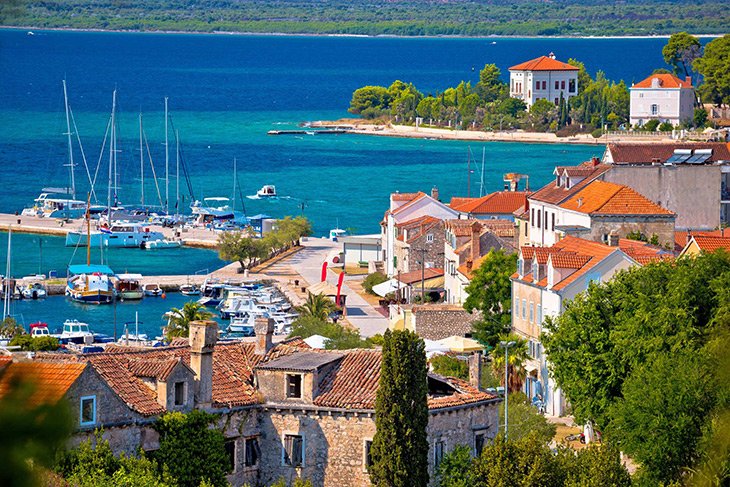 Most often used method to get to Šibenik is A1 highway, which stretches from Zagreb to Split and passes near Šibenik with a 5-10 minute drive.