Vis island Croatia – One of the most beautiful islands in Dalmatia
Published: November 18th, 2018
Vis island is Croatia's farthest inhabited island with a small population of about 5000 over an area of 90 square kilometres (35 sq miles).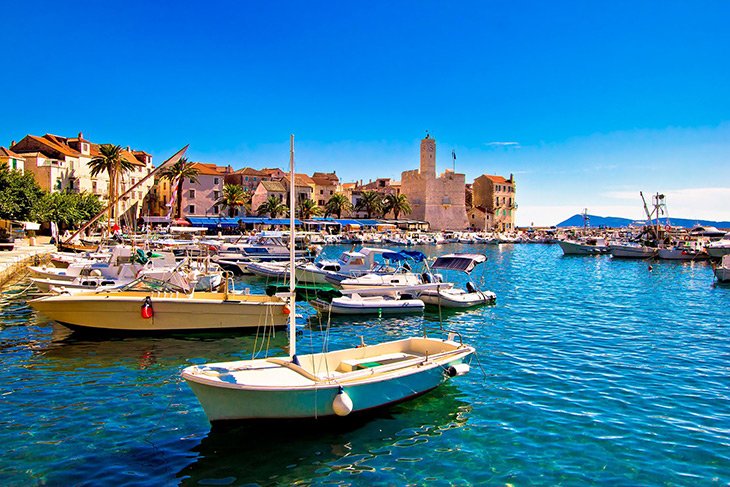 For centuries local population was finding prospect in thriving fishing industry and wine making with a shift to tourism industry in very recent times.
Underwater life is very well preserved thanks to large distance from the mainland (about 50km or 30 miles) and makes Vis as one of the best places to go scuba diving.
Some of the most vivid fish can be seen swimming through the crystal clear underwater environment full of corals and sea sponges.
Interesting facts about Vis island
Island of Vis, Croatia represents the real Mediterranean as it once was in the past.
During the past times, former Yugoslavian army was stationed on Vis and that was a main factor why Vis was not developed as a tourist destination but as isolated naval base with multiple fortifications.
Today however, the things are very different from how they once were. Tourists are able to walk through tunnels (more than 70km or 40 miles in length) that were once top secret, visit the protected submarine and ship civil enclaves and take pictures of decaying artillery cannons.
Vis island tradition of Winemaking
Vis has a long history of wine making, dating all the way back to when the Illyrians first established a colony three thousand years ago.
When the Greeks established their colonies, they called the island Essa, that is where the current name Vis originated from.
Greeks also dealt in wine making, but the recognizable wine made from white grapes called Vugava was brought to the island by Roman army at the time they took over the control of the island.
The grapes require very delicate cultivation and harvested at specific times in order to ensure the best taste, which is very specific, sweet and fruity and not to everyone's liking.
It is often compared with Pinot Gris or Chardonnay. Winemakers still manage to produce the same wine in present times.
If you consider its past and will to be a hospitable island with plenty of events and special offers, island of Vis is becoming a jewel of Croatian coast with old Mediterranean customs, outstanding sea wildlife, natural wonders, traditional Mediterranean food and active vacation tailored for everyone.
Places to visit on Vis island
Town of Vis
Vis town – is one of the oldest known settlements on the territory of Croatia with records showing being more than 2400 years old.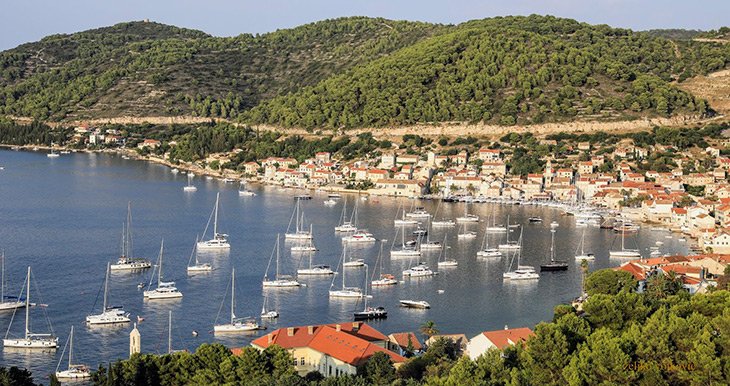 With population of around 2000 people, town of Vis is consisted of 11 different settlements which are located on the north-east side of the island of Vis.
For a brief period of time, Vis was a city-state which also served as a base for settling Croatian coast until the arrival of Roman army. Main economic power derives from agriculture and fishing with the recent switch to tourism.
Because of its complicated past, town of Vis is well developed for its current size.
At one point, there was more than 12000 people living in Vis in the 20th century and before that because people preferred safety behind the powerful fortresses that were constructed for the purpose of defending against various pirates and whoever held Vis at certain time.
British have fortified the hills around the bay that served as natural protection from the harsh elements and after that, when it was held by
Austrians, they raised the Batarija fortress which connected the town into one heavily defended unit. Before that, it was settled by Illyrian tribes, Greeks, Romans, Italians… they all left a little bit of their own heritage, customs and culture.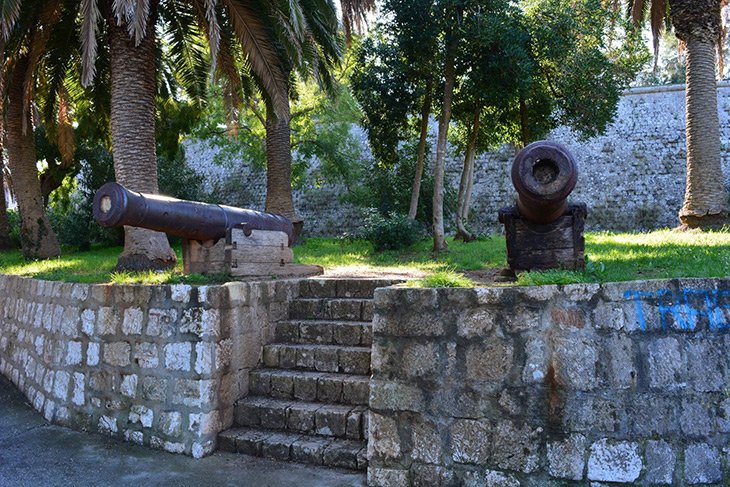 Visit Komiža on Vis island
Komiža is located on the south-west of Vis island, opposite side of town Vis.
It lies on the coastal base of the mountain Hum, where it is protected against Bura (harsh, strong and cold winter wind which blows from the north-east).
It's a famous place for nautical travellers and fishermen.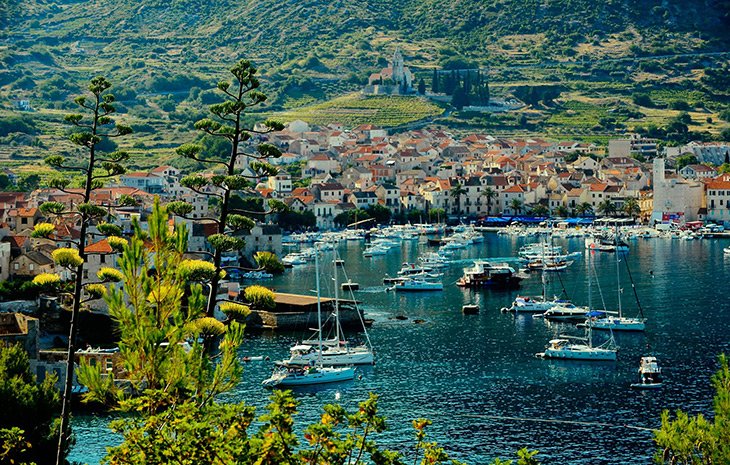 On the very clear and bright days after the rain and no humidity, you can see the coast of Italy.
Sunset is very special looking from this part of the island as the sun sets directly into the sea.
You can arrive in Komiža via town of Vis by ferry and then driving 10km (6 miles), or you can arrive directly into the port with approved fast boats since there is no direct ferry line to Komiža.
Beaches in Komiža
There are many pebble beaches on Komiza, the most famous one being Kamenice beach.
Beach Kamenice has spring water which comes out from the nearby stones and it can be a place where you can party all night during summer evenings. Apart from few hotels, most of the accommodation is in private sector in apartments.
During the early morning hours, you should come to the fish market to pick the best and freshest fish for the lunch.
If you are not the morning type, you should visit plenty of restaurants which serve traditional and special fish meals.
There are plenty of excursions to nearby islands such as Biševo (with the famous Blue Cave) or the volcanic island Jabuka (Apple) – or Palagruža farthest Croatian island.
Plisko Polje
Plisko Polje is a small village 5km (3miles) away from the town of Vis. It has a cricket pitch next to the Roki family farm. Most of the residents are related with wine making and fishing.
Podstražje
Right next to this small village there is a fortress which bears the same name.
The families that populated this village were once employed as guards against the attacks of pirates. The village was built on one of the most popular crossroads on the island of Vis.
Brgujac
Brgujac is a small fishing village located on the south-eastern shore of Vis island. The peninsula Brgujac bears the same name calms the incoming waves, which makes it a good fishing spot.
From here you can visit many beautiful small beaches that Vis carefully hides from visitors eye.
Milna and Zenka
Are one of the most popular summer resorts on Vis island even throughout the 20th century.
The families that inhabit Milna and Zenka have much experience in wine making, especially Plavac. From here, goat paths will take you to the most beautiful beaches in Vis in a matter of minutes.
Top beaches on Vis island
Town beach Vis
Located just a few minutes of walking from the city center, this pebble and round stone beach is surrounded by tamaris trees for much needed shade during the hot summers.
Nearby catering facilities will ensure you won't be thirsty and the recreational courts for volleyball and futsal will ensure you have a good time.
Nude beach Stenjalo (Moaner)
It's located near the town of Vis in a secluded bay 10 minutes of walking from the city center.
Stončica
Located near the town of Vis to the north-east, also 10 minutes away of walking from Vis.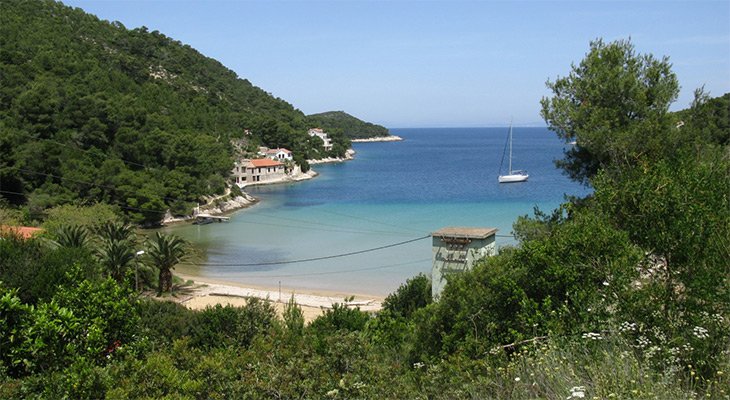 It has a beach bar, plenty of shade under the palm and tamarix trees.
This place is awesome for family excursions.
Milna beach
Milna is one of the sandy beaches on Vis located on the south-eastern part of the island and bears the same as the tourist settlement.
The shallow water that stretches long into the sea is great for families with little children.
Although there is no shade until later on in the day, you can rent beach umbrellas.
Zaglav beach on Vis island
10-15 minutes of walk from beach Milna or 5km from Vis town, on the south-east part of Vis island, you will find this glistening sandy beach a perfect spot for a romantic getaway in the afternoon hours.

Vela Smokova
Vela Smokva is natural beach that's perfect for navigation experts who are willing to approach from the sea and if you are willing to come by the land, you should consider that the goat path that leads to the beach goes through the former military training ground.
In the sea, just 100m from the shore at the depth of 2 meters (6 feet) you can find an aeroplane wing from the Second world war.
The are other wrecks around the island at certain depths so it's a exploration paradise for trained scuba divers.
Town beach Komiža
There are actually two city beaches, each with it's own playgrounds and shallow water for children, beach bars, restaurants.
They are pretty family friendly beaches with shady and sunny parts, depending on your choice.
Stiniva beach
Stiniva beach is one of the most famous beaches in the world.
If you haven't seen it on TV or heard about it from friends but you are planing to go to the Croatia, you should not miss your chance.
This jewel is very hard to reach by land since the high, rocky cliffs protect the bay from the both sides.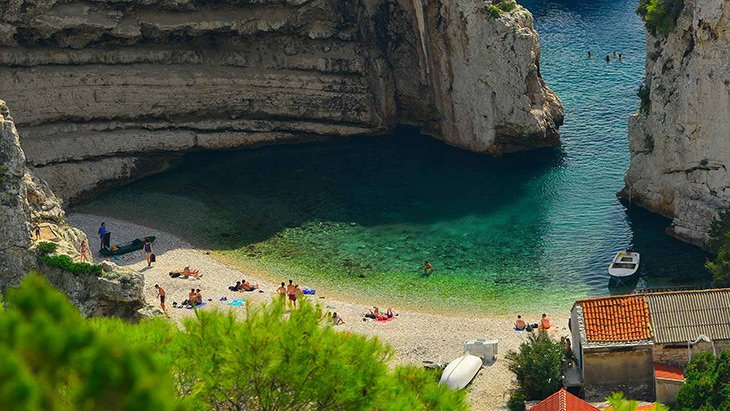 Once you go through the "gates" from the sea, the shiny sand beach opens up like a theatre.
You can access the shore from the village Zuzec, where a small footpath is all you need to follow for about 20 minutes but it is worth every second of this secluded paradise.
Vis island attractions
Fortress King George III
George Duncan Robertson (English commander of Vis at the time) started the construction of this fortress above the entrance of Vis town harbor and gave it name after English king George III.
It is surrounded by a moat and has an oblong shape. It's a powerful structure that oversees a large part of the town of Vis with it's cannons.
Our Lady's Battery (Batarija)
Once it was a main defence fortress which was built by Austrians. The most important role of the fortress was in 1866 when Italian naval fleet attacked the island wanting to conquer it but the attack was defended successfully by the Habsburg forces.
Today it houses towns museum with a lot of worthy artefacts form the past.
Vis activities
Walking – Vis is pretty well connected with small walking paths that enable you to visit any point across the island inside few hours and make any traveller write his own story about Vis.
It is possible to hire a walking guide to show you interesting places like the old fortresses, tunnel paths, nature beauties and micro locations with ancient and recent history.
Biking – it's the most common and appropriate transport for both young and old, locals or tourists. If you decide to visit Vis, you should get a bike to quickly arrive wherever you need. You can also visit many extreme bike paths across the island with most of them starting from the highest point on the island – Hum.
Diving – With such intact flora and fauna with numerous ship wrecks, this activity is one of the most beautiful experiences you could get while being on Vis. Such rich and diverse nature world located underwater will be hardly seen anywhere else on Mediterranean.
Excursions – Hop on into the boat and visit nearby islands and islets with their own special natural beauties like Blue Cave on the island of Bisevo, green cave near Rukavac Bay, Queens cave on the northern coast of Vis in the small village of Okljucna, wine trails across Vis to taste Croatian most popular wines or visit to the old fortresses and military areas.
How to get to Vis
In recent times, island was reachable only with a two per day ferry line to Split – a 2.5 hour ride. Nowadays, if you book a trip to Blue Cave or a day trip to Vis and nearby islands, fast boats are available throughout the summer months which only take about 1-1.5 hours to get there.
If you have your own boat, you have also plenty of bays to dock in and great nautical support in each town and settlement on this hidden gem of Croatian islands.