Vodice Croatia – Places To Visit & Things To Do
Published: September 10th, 2014
Vodice town is a touristic center famous for its lively and various tourist offer and hospitable people.
This small coastal town is located in a wide bay, 11 km northwest from the town of Šibenik.
Today Vodice have about 10,000 inhabitants, and is considered an ideal place for vacation where everyone can find something that they will enjoy.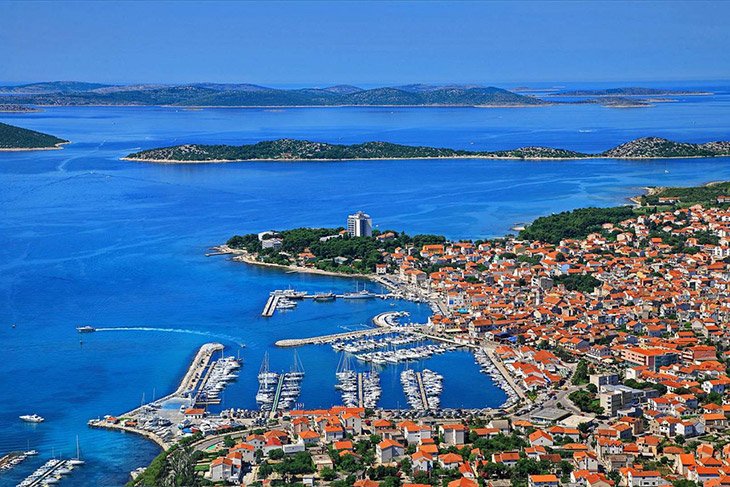 Vodice were inhabited back in Roman times when they were called Araus or Arausa Antonina. Town and its surroundings are rich in water and hence the name – Vodice.
History of Vodice dates back in 1402. Beginning of this little town is associated with the time they began to build St. Cross's Church (close to today Hotel Punta).
Šibenik archive from that year mentioning Vodice for the first time: peasants from Vodice were ordered to put aside part of their earnings for construction of Sibenik cathedral.
Vodice, Croatia – Things to do
In present days, Vodice town is a modern tourist center, one of the most famous one in North Dalmatia.
Modern tourism has been the case ever since the people of Vodice decided to pursue this economic activity, which means for the last fifty years.
Vodice having realization over 50 000 tourist accommodations in Hotels and in private accommodations family pensions, apartments and rooms.
Located on the sunny coast of the North Dalmatia, the area of bright sea.
Visit nearby national parks
At distance of 12 km from Vodice you can visit ancient town Šibenik.
A little to the north there is the river Krka along with Krka National Park, and towards south-west range the isles of Kornati archipelago with Kornati national park.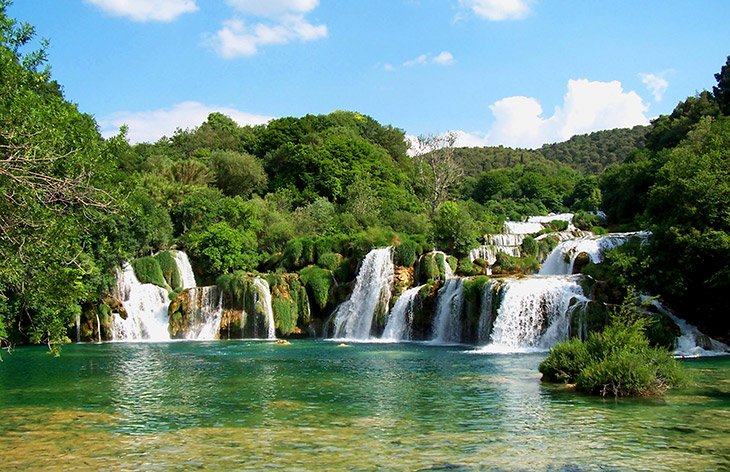 East side of Vodice Gulf is sheltered with peninsula cowered by a pine wood and spreading to the south-west of the ancient town.
You can find there hotel complexes Olimpia and hotel Punta.
Nearby is a sports center, modern tourist harbor which has been built in the gulf of Vodice.
Marina in Vodice currently having the capacity of 400 boat mooring.
There is also a small sports harbor where you can hire various vessels.
Bay of Vodice is bordered at distance of only one mile by islands of Prvić, Tijat and Logorun Island.
All islands in Vodice archipelago have an exquisitely preserved nature and they are a perfect vacation spots for sailing enthusiasts.
Beside the hotel beaches, the blue beach spreading westwards of the town towards the 2km distant fishermen village Tribunj is very attractive, as well.
Events in Vodice Croatia
Numerous events are held through the whole year. We will count just some of them:
Cycling Race Prižba – Hello Spring – held at the end of March, winding through the hinterland of Vodice.
Easter Regatta – held in mid-April, before Easter and is very popular among yacht owners.
Easter breakfast – held the day after Easter featuring a special program with famous Vodice žudijas (Roman soldiers dressed in authentic clothing) and traditional food and folklore from Vodice.
Moto meetings – early June – this is a weekend of games, concerts and guitar. An evening for all motorbike lovers.
CMC festival – every year the Croatian Music Channel organizes a music festival with many stars of the Croatian music scene. It takes place in mid-June.
Vodice feast – a traditional folk festival which takes place on August 4th and is one of the most popular events in Dalmatia. Even after decades of existence, this popular festival always manages to offer something new. It is hard to beat the nightlife in Vodice during the summer months, but the Vodiška festivities manages to do so year after year.
During summer months the festivities music can be heard from all the squares and the waterfront, songs are heard in every cafe while a midnight firework illuminates the city and fills the night sky.
Party can hardly be compared to anything, you have to come an see for yourself and witness this crazy and memorable evening where the fun lasts until the early morning hours.
Vodice, Croatia – Places to visit
Ćorić tower
Coric tower – made by the Fondra family from Šibenik in 1646. g. The living spaces and defense facilities were fortified by high defense walls since the tower was built during tumultuous times.
The stone with which it was built was brought from island Brac.
Today, the courtyard of Ćorić tower is used as an open-air movie theater during summertime, however the tower is closed to visitors due to its poor condition.
Church of St. Cross
Church of St. Cross – church built in gothic style during the early 15th century, more precisely in 1402. In 1421 it was dedicated to St. Cross at which time it was also a parish church.
It is famous for one precious detail, an old Romanesque-Gothic bowl attached to one of the columns, which is the only one of its kind in this part of Dalmatia.
During summer the church houses modern art exhibits.
Parish church of St. Cross with a belfry
Parish church of St. Cross with a belfry – was built on the foundations of an old chapel in baroque style, the work of a Sibenik master Ivan Skok.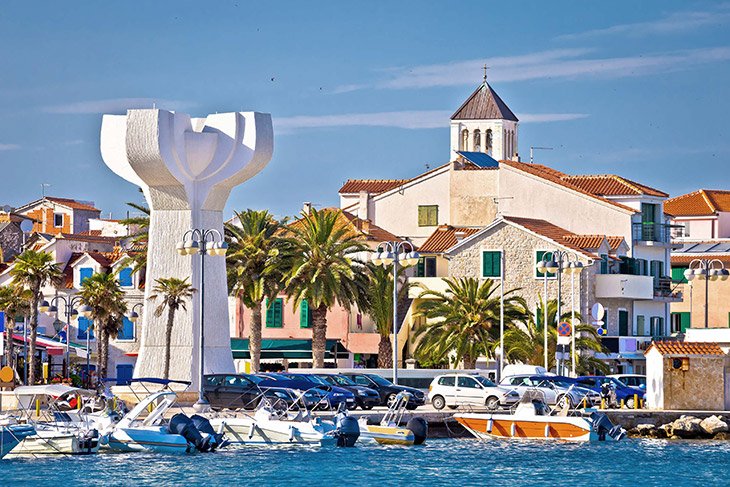 The walls are decorated with windows from the same period and the interior enriched with a Baroque altar dedicated to St. Cross.
The belfry is the work of a master from Dubrovnik called Vicko Macanović and was built over a 20 year span.
The bell tower has two balconies (loggia) with two large windows on the lower one and three small windows on each side on the top one.
Church of St. Elijah the Prophet
Church of St. Elijah the Prophet – church was built in 1298 by the inhabitants of Pišće. Only in 1493 was it dedicated to St.Elijah the Prophet.
A wall surrounds the church and it is assumed that a cemetery existed next to it. Today, a mass is held only once a year and only on August 20th.
Best beaches in Vodice
There are numerous types of beaches in Vodice, from concrete, fine gravel to rocky beaches.
If you looking for a pleasant shade during the hot summer day most of the beaches in Vodice will provide you that since since they are all surrounded by dense pine trees.
So here is the list of best known beaches in Vodice:
Plava Plaža (Blue Beach):
Plava Plaža is one of the best know beaches in Vodice. Blue beach is awarded with Blue Flag – the reward for impeccable cleanliness of the sea and high quality service. This fine gravel beach extends 4km from the coastline in front of the Hotel Punta to Tribunj village on north.
Due to shallow sea of Plava, beach is perfect vacation spot for families with small children. You can find a lot of restaurants and beach bars as well as a lot of opportunities for active vacation.
Sailing and diving schools are organized on Blue beach during the summer season.
Male Vrulje Beach
Male Vrulje beach is located a beautiful bay right below hotel Olympia in Vodice. On beach Male Vrulje you can find shelter from strong summer sun and high temperatures in nearby pine forest.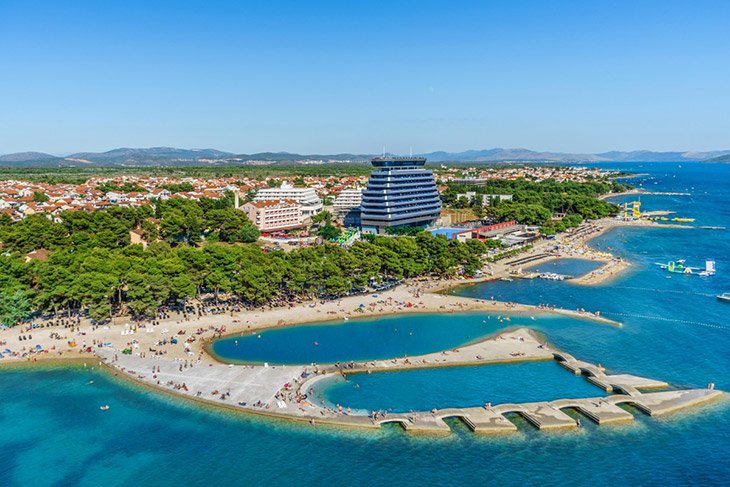 Thanks to the shallow waters and beautiful artificially made small bays this pebble beach is a perfect for a families with children. You can find refreshments in local restaurants and beach bars. Also there is a plenty opportunities for beach sport lovers.
Beach Hangar Vodice
Hangar beach in Vodice is a fine gravel beach and is one of the beaches with the richest accompanying facilities on entire Adriatic coast. On Hangar you can find a lot of beach cafes, a fast food stands, restaurants and shops with beach sport and marine equipment.
You will have available outdoor showers, changing cabins and public toilets and there is a possibility to rent deck chairs and sun umbrellas on Hangar beach.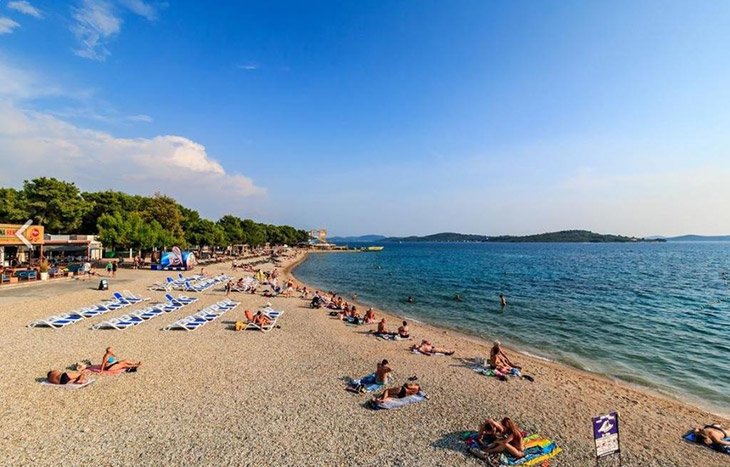 Hangar beach is somewhat divided on two parts one is intended for elderly or families with small children with completely different facilities like: trampolines, air castles and children train. While on second part of Hangar beach you can hear music from local Hookah Bar.
In Hookah bar afternoon hours offers a great choice of "after beach parties" such as techno, foam, Studio 54 and similar parties. Hangar beach is well known as gathering place younger travelers because of rich nightlife and parties which last until early morning hours.
How to reach Vodice Croatia ?
Town is very well connected to the outside world by Adriatic road, by the railway from Šibenik and by airlines from Split Airport (70km) and Zadar Airport (60km).
Over 50 inns, 20 shops, a modern medical station, pharmacy, a car service shop, an oil and gas station and other public services offer high quality services matching the requirements of the numerous visitors and guests during the summer season.