Vrboska on Hvar Island – appeasable vacation spot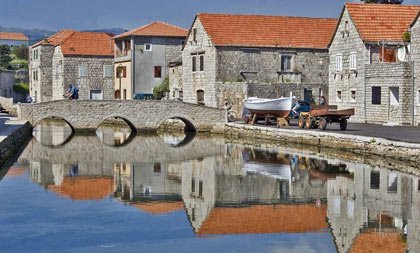 Vrboska is most picturesque and smallest town on sunniest island on Adriatic island of Hvar. Vrboska is situated in the north central part of Hvar island hidden in indented narrow bay surrounded by old pine forest offering its visitors better perspective in traditional way of living on Adriatic.
Vrboska is smallest town on island of Hvar and area was inhabited since ancient times. Town of Vrboska with time have grown from old traditional fisherman village to modern little town which manage to preserve the charm of old way of living and Mediterranean architecture.
With its old traditional stone houses that are a mixture of renaissance, gothic, and baroque architectural style and its stone narrow winding streets would not leave anyone indifferent.
Village center is actually a small island that is connected by the old stone bridges and therefore another name for Vrboska is "Little Venice". Perfect geographic position of Vrboska enabling traveler easy exploration of whole island of Hvar.
Flawless gravel and sandy beaches, crystal clear sea and perfectly preserved nature of Vrboska in combination with excellent touristic offer of local restaurants with traditional Dalmatian specialties and wide range of accommodation facilities in local apartments, pensions and villas definitely classify this village as one of the most desired vacation spots on Adriatic.
In the immediate vicinity of Vrboska on just 1km distance in north-east direction from town center there is Zecevo island where nudist beach can be found. Other two gravel beaches are located in bay Maslenica and on Soline peninsula.
For yachtsmen there is ACI Marina Vrboska with 125 berths on sea and 17 dry moorings.
Vrboska landmarks
Museum Of Fisherman
Museum has been founded in 1972, offering its visitors valuable exhibits of old traditional fisherman tools and nets also you can see there old tools from fishing industry. This interesting collection will give you better insight in hard conditions well reconstructing difficulties of old traditional life on this area.
Museum is open for its visitors each day from 10:30-12:30 and 19:30-21:00.
Church fortress of St. Mary of Mercy
Fortress church of St. Mary of Mercy representing architectural perfection and unique monument that stands out over the whole town of Vrboska. Fortification dates back in 1575, when whole area was under attacks of Turkish army who already plundered and burned Vrboska in 1571 as well as most of the Hvar island. Building of fortress church was fully funded at expense of local population. From same time dates Fort Kastilac who at that times served as guarding tower.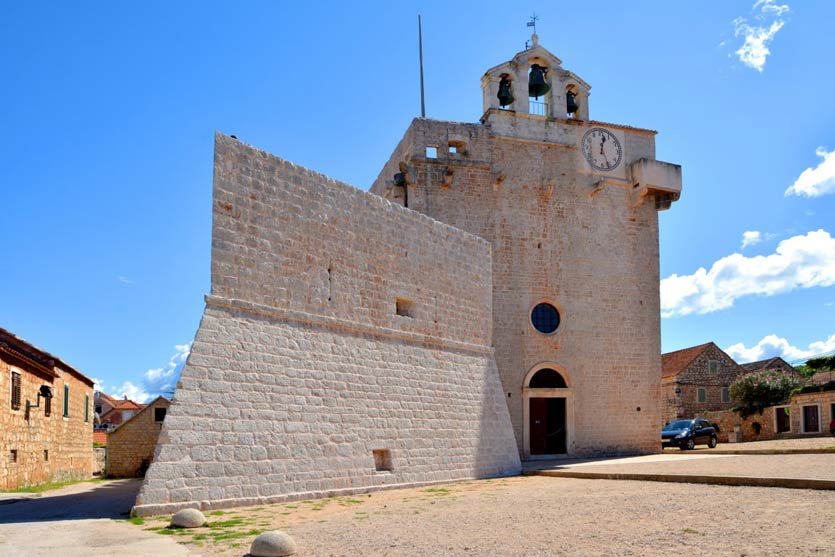 Fortress Church of St. mary Of Mercy stand as one of the most beautiful examples of fortifications on Croatian coast from that time. Church was host some of the most impressive piece of arts from period of renaissance which later has been placed in parish Church Of St. Lawrence.
You can visit this piece of architectural perfection each day from 10:00-12:00 and in evening hours from 19:30-21:00.
Church of St. Lawrence
St. Lawrence church is located in direction of west from church of St. Mary Of Mercy. Church dates in early 15-th century and later in 17-th century was reconstructed in baroque style, style which was kept until today. Church of St. Lawrence had turbulent history was burnt twice. First time during rebelion of locals in 1512 and second time 1571 by Ottoman army.
Interior of church is decorated with true piece of arts made by some of the most famous artist from that time like: Tizian Vecelio, Jacopo de Ponte Bassana, Giuseppe Alabardi, Antonio Scuria, Celestino Medovic, Marko Rasica and others.
You can visit church each day from 10:00 to 12:00 and 19:30- 21:00 in the evening hours.
How to reach Vrboska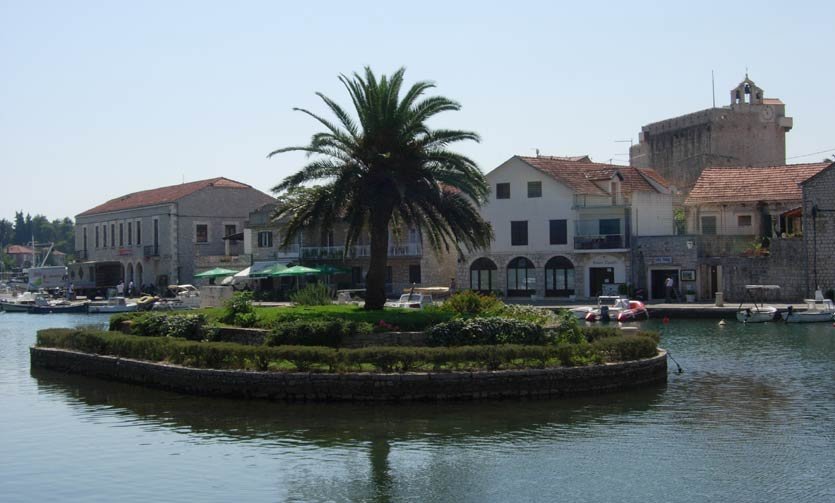 Due to due to the immediate vicinity of main ferry port in Split and regular ferry lines from Split to Starigrad, Vrboska is quite easy to reach. Once you came in Starigrad you just need to turn left and follow road signs to Jelsa, after just 6 kilometers you will notice sign "Vrboska".
In case that you are traveling from direction of Dubrovnik you should board on ferry line (near Makarska) Drvenik – Sucuraj which is on south part of Hvar and afetr driving 60km to the north you will see road sign for Vrboska. Note that this is longer way and it will take more time to reach Vrboska also have in mind that petrol station in Sucuraj is only one on that route.
In case that you wish to visit most famous Zlatni Rat beach on Island of Brac you will have there organized island hopping boat-excursions from Vrboska.