Vrsar Croatia – Best Places To Visit In Istria
Published: November 24th, 2018
Vrsar is a small town with population around 2000 residents and it will certainly satisfy many travelers who are seeking for perfect vacation spot on Istrian riviera.
This little fishing settlement is located near Lim canal on a half a way between Rovinj and Poreč and it certainly has a lot of to offer to its visitors.
Vrsar has a fascinating panoramic view on the local small islets, crystal blue sea and amazing view on green surroundings of Lim bay flora.
Just off the coast you can witness Istria's most indented shoreline with numerous and adorable small islands and bays which representing a real heaven for yachting enthusiasts.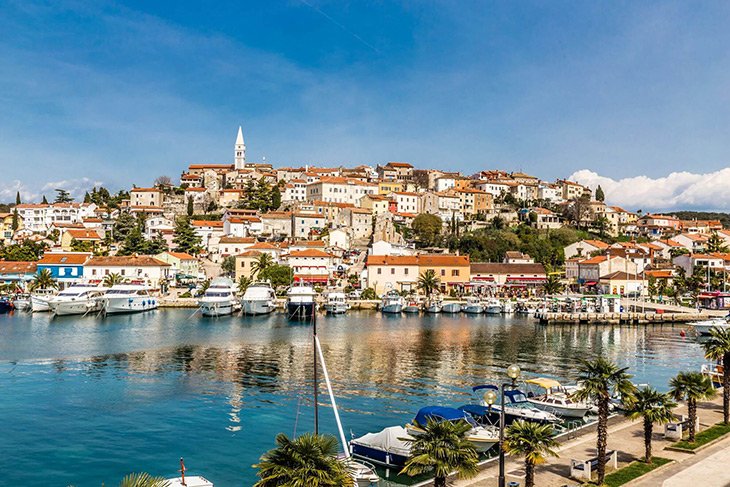 Today Vrsar is a modern holiday destination that managed to keep rich tradition in food preparing.
You can taste here traditional specialties which will satisfy you necessity for authentic Croatian cusine, forgotten delicacies from Mediterranean area, fresh seafood and fish which came from local archipelago where tradition is melting along with beauty and pleasure.
Places to visit in Vrsar Croatia
From the Adriatic coast all way to Vrsar hinterland's hills and lowlands, generosity of nature in this area has been inspirational for every tourist who desire resting and relaxation, what makes Vrsar one of the the most beautiful towns on Adriatic.
You will be especially impressed with sea landscape and with Vrsar archipelago with 18 islets widespreaded along coast scattered with green forest bays, capes and coves.
Island of Sv. Juraj (St. George) in Vrsar
St.George Island – most impresive natural attraction of Vrsar. Island is settled right next to the coast, well maintained and suitably carred which makes it perfect one-day destination.

Unspoiled nature, restored Romanesque stone church of St. George, abandoned stone quarrie, beautiful beaches St. george island will offer you a perfect vacation spot if you looking for calming and relaxing holiday.
You can swim a short distance to the island and get a different perspective on town and its port and marina.
Take a boat tour to Lim Bay
Lim Bay- is 12 km long and 0.5 km wide uncommon natural phenomenon. Large sea bay who strangely reminds on Norway's fjords although, its origin is not the same as fjord, it is probably created by the former flow of the river Pazinčica which is an underground river in the present.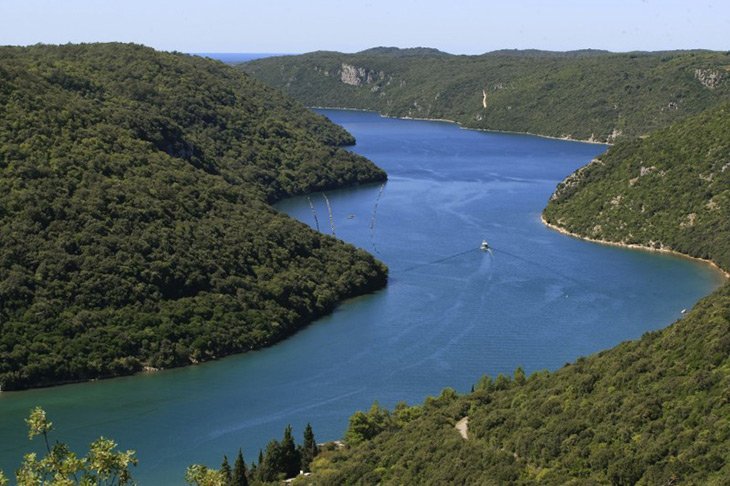 Lim Bay is well known for the fact that St. Romualdo lived for several years in a cavity after founding few Monasteries in Istria.
Another interesting fact about Lim bay is vegetation which is not the same on north and south part of bay, this difference can be seen especially during autumn and winter months.
Lim Bay is a tourist attraction and protected natural monument which is also a place where oysters and fish farms of gilthead and sea bass are cultivated since ancient times.
Take a walk on Vrsar Lungomare
Vrsar walkways – town have magnificently developed network of promenades, especially those on seafront also known as "lungomare" which follows the natural shape of seashor from Valkanela to Koversada, running through the Mediterranean vegetation of holm oak.

Lungomare will lead you through many of Vrsar's attractions, from the luxurious marina, over the fishing harbour to the beaches at the foot of apartment complexes ending at Petalon Resort and the naturistic destination of Koversada.
Vrsar centre is crossed with typical medieval narrow streets, and with every step you will walk into a new ambience: square, balcony, traditional architecture, narrowness or sea or town view.
Kontija Forest in Vrsar
Kontija Forest – forest is located between Vrsar and above Lim Bay, this is specially protected reserve of forest vegetation with area of 65 hectares.

One of many natural phenomenons in Kontja forest is forest of oriental hornbeam which is more than 140 years old. This is one of best preserved area in Istria.
Best beaches in Vrsar
Vrsar beaches – you can find different types of beaches there.
Those in Valkanela Camp and Belvedere resort are made of fine gravel with some part pave with limestone slabs.
In Koversada island area you can find gravel and rocky beaches and children equipped beach.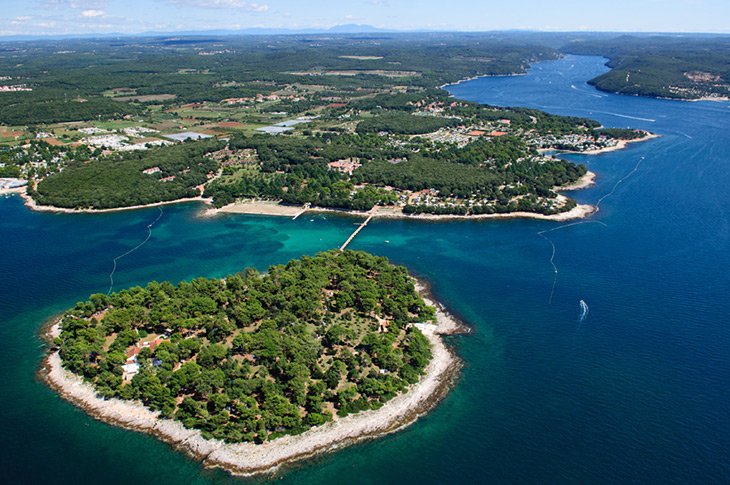 Neighboring quarry area and peninsula Montraker offering you rocky beach with stunning panoramic view of old town.
Beaches of exceptionall beauty are on Sveti Juraj Island (St.George), in its narrowest part where is sand clustering and creating irresistible swiming and sunbathing area.
All beaches in Vrsar are carriers of "blue flags" as a guarantee of high quality sea water and additional facilities.
How to get to Vrsar
If you are traveling from Europe Pula airport is just 52km away from town's center, airport have regular lines during summer season with Norway (OSLO-RYGGE), France (TOULOUSE & MARSEILLE-DBV), Portugal (LISBOA), Spain (BILBAO & BARCELONA) and with Zagreb and Zadar.
It is quite easy from there, you can rent a car, take a regular bus line which are quite frequent or simply take a taxi from airport.
For more information check Pula Airport website.