Zlarin island – "Golden Island" in Šibenik Archipelago
Published: May 24th, 2015
Zlarin is small island placed in Sibenik archipelago on Dalmatian coast. Island of Zlarin is also known as "golden island" due to its an intact and well preserved nature.
The island abounds with pine trees, cypress forests, rosemary trees, figs, olives and other Mediterranean flora.
During winter season there are just 300 permanent residents on Zlarin while during tourist season that number increases up to 3000.
Island of Zlarin in its history had a quite big migrations of its residents, it is one of those island on Croatian coast who has lost its population but continued to living what makes this island ideal vacation spot if you are one of those visitors who enjoying in peace and quiet.
Relief of this small island from Šibenik archipelago is dominated by its highest spot on island – Klepac hill which is on 169 meters above sea level.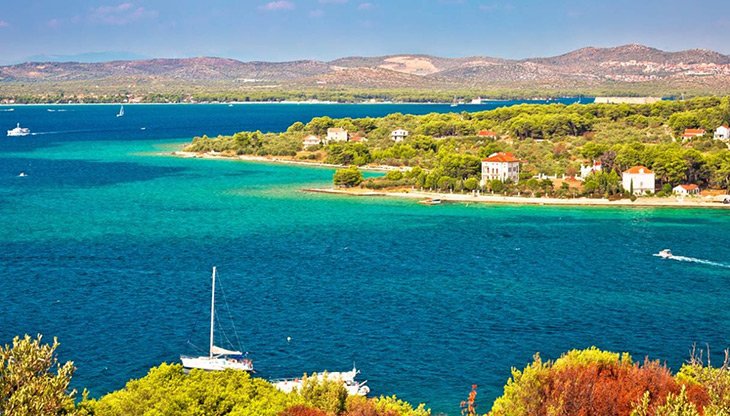 Hill Klepac will offer you one of the most spectacular views on 1 mile away city of Šibenik, sandy beaches, gorgeous small bays and traditional Dalmatian fisherman villages of scattered along the island coast.
During sunny days you can see even distant island Of Jabuka which have volcanic origin or magnificent Velebit mountain range.
Interesting facts about Zlarin
History of local population was always relying on agriculture, sailing and fishing.
Today you can testify abandoned olive trees which can be seen on places all over the island.
One of the most interesting curiosities and attractions of Zlarin is traditional coral diving.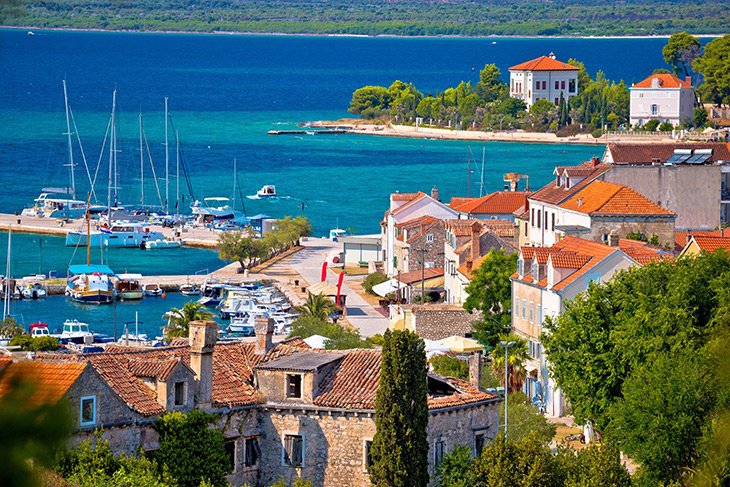 Diving and hand processing corals were known on this island since 15-th century what bring Zlarin economic wellbeing all until beginning of 20-th century when this occupation ceases to be profitable and many people had to search luck in nearby Šibenik or even in foreign countries.
Despite hard times and difficult life on island there are even today coral workshop on Zlarin where you can see and buy this hand-made unique pieces of jewelry.
Getting to Zlarin island ?
If you are traveling from Europe or North America best and fastest way is to use airports in Zadar (89 km from Šibenik) or airport in Split (56km from Šibenik).
After you reach Šibenik with one of many bus lines that connecting Zadar and Split with Šibenik (cheapest solution) or you can take taxi or rent a car in those airports you can reach island with regular ferry connections which goes from Šibenik in summer season: 9:30, 12:30, 15:30, 19:30 and last one is in 20:45.
During winter ferry from Šibenik goes one a day in 9:30.
Ferry drive from Šibenik over Šibenik channel takes around 30 minutes to reach Tijat (ferry port on Zlarin).
One of the most important fact about this dalmatian island is that cars are not allowed to drive on the island what make Zlarin even more desirable vacation destination if you like peaceful holidays in tranquil Mediterranean landscape on Dalmatian coast.